Miner Donkey Trouble follows a donkey and his miner into the mines as they dig for gold. With the aid of the donkey's strong legs, some dynamite and of course features like multipliers, free spins and wilds, the search for fortune is on.
Developed and released by Play 'n GO in 2020, this game is set to show off some of the studio's skills in terms of graphics and animations. There is a lot to see in this game, which uses a 5-reel, 7-row playing field that uses the cluster pays mechanic to calculate wins. The slot is set deep underground in a mineshaft where the donkey and the miner flank the slot. Both move around as the reels spin but they can also activate to perform different types of actions, mostly related to the features in the game.
The symbols in the slot are all made to fit the theme, resembling different nuggets and gems that might be found in the deep tunnels of the mine. Getting a cluster win highlights the winning tiles as well as having the other symbols drop down but they lack somewhat in animation. Overall, the game shows a lot of information but it all still looks interesting.
When it comes to the sound-design, Miner Donkey Trouble has also invested quite heavily. The music is an upbeat country jig that keeps with the theme and the design of the slot. It's pretty fast and enhanced by various effects in the game itself such as explosions and the donkey braying.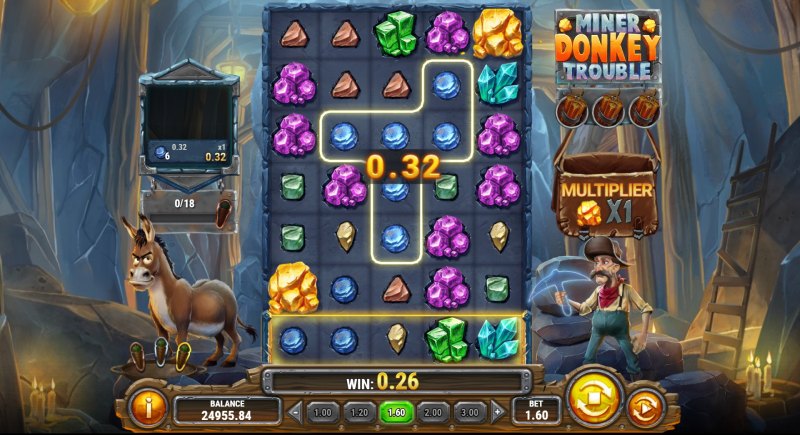 Symbols
The symbols in Miner Donkey Trouble are all based on various kinds of gems and rocks, distinguished with the use of colours and shapes. Even though the playing field is larger than average slots, this keeps everything clear and easy to see. Wins are shown by drawing a box around the winning cluster. I did appreciate that all symbols are unique and there are no card suits or letters that don't make sense.
The symbols in the game include:
Wild: Wilds substitute all regular symbols in the game.
Dynamite: Have 3 Dynamite Scatters detonate in the same game to activate the free spins mode.
Red Gem: Max. 250x your bet with 18-or-more in a single cluster.
Green Gem: Max. 100x your bet with 18-or-more in a single cluster.
Blue Gem: Max. 40x your bet with 18-or-more in a single cluster.
Pink Gem: Max. 20x your bet with 18-or-more in a single cluster.
Yellow Rock: Max. 10x your bet with 18-or-more in a single cluster.
Green Rock: Max. 10x your bet with 18-or-more in a single cluster.
Blue Rock: Max. 5x your bet with 18-or-more in a single cluster.
Orange Rock: Max. 5x your bet with 18-or-more in a single cluster.
This slot doesn't feature a great number of symbols and it has a larger playing field so you would imagine low volatility, but due to the low payouts for all but the biggest clusters the game has High Volatility. The player will have to make use of the cascading reels feature to its fullest extent to enjoy the biggest wins.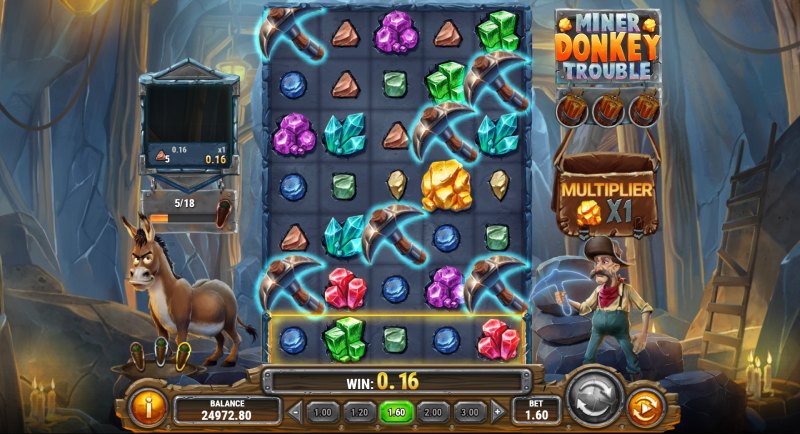 Features
Miner Donkey Trouble holds quite a large number of features, especially considering that they are introduced in new ways. The features include:
Cluster Pays: Get at least 4 of the same symbols to touch horizontally or vertically to create a win.
Cascading Reels: Whenever there's a win, the winning symbols disappear and make room for new symbols.
Multipliers: Get a Golden Gem on the bottom reel of the screen to increase the multiplier for that spin by 1.
Donkey Destruction: Getting enough wins in a single spin will allow the donkey to remove rocks, gems and finally add a multiplier to that spin.
Miner's Pickaxe: Collecting the Miner's Pickaxe symbol will add between 4 and 10 diamond Wilds.
Wilds: Wilds substitute all regular symbols in the game.
Colossal Symbols: Any symbol can appear that is between 2×2 and 4×4 in size.
Free Spins: Get 3 Dynamite Scatters in the game to trigger the free spins mode with 5 free spins. It is possible to retrigger additional wins.
The slot revolves almost completely around the base game with most of its features present in this part. There is a free spins mode but it only activates occasionally and even then the gameplay is the same as in the normal part of the game. Every spin the cluster pays and cascading reels play a big part, potentially creating wins and causing new symbols to drop in. This can continue for as long as new wins are created.
If there are enough symbols part of a win, or a series of wins in a single spin, the donkey is activated for different features. In total it can activate 3 features that only activate in sequence:
Step 1: Removes all Rock Symbols.
Step 2: Removes all Rock and Gem Symbols.
Step 3: Removes all Rock and Gem Symbols, and makes 5 Golden Gems spawn in the bottom reel.
If a Golden Gem reaches the bottom reel through any means the game will increase the multiplier by 1 per Gem. This can increase to a maximum of 10x multiplier.
Conclusion
Miner Donkey Trouble is a really great-looking slot with tons of characters and a number of interesting features as well as some beautiful animations. The game is clearly built to dazzle players who are going to have a lot of things to see.
There are several features that change up the standard gameplay, which might be too much for players that enjoy something a little more down-to-earth. If you don't mind learning a slot the game offers enough clues and information in the game itself to teach you how things work. Using the paytable is possible but not necessary.
Players can pick a bet between $0.10 and $100 per spin. The max. win of 10,000x your bet is quite an incentive but considering the high volatility not disproportionate.