With 7.8% of Americans reported to have a fear of clowns, the circus-themed slot Golden Ticket 2 from Play'n GO bravely goes where others dare not – dead centre of the circus ring.
Enter the Marquee of Madness
From the title alone, you'd be forgiven for thinking this is a sequel to a Roald Dahl-inspired slot franchise. Luckily, Golden Ticket 2 is set far from oversized German kids, diminutive factory helpers and oligarch chocolate magnates.
With a more than a slightly intimidating tagline: "It's time to join the ringmaster", it seems Play'n GO has an outing of dubious delights in store for us. If memories of a trip to the circus conjure up a nostalgic mix of toffee apple scent, cracked plastic chairs that pinch at your bum and ladies with liberal facial hair, you're going to be at home here.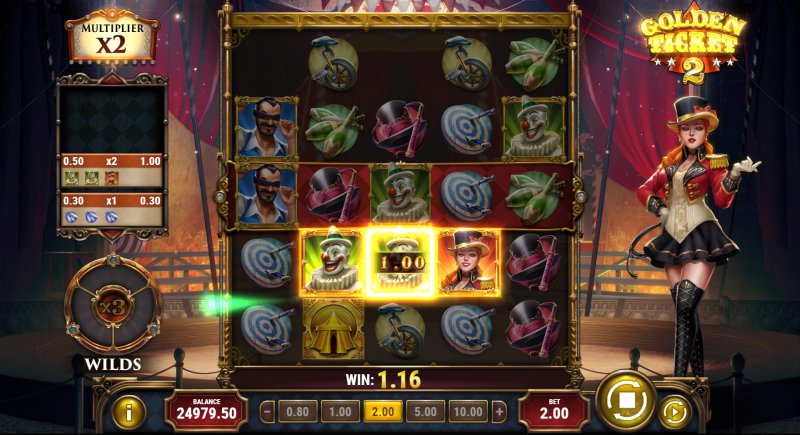 There's so much going on in-frame that it's hard to know where to look. I found my eyes darting back and forth across the screen as if I were watching the Wimbledon final. Phew, tiring stuff. If you just wanted to enjoy a few spins with Corrie on in the background, choosing a more sedate slot is advised.
The maelstrom that is Golden Ticket 2 makes for a hectic ride. All blaring horns and shady-looking carnie folk, Golden Ticket 2 creates a convincing world that it's impossible not to marvel at.
The Freak Show Features
The features in Golden Ticket 2 are a class act, running on a cluster pays mechanic as opposed to the traditional paylines served up to slot players. Here, landing any three matching symbols or more in a vertical or horizontal line pays. To give you a leg up, here the win multiplier increases by 1+ with every drop.
To further boost win potential, every win – once the cluster has dissipated – is awarded a wild, slap bang in the middle of where the preceding cluster was. The cascades don't stop until no more wins are awarded.
Free Spins
What would a trip to the circus be without a freebie or three? Clear the red highlighted bonus bar to enter the Free Spins round. Here, you have the following options to choose from: Clown – 9 Free Spins Knife thrower – 7 Free Spins with 2x multiplier Ring leader – 5 Free Spins with 3x multiplier.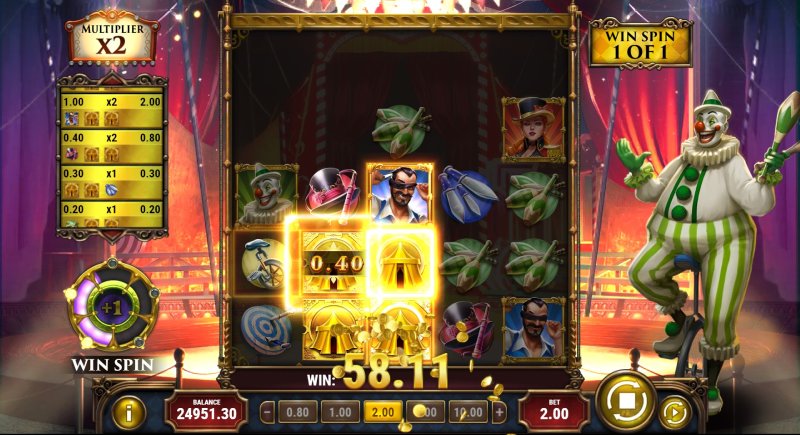 Fill the Win Spin meter during Free Spins, you'll retrigger a Win Spin. The Win Spin multiplier does not reset each spin, allowing these to roll over.
Multiplier Wilds
Fill the three sections of the bottom-left Wilds meter by landing winning combos of either the clown, ringmaster or knife thrower by 3, 4 or 5 symbols and you're looking at fulfilling 1, 3 or 5 sections of the wilds meter.
With the wilds meter successfully full, randomly, 1 or 2 wilds are added to the grid with each wild relating to a specific character symbol. Coming in 1×1 and 2×2 sizes, multipliers come in 1, 2x and 3x form with our characters of the big top rotating each time the meter is filled.
Bets in the Big Top
Rolling up with a 96.5% RTP and a maximum win potential of 5,000x, this high volatility slot offers players the choice of bets ranging from $0.2 to $100.
Walking the Tightrope
Not being a fan of the circus-of-your-nightmares visual approach, this is a slot that I just can't jive with. Corny (yet accomplished) character design is the least severe offence on Golden Ticket 2's rap sheet.
The return of the clown character seems like a funny choice as it could alienate a large proportion of the audience. Or, perhaps this could – horror movie-style – draw players in, one hand covering their eyes, one hand clicking spin.
Play'n GO offers up a slot with a menagerie of features that is sure to entertain and delight in equal measure if only you can get over your deep-set fear of clowns
Golden Ticket 2, brings a much-reduced win potential of 5,000x compared to the original of 20,578x. Whether this is enough to draw in the crowds still remains to be seen.