The Dark Joker Rizes introduces a psychotic clown that shows us that we're all playing games in our own way. His games just have a chance to pay off big!
The Dark Joker Rizes never says it explicitly but it's almost impossible to miss the connection with Batman's Joker. The character looks almost exactly like the Joker from the animated Batman show and the name evokes The Dark Knight Rises, the third Batman film in the Nolan trilogy. I'm guessing that it's only due to licensing issues that they're not actually connected, but you and I can pretend they are anyway.
The slot looks good for a game released in 2015 and Yggdrasil is pretty dependable when it comes to the graphical fidelity. The developer went for a scary, cartoony look which doubles down on the notion that the Joker is a horror clown. The different symbols are in some way demonic or mythical and the background lets us know it takes place in a scary dungeon.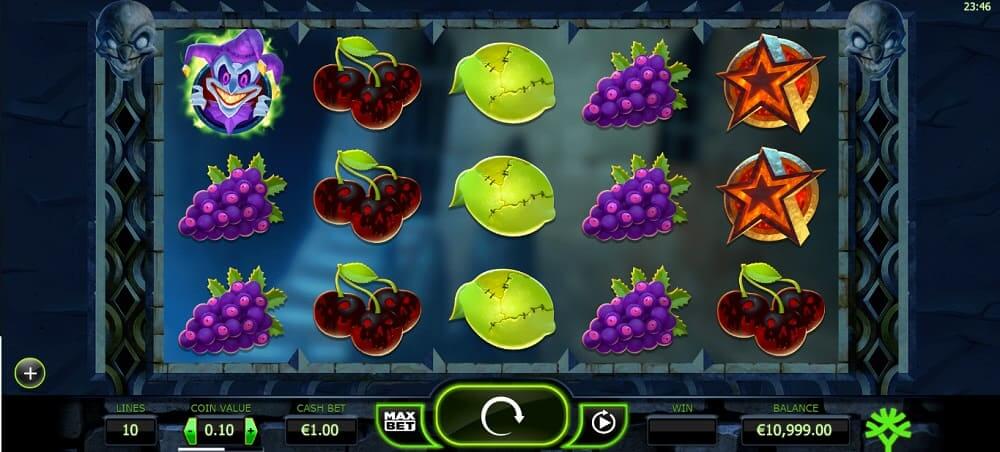 As a 5-row, 3-reel slot with 10 paylines, actually 5 paylines counted both ways, it serves up a nice selection of symbols without becoming overbearing. My preferred Medium Volatility meant a pretty steady supply of wins, spiced up with the Jokerization special mode.
While playing I was treated with fitting Halloween-type music that is sufficiently scary and up-tempo. When the Joker symbol appeared it gave out a quick little laugh that emphasised his demonic nature. I was glad to keep the sound on as I played to keep me in the horror dungeon theme Yggdrasil worked so hard to create!
Back when the game first came out I was a little confused what idea the game really sprang from. Was it an attempt to be its own original thing or is it borrowing from a famous Batman villain? After all, the Joker is a staple in many card games and since this is a slot machine, it would not be unbelievable to create a game around the concept of a psychotic joker card.
When looking at other games that took this angle, like Felix Gaming's It's A Joker, it seems implausible that Yggdrasil was trying to make that connection. To me, it's definitely Batman's Joker the game is trying to associate with.
I'm still not sure after playing it again, all I can say is that it worked for me. The setting is sufficiently scary but not in a horror way. It really feels like a twisted Batman villain who would come up with something like this.
Symbols
The Dark Joker Rizes has a set of symbols that on their own seem barely connected to the larger theme. Fortunately, their design team was on hand to mould each symbol into something more fitting! All of them are scary or mythical in some way, with skulls on the cherries and little eyes for grapes. It was actually quite fun for me to see in what ways the symbols were made to reflect Joker's madness.
From highest to lowest they are:
Pentagram: Max. 300 coins with five-of-a-kind on a winning payline.
Seven: Max. 200 coins with five-of-a-kind on a winning payline.
Bell: Max. 100 coins with five-of-a-kind on a winning payline.
Grapes: Max. 80 coins with five-of-a-kind on a winning payline.
Lemon: Max. 80 coins with five-of-a-kind on a winning payline.
Cherries: Max. 60 coins with five-of-a-kind on a winning payline.
Joker: Win up to 6000 coins with 5 Joker symbols on the screen at the same time.
I found it quite hard to get a winning payline in this game, which explains why the coin rewards are pretty high for a winning payline. With the ability to pick bets between $0.10 and $20 per spin it's possible to decide how brave you are feeling. Assuming you dare make it down into the dungeon of course.
Features
The Dark Joker Rizes has a fair selection of features, some of which require some extra explanation so I'll get started right away.
Paylines from both sides: The game boasts 5 paylines but they count from left to right and right to left, essentially doubling them.
Scatter Symbols: The Joker symbol acts as a scatter. Collect two or more and you activate the Jokerizer mode.
Re-Spins: In Jokerizer mode you spend the coins you won to spin and not your funds.
Sticky Re-Spins: In Jokerizer mode it's possible to add a Joker symbol to your game that stays stuck in the middle of the screen.
One thing I should note, and it took me a while to realise this myself, is that you have to choose to win! What that means is that any time you get a winning payline, you receive coins. At the same time, any win activates the special Jokerizer mode. This mode uses the coins you won to re-spin.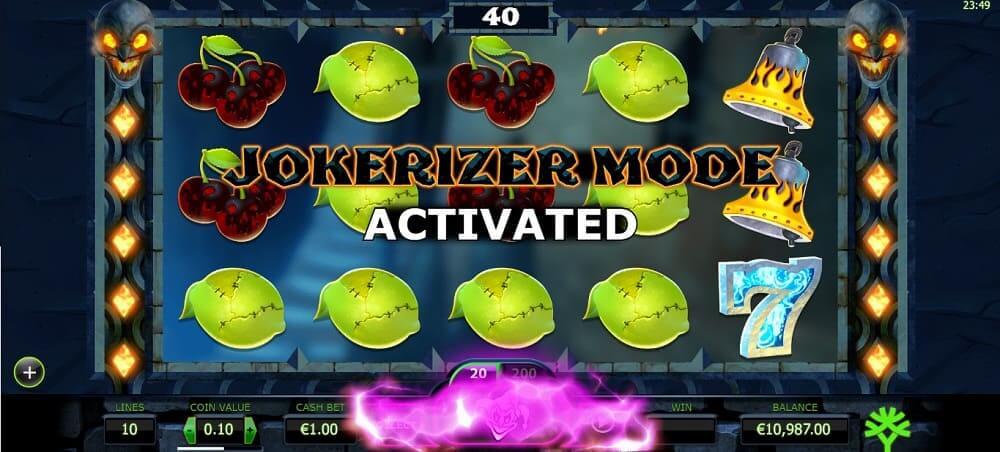 At any time during the Jokerizer mode, you can choose to collect and you'll receive your win. It's also possible to use all your coins instead for the re-spins until you run out. If you don't pay attention, you'll use every coin you win for re-spins and never actually end up with any wins!
The Jokerizer mode must be something special then, I hear you ask. Especially considering its asking players to spend their winnings on it! Well, it can be.
The main thing to know about the game is that you want to get 3 or more Joker symbols on the screen at the same time. When you get 3, you win between 1,000 and 6,000 coins. When you get 4, you win between 3,000 and 6,000 coins. If you manage to get 5, you win 6,000 coins!
This can happen while you're playing the base game, but the odds are much improved during the Jokerizer mode. You will only need 2 Jokers in Jokerizer mode to win between 20 and 6000 coins. When you win 500 coins or more, it ends Jokerizer mode.
Spending 20 coins gives you a simple spin. When you spend 200 coins it adds a sticky Joker symbol in the middle of reel 3. That means you only need another 1 to appear on the screen at the same time for a potentially big win. You can choose between spending 20 and 200 coins at any point, assuming you have at least 200 coins to spend.
It's not as complicated as it sounds, but I felt it was very poorly explained in the slot. Like I said before it took me a while to figure out I had to choose to win, and I could easily spend every coin I did win on re-spins without ever seeing a return on it. That said, once I figured out the features it was pretty easy to keep an eye on my funds to see when I should collect and when I could spend some coins on re-spins.
Conclusion
The Dark Joker Rizes is a darkly humorous slot with excellent graphics that don't show their age. The soundtrack is suitably gloomy. I think the game found a good balance between keeping it a classic slot and including some additional features. 10 paylines could be a little low for some people but in my experience, the medium volatility meant a steady gameplay experience.
If you're a fan of the Autoplay function, you might want to give The Dark Joker Rizes a miss. The fact that every win triggers the Jokerizer mode means that it stops Autoplay, and every time I got back out of the special mode it wouldn't automatically resume. Since wins were pretty regular, it meant I would only get a few spins with the Autoplay function before I would have to enable it again. It wasn't a dealbreaker for me, but it's something to keep in mind.
The Jokerizer mode deserves some extra mention. I'm not sure if I'm a fan of the idea that as a player it's possible to spend all your winnings on re-spins. It happened to me once or twice that in Jokerizer mode I'd get additional wins which meant I was enabling the re-spins with themselves but that inevitably only lasts a certain amount of time.
Getting 2 or more Joker symbols during the Jokerizer mode seemed exceedingly rare and the few times it did happen it would give me less than 200 coins, even though the game says a potential win between 20 and 6000. All in all, it didn't feel like it was worth trying. It meant the Jokerizer mode was not much more than an interruption to the regular spins, always opting to Collect and return back to the base game instead of spending the coins on re-spins.
Perhaps you see it differently and consider it a worthy investment! In that case, I would recommend The Dark Joker Rizes. It's a solid slot that looks great and has a fitting soundtrack. The features rely heavily on the Jokerizer mode but if you like the idea of waging your winnings for re-spins this is the game for you.
If you're like me however and you prefer to see all features without having to spend my winnings, it might be best to get out of this horror dungeon.