It's time to enter a subterranean wonderland. Rabbit Hole Riches from Play'n GO is a slot remix of the fairy tale classic, Alice's Adventures in Wonderland. Familiar faces are present, from the Cheshire cat to troops of the Queen's army to the rabbit himself. Looks like it's time for an adventure.
Curiouser and Curiouser
I'm not sure about anyone else, but I always found Alice's Adventures in Wonderland absolutely terrifying. Smarmy, disembodied, floating felines? A blazed caterpillar? A beheading-barmy queen? It's the stuff of nightmares.
With live-action movie adaptations to animated Disney remakes to countless references in popular culture, Alice's Adventures in Wonderland is hard to avoid, even if you wanted to. Here, Play'n GO takes on the mantle with a 3×3, five fixed payline rendition of the Lewis Carroll classic.
Play'n GO securely locks away the cutesy characters and nauseating show tunes of previous makeovers and offers up a version that is decidedly dark. From the splash screen you can tell you're most definitely down the rabbit hole, and down it deep.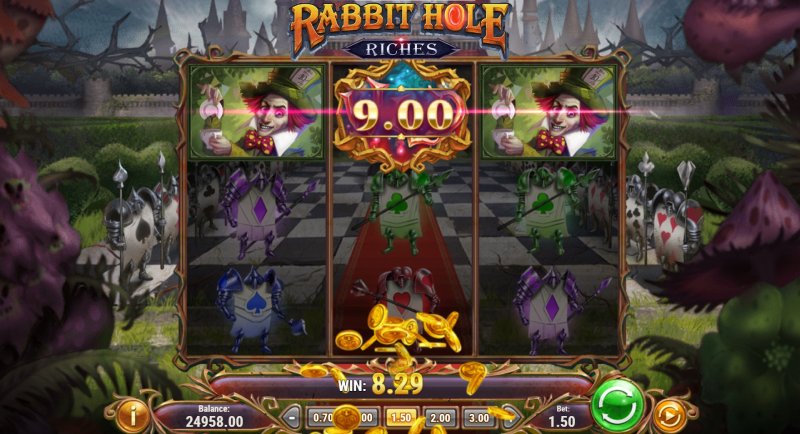 The white rabbit looks like a maniacal bunny that's marshalled a breakout from an animal testing lab. All nervous energy and jittery jumps – Play'n GO has rendered this particular character with sensitivity and care. It's hard not to feel more than a little sorry for him.
Bed music falls into the moody/sinister category with hints of mysticism and suspense thrown in, providing much of the forbidding mood to this slot. Above all, this is a slot that completely drips with atmosphere.
The character-based approach here is a smart move, encouraging what could have been a pretty faceless slot and bringing vital humanity to the game.
Gorgeous Gameplay
Strengthening the already solid graphics offering, Rabbit Hole Riches is a delightfully feature-filled slot. Land three scatter symbols and you have the potential to enter all four of the game's Rabbit Hole Bonus Rounds. A fickle beast, the rabbit chooses each bonus round at random.
The Blue Rabbit Hole
If you dip down the Blue Rabbit Hole, you'll be enjoying the Cheshire Cat respins round and awarded an extra spin for every win that you land. Also complete with its very own Cheshire Cat stacked symbol, our puss skips playfully from reel to reel each spin. Plenty to grin about here.
The Green Rabbit Hole
Find the Teacup Party Pick-a-bonus feature down the green rabbit hole. Here, players are awarded a single spin with entry granted to high-paying symbols only.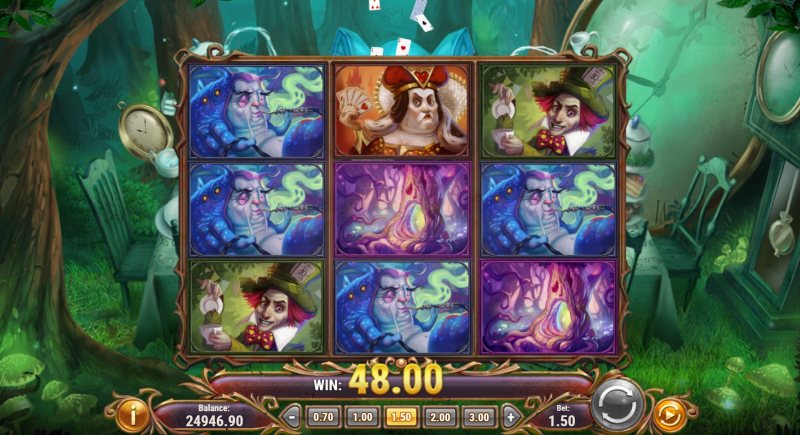 The Yellow Rabbit Hole
Feel the force of Tower Power Free Spins when you enter the yellow rabbit hole. With seven Free Spins awarded, players are initially offered a choice between the red and white tower. If your tower of choice gathers the most Free Spins during this round, players are graced with a 2x Multiplier on total bonus round winnings.
Should a draw raise its non-committal head, you're looking at a Free Spins retrigger, until it ends with a win or a loss. Here you're looking at potentially unlimited Free Spins.
The Red Rabbit Hole
The red rabbit hole is home to the Queen's Army Free Spins, awarding eight Free Spins with an added Multiplier of 1x per spin for each winning payline. Should you land 3+ scatters, you'll be enjoying a further three Free Spins.
Again, the red rabbit hole proudly boasts the possibility of limitless Free Spins and Multipliers.
With slots coming with a greater number of gameplay elements, Rabbit Hole Riches helpfully employs an in-game ticker which scrolls through features while in the base game.
Bunny-like Bets and Particular Payouts
A 5,000x win potential with a 96.23% RTP, medium-volatility Rabbit Hole Riches offers players a choice of bets ranging between $0.1 and $100. For landing 3x of the below symbols, you'll enjoy the following payouts:
Wilds (Queen of Hearts, Towers, Cheshire Cat) – 20x
Queen of Hearts – 8x
Mad Hatter – 6x
Caterpillar – 4x
Rabbit Hole – 2x
Heart – 1x
Club – 0.8x
Spade – 0.6x
Diamond – 0.4x
A Tasteful Tea Party
There's a lot to love with Rabbit Hole Riches; I was wooed by the genre-busting graphics and seduced by the full-on features. While I found the Cheshire Cat Free Spins round seems to get more airtime than other bonus games and it's luckily also a lot more fun than the other bonus games.
Forget the Johnny Depp version and don't even dare think about the Disney reworking of Alice's Adventures in Wonderland. Play'n GO has developed a slot that not only includes super-engaging gameplay but also creates the underground world of Alice and co. with defiant skill.
With so many features in Rabbit Hole Riches, it can be hard to articulate the joyfulness of this game. To quote the somewhat doolally dodo from Alice's Adventures in Wonderland: "The best way to explain it is to do it."