Energoonz is precisely the type of game I like. Software game provider Play 'n Go created the perfect concoction of genres and put it together into one impressive slot game. Featuring a range of colourful characters and interesting symbols, it also comes with a rather lucrative feature.
At first glance, this online slot looks rather standard. Don't let this deter you, fellow slot game lovers. I tend to dismiss some slot games based on the first impression, only to change my mind once I start playing the games. Built over a 5×5 grid, there are no polylines here. Instead, to secure a win, you would need to line up three or more matching symbols, either vertically or horizontally.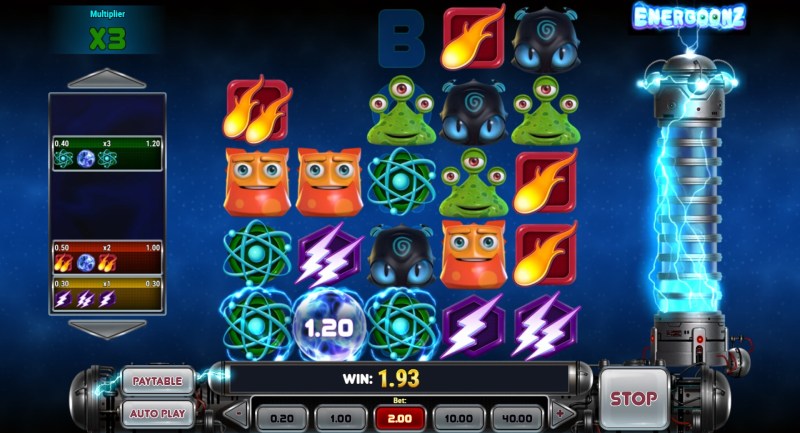 On the right hand, you'll spot a rather petrifying yet ominous electrical zapper. At first, I thought the electric zapper was purely cosmetic. Instead, it serves the purpose of zapping all symbols in a winning combo. You'll spot the list of winning combos on the left-hand side in the meter.
If you succeed in clearing the entire grid, you'll be generously rewarded with 1,000 coins. Clearing an entire column with the word 'bonus' on it activates the feature game. Since it doesn't exhibit the standard reel setup, I found this slot game to be a lot of fun, and it definitely stands out from many of the slots out there at the moment.
What I found most humorous were the animations of the symbols. The Goonz look a little odd and come in a variety of colours. With their big bug eyes and suspicious grins, they also pull faces at each other. During the bonus round, you are presented with a different set of creatures, which also come with their own surprises.
On the other hand, although the soundtrack is cheerful, it's nothing special or entertaining. You'll hear mini blasts and zapping noises as you play along which I found more engaging than the actual soundtrack.
If this sounds exciting, wait till you read what the return to player rate is like. Oh yes, the RTP here is a generous 96.73%. The multipliers which increase with every win means that although the symbols are of low value, you can expect the multipliers to lead to most significant wins.
Symbols and Features
With flames, thunderbolts and aliens ruling and running havoc on the reels, it can be hard to decipher which symbols pay out the most or not. The blue-eyed creature is the highest paying symbol in this game, paying a total of 25x your total bet if you land five of a kind in a row. Additionally, land between three and five of the plasma balls wild, to receive between five and 500x your total band.
Whenever you land a winning combo, all symbols are annihilated away by the electro machine to your right. There are no new symbols added, but other symbols may drop into the newly vacated spaces. If a new symbol drops in and results in a combination, the pay-out will be enhanced by an expanding multiplier, and the process is repeated once again.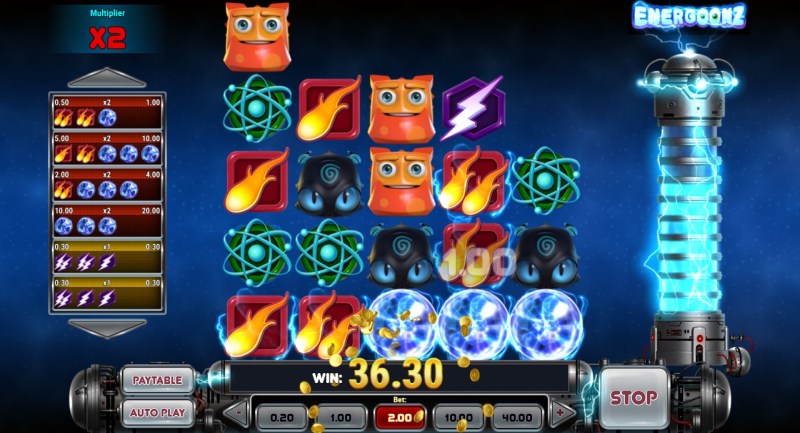 Unfortunately, as much as I enjoy this game, it is not jam-packed with features. There is a bonus round which can only be triggered when you successfully clear an entire column with the word 'Bonus' written behind it.
When you succeed in clearing a column, you are whisked away to a new grid, filled with a variety of different Goonz. You will receive an initial ten free spins on a diverse range of reels. There is no cascading reel action here whatsoever. All you have to do is to land at least five or more of one of the Goonz. These sleepyheads are given a rude awakening when you get multiple instances of the same symbols on the grid. When that happens, the zapper on the right wakes them up.
They are then transformed into colourful, yet very much awake Goonz that reward you with generous prizes. I say generous, as the prizes here are much bigger than those during the base game, and can pay-out up to a massive 175x your spin amount.
Conclusion
I quite liked this game, and it is an instant hit for me. While many software providers exhibit the usual reel setup with run-of-the-mill features, this one has a completely different system and gameplay.
The grid system took me some time to get used to, especially as the symbols are not what I am normally used to. I didn't manage to get into the bonus round as frequently as I'd hoped for, but when I did, I succeeded in gathering up a few neat wins. With a few re-triggers and more than 7+ clusters of symbols, you can walk away with your head held high.
I strongly recommend and love this slot game. I can only hope that we can see more of these innovative creations from Play 'n Go in years to come. It's a solid game!