Golden Fish Tank throws you into the deep end of the fish tank to play with some extravagant looking fish! This looker of a slot brings a new definition to going fishing.
Golden Fish Tank was developed by Yggdrasil and released in 2018 which makes it one of their newer slots. Of course, fishes and the sea have been a popular topic for many games and it's easy to see why. With Yggdrasil's office being in Malta, I wouldn't be surprised if its creators went out to swim and got struck by inspiration! With some creativity and artistic skill, it's quick work to make everything pop off the screen. I almost felt like I was really in the sea.
The name is definitely confusing as you might have noticed. While the name implies we're in a fish tank, the look of the slot makes it more likely that we're actually in the shallow end of a tropical sea. Not that it matters much since it looks amazing all the same. As a 5-reel, 3-row slot with 20 paylines it gives me enough room to play, and its Medium Volatility is my preferred combination of risk and payoff!
For me, Yggdrasil is a developer synonymous with excellent looking games and Golden Fish Tank is no exception. Each of the symbols is drawn with amazing detail, the background really submerged me in the notion I was underwater, plus there is a slew of animations that bring all the different characters to life.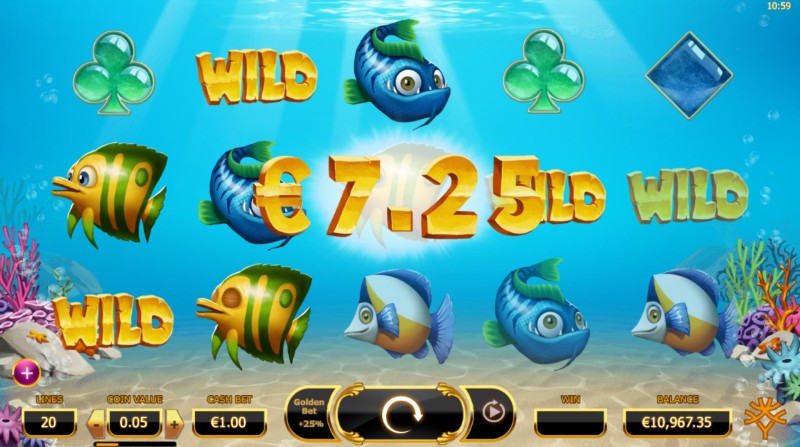 I get a lot of enjoyment out of having a slot go the extra mile to make me part of the setting and that's definitely something they accomplished with Golden Fish Tank. A good title to compare it to is the Gold Fish slot by WMS. Obviously, as an older slot, its look is surpassed by this game, but disregarding that the different symbols also have little character compared to those in Golden Fish Tank.
The soundtrack is suitably dreamlike and smooth without going too hard on the underwater theme. Instead, it combines a slow jazzy sound with xylophone sounds to dip into the water theme just enough. I found it to be relaxing without lulling me to sleep. Exactly what I'm looking for when playing in the water.
Symbols
As mentioned before, Yggdrasil put considerable effort into having each symbol stand out. The different fishes were easy for me to tell apart and are subtly animated. They blink their eyes and lazily move their fins to make them look like real, living fish. Albeit maybe a bit more cartoony than real ones!
The other symbols are based on the classic card suits but somehow these seem to fit in. They're also highly detailed but not animated except for a slight bobbing animation to make it seem like they're floating in the water. I am impressed by how much small details like that can add to the overall feeling of the game.
From highest to lowest the symbols are:
Free Spins: Free Spins symbols can appear on every reel. If you get 3 or more, this activates the Free Spins phase.
Yellow Fish: Win max. 250 coins when you get five-of-a-kind on a winning payline.
White Fish: Win max. 200 coins when you get five-of-a-kind on a winning payline.
Blue Fish: Win max. 175 coins when you get five-of-a-kind on a winning payline.
Purple Fish: Win max. 150 coins when you get five-of-a-kind on a winning payline.
Heart: Win max. 75 coins when you get five-of-a-kind on a winning payline.
Spade: Win max. 60 coins when you get five-of-a-kind on a winning payline.
Club: Win max. 50 coins when you get five-of-a-kind on a winning payline.
Diamond: Win max. 50 coins when you get five-of-a-kind on a winning payline.
Wild: Substitutes all other symbols in the game except the Free Spins symbol.
Features
Golden Fish Tank keeps things simple when it comes to the included features. I like games that experiment a bit with the classic slot formula but I get frustrated when they try to change too much. Luckily, Golden Fish Tank avoids that. Instead, they have altered the Free Spins phase a little. For the better, if you ask me!
The features included are:
Wilds: You can get Wilds in both the base game and the Free Spins phase. They substitute all other symbols except the Free Spins symbol.
Free Spins: When you get 3 or more Free Spins symbols at the same time, you activate the Free Spins phase with up to 10 free spins.
Feature Picks: Upon activating the Free Spins phase you can choose different modifiers. This can be up to 5 features which are further explained below!
Golden Bet: Activated during the base game, when Golden Bet is switched on you will receive an additional Feature Pick during the Free Spins phase at the cost of +5 coins per spin.
As you can probably tell, the Wilds and Free Spins work the same as they do in most slots. The interesting additions that Golden Fish Tank included are the Feature Picks and Golden Bet. I've seen these before and they've proven themselves to me as simple but effective ways of spicing up a game.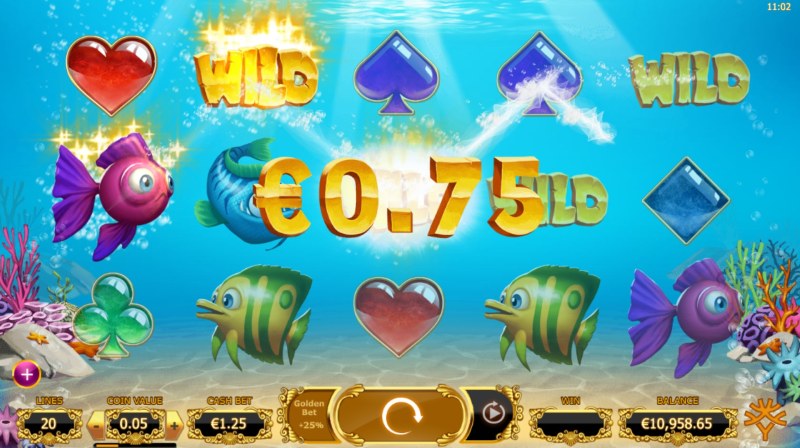 The Feature Picks are included whenever the Free Spins phase starts. Depending on how many Free Spins symbols there were on the screen it's possible to choose between 3 and 5 modifiers. These modifiers are activated for the entire Free Spins phase. To make my choice I was shown a series of seashells on the bottom of the tank. Simple but keeping perfectly in line with the overall design of the game I thought.
The Golden Bet feature is a way to increase the choices when it hits the Free Spins phase. You'll have to pay an additional 5 coins per spin but it unlocks an additional modifier. It means you can choose a potential 6 modifiers when you enter the Free Spins phase!
The modifiers are:
Extra Free Spins: Gain either 2 or 4 extra Free Spins.
Multiplier: All wins are multiplied by x2.
Stacked symbol: One fish type each round is stacked to fill a reel.
Extra Wild: A random type of fish counts as a Wild.
Random Wilds: Each spin, 1 or 2 random Wilds are added to a random position.
Sticky Wild: A Wild sticks to its position the entire Free Spins phase.
While in other games like Secret of Stones by Netent it's only possible to pick 3 modifiers, the opportunity to choose up to 6 with this game is a very nice change. I play with Golden Bet activated at all times so even my minimum number of picks was 4!
Your mileage may vary but in my experience, the Free Spins phase was where I got the big wins. Even when randomly selecting modifiers, the fact I get 3 or more means I will almost always get a great combination. It made the Free Spins phase easily the most exciting part of the game and since it pops up fairly regularly, it meant a good number of opportunities to get a big win.
Conclusion
Golden Fish Tank is a beautiful slot with a ton of things to look at while playing. I continue to be completely engrossed by the way it presents itself. The different fishes don't really have a personality but they look distinct enough to stand out. The way they move adds to the idea of looking at a real aquarium.
The gameplay is simple and focused with an emphasis on the Free Spins phase. The different modifiers are unilaterally good so it's not even required for the player to know exactly what each one does.
With the ability to choose a bet between $0.20 and $100 per spin, excluding the Golden Bet, and a Medium Volatility it translated into a relatively steady stream of wins over a longer period of time. The Free Spins phase acted like an exclamation point! A maximum win of 2500x bet is also very respectable in my opinion.
When I'm looking to dip my toes in a comfortable, beautiful slot Golden Fish Tank is at the top of my list. The different features work well together and have something to offer to both fans of the classic slot experience and people that enjoy playing modern games.