Bonus Bunnies takes a look at a garden that is filled with bunnies who are doing their own thing and accidentally allowing players to walk away with some big wins. Free Spins, Stacked Wilds and Multipliers also play a part in having the numbers go up.
This slot with its 4-reel, 4-row playing field was developed and released by Nolimit City in 2020, showing off their sense of style and design which has improved considerably over the years. The game brings the sense of being in a colourful, whimsical yard to life by using a bunch of distinct images. The background shows us rolling green hills with small houses on top and a number of bushes and trees.
The symbols in the game are all related to the garden in some way, the high-paying symbols mostly being different kinds of vegetables while the low-paying symbols are card letters that are seemingly cut out of wood and nailed together. It did break from the setting somewhat but they integrated the design in a nice way.
The game comes with 30 bet lines which light up when part of a win. There aren't too many animations, with mostly the special features hiding them, as well as the Bonus symbols themselves. I would have liked to have seen some more movement in the base game but as it stands, it looks nice enough.
Bonus Bunnies Highlights
Buy bonus game: You can instantly enter the bonus round by paying a lump sum.
Bonus game or special game: Bonus Bunnies has a separate bonus feature.
Multiplier: In Bonus Bunnies, the winnings can be multiplied by different multiplier mechanisms.
Wilds: Wilds substitute any standard symbol and help create more winning combinations.
Bonus symbols: Collect bonus symbols to launch the bonus round.
Symbols
All the symbols are drawn in a cartoony style that fits the idea of having bunnies as the main focus of your game. I did think it was a bit disappointing the symbols don't do anything special, they are just drawings of vegetables. It looks cute but maybe have them have a face or something might have drawn me in a bit more.
The symbols include:
Bonus: Get 3 Bonus symbols to get the Free Spins mode activated.
Wild: Wilds substitute all regular symbols in the game, except the Bonus symbol. Max 15x your bet with four-of-a-kind on a win line.
Tomato: Max 15x your bet with four-of-a-kind on a win line.
Peas: Max 7.5x your bet with four-of-a-kind on a win line.
Eggplant: Max 3.75x your bet with four-of-a-kind on a win line.
Red Onion: Max 2.5x your bet with four-of-a-kind on a win line.
Ace: Max 2x your bet with four-of-a-kind on a win line.
King: Max 1.5x your bet with four-of-a-kind on a win line.
Queen: Max 1x your bet with four-of-a-kind on a win line.
Jack: Max 1x your bet with four-of-a-kind on a win line.
10: Max 1x your bet with four-of-a-kind on a win line.
The game brings a number of features into the gameplay to help players get wins which is why the regular wins are small. The game does let the players pick a bet between $0.20 and $100 per spin if they are more or less inclined to risk things.
Features
Bonus Bunnies doesn't have an extraordinary number of features but the ones that are there change up the gameplay in some interesting way. I appreciated that these were based on popular features but changed up so they aren't just simple copies.
Wilds: Wilds substitute all regular symbols in the game, except the Bonus symbol.
Stacked Wilds: Whenever a Wild appears they will spread vertically on the reel if a Bonus symbol appears on any other reel. If there are 2 Bonus symbols, the Wild will spread both vertically and horizontally.
Free Spins: With 3 Bonus symbol, the Free Spins mode activates. This is called the Carrot Link Spins in the game. This mode grants the player 3 spins, but it resets whenever there is another win.
Multipliers: During the Carrot Link Spins, the playing field is filled with multipliers. There are added together at the end and the player is granted a total coin win.
The Bunnies play a bigger role in the features than they do in the symbols, and they also add some movement to the screen through the functionality. The main feature, that was the most important, was the Stacked Wilds feature. This one could result in a series of Wilds on the screen that might trigger a big win.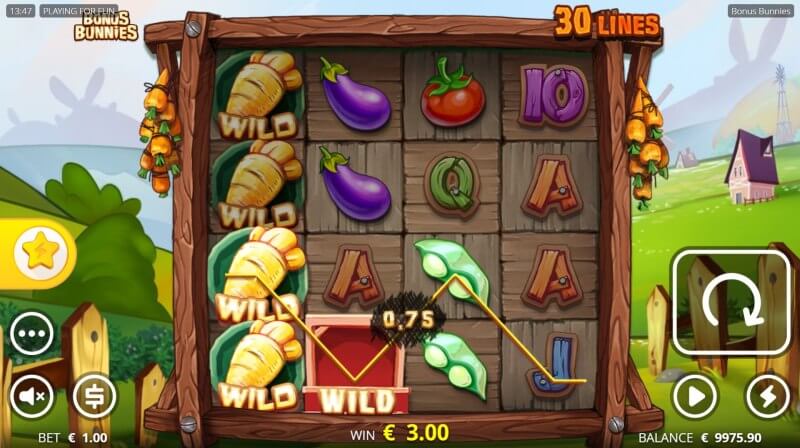 Whenever it appears, the Wild can spread depending on Bonus symbols on the screen. This is visualised by a bunny skipping across the screen, spreading Wilds as it goes. This can result in Wilds that fill an entire reel, and in some cases, it will also fill an entire row.
The Free Spins mode is a mix between free spins and a bonus game as the regular symbols are replaced by a number of multipliers, with the different symbols having different effects.
Carrots: Will reveal a win value displayed as a multiplier of your bet.
Harvester: Collects all visible wins and displays it as a multiplier.
Fertilizer: Adds its own multiplier to all other visible wins.
Settler: Adds a reel or a row to the bonus reel set.
If you manage to fill all the bonus reels, the last symbol to land will be a golden key that unlocks the chest and can award a 3x, 4x or 5x multiplier to the total collected win. This will then be awarded to the player as a coin win. It is mostly through this system the player might get their hands on the max. win of 6,950x your bet.
Conclusion
Bonus Bunnies might be a bit simpler than other recent Nolimit City slots but that's not a bad thing. It only has a limited number of features but these have been updated slightly to offer some special effects that aren't normally part of it.
I thought it was a well-done game that brings some interesting gameplay to something that is very easy to get into. Players that are fans of traditional slots will be able to immediately start playing and will uncover the slight changes as they play.
My main complaint would be that I think the bunnies could have had a bigger part to play. They do appear as a Bonus symbol and are shown to move around when a Stacked Wild is triggered but other than that they feel underrepresented.