Rainbow Ryan is a hard-rocking leprechaun with an electric guitar, performing on stage for the players. His guitar is magical so I'm curious to see if there's any of that magic coming my way!
The slot was developed by Yggdrasil and released in 2017, bringing to life a 6-reel, 4-row playing field with an impressive 4,096 ways to win. As will be obvious to everyone who plays it, Rainbow Ryan takes inspiration from the classic Irish character but I think they did something original with it.
Where the leprechaun is a popular theme amongst many slots for obvious reasons, it also seems to bring to life some really cool ideas. Where Rainbow Ryan puts the character on a stage with an electric guitar in its hands, Netent's Finn and the Swirly Spinn draws on the same creature and instead does something amazing with the gameplay. Either way, the game proves it's possible for a leprechaun game to be very unique.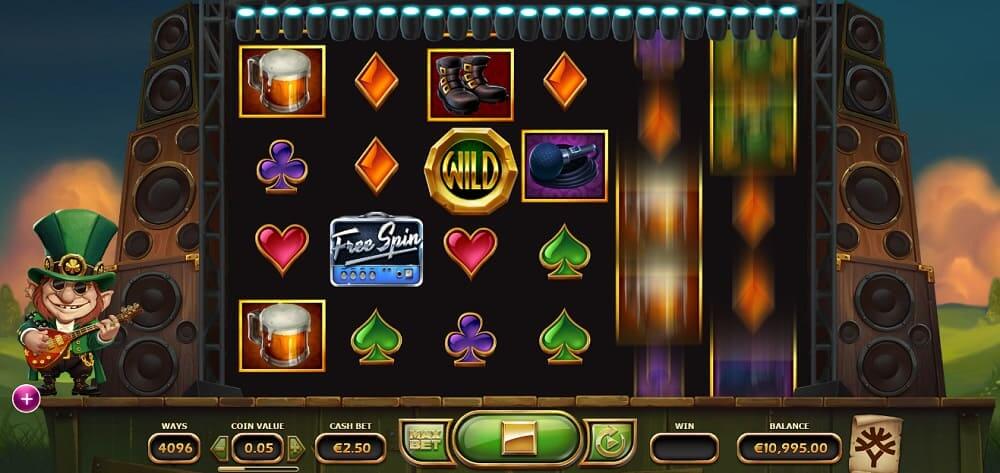 To start with, I have to comment on the graphics. Even though the background is quite static, I did really like the appearance of the game. We see the titular Rainbow Ryan performing on a stage with the reels surrounded by massive speakers. Ryan is animated, continuously playing his electric guitar, or lute, and emoting when there are wins or the free spins mode is triggered.
Even though there isn't a lot of movement, I did like the way it was portrayed. Rainbow Ryan makes some funny faces and taps his foot to the beat. Speaking of the beat, obviously, a slot about music has a swinging soundtrack. In this case, it's a solid rock track with the occasional guitar solo when you hit a win or the free spins mode is triggered. I thought that was some excellent sound design.
Symbols
The game has symbols divided across a pretty standard line, there are the high-paying original symbols and the low-paying card suits. Everything looks great and the original symbols fit the theme but the card suits are rather bland. They are slightly animated when part of a winning payline however.
Free Spins: With 3 or more Free Spins symbols at the same time the free spins mode starts with up to 20 free spins.
Wilds: Substitute all symbols in the game.
Hat of Gold: Max. 250 coins with six-of-a-kind on a winning payline.
Boots: Max. 200 coins with six-of-a-kind on a winning payline.
Microphone: Max. 150 coins with six-of-a-kind on a winning payline.
Beer: Max. 100 coins with six-of-a-kind on a winning payline.
Spade: Max. 70 coins with six-of-a-kind on a winning payline.
Heart: Max. 70 coins with six-of-a-kind on a winning payline.
Diamond: Max. 50 coins with six-of-a-kind on a winning payline.
Club: Max. 50 coins with six-of-a-kind on a winning payline.
The high-paying symbols are all hand-drawn and fit either the leprechaun or the concert theme. Unfortunately, the card suits didn't get the same attention to detail. They're simple symbols with a slight gloss on them.
Features
Rainbow Ryan keeps things rather simple when it comes to the features, adding only a few ones that alter the experience without making it unrecognisable. I consider this a good compromise for players that enjoy the classic slot but don't want to simply play a standard game.
4,096 Ways To Win: Considering the bigger playing field, Rainbow Ryan has a large number of paylines. If you get the same symbol on consecutive reels from left to right, it will count as a win regardless of where on the reel they appear.
Wilds: The Wilds substitute all other symbols in the game.
Expanding Reels: Occasionally during the base game and every spin during free spins mode, Rainbow Ryan will turn 1 to 6 reels into expanding reels, having them all show the same symbols on the same spot of their reel.
Free Spins: With 3 or more Free Spins symbols on the screen, the free spins mode triggers.
I liked the 4,096 ways to win since there aren't that many symbols in the game. It meant that getting symbols on consecutive reels was a regular occurrence. It also fit the listed Medium Volatility. With the ability to choose a bet between $0.10 and $100 per spin I would recommend sticking to the lower bets per spin to last longer with your funds.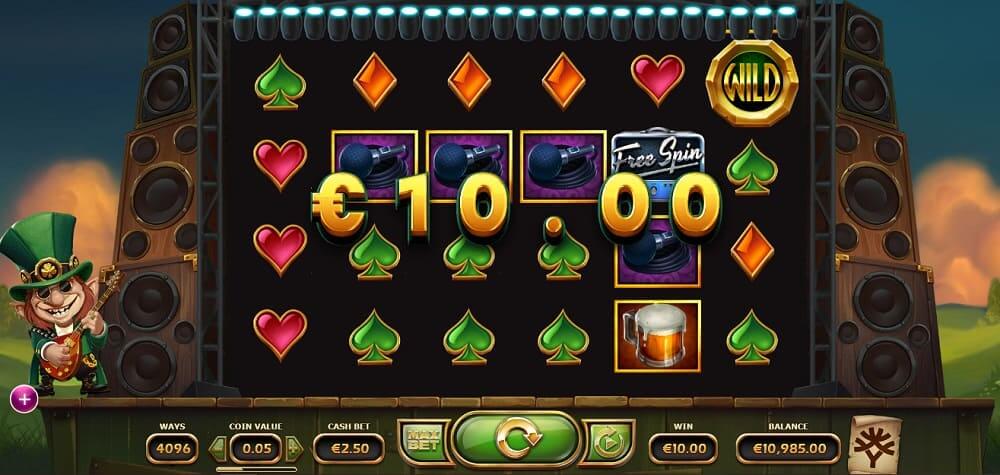 The expanding reels appeared quite often, every spin during free spins mode, and would turn between 2 and 6 reels into copies of each other. It made getting paylines more likely although it did frequently happen the expanding reels were applied to reels 5 and 6, diminishing their effect.
The free spins mode showed up a lot more than I would have imagined. It wasn't a constant supply of free spins but I didn't have to go too long between occurrences either. When I did get some free spins they would often pay out pretty considerably.
All in all, the features provided some enjoyable changes to the base gameplay without wandering too far away from the classic slot experience. I think it was a good middle-ground for people who prefer the base gameplay with some extras added onto it.
Conclusion
Rainbow Ryan is the type of slot that has a unique premise, good graphics and a nice collection of features. Still, I can't say I will remember this slot a few weeks down the line. It's doing everything it sets out to do well, but it also fails to leave a lasting impression. I think that's really unfortunate because it seems like Yggdrasil did put a decent amount of effort into it.
I wonder if Rainbow Ryan will appear in time in some other game since he does have a lot of character and I like the idea of a rocking leprechaun but he's severely underused in this slot. He mostly stands in the corner playing his guitar and I think having him more actively involved might have elevated this game to a new level.
That said, in no way is Rainbow Ryan bad. The features work well together, the free spins show up regularly and the 4,096 ways to win helped in getting a steady supply of wins. A max. win of 5,129x per bet is also quite impressive but it would probably require 6 expanding reels with the highest paying symbol to fill the entire playing field. Considering I didn't see 6 expanding reels appear at all during my time playing, I'd take it that's a very rare occurrence.
If you're a player that likes classic slots with some modern features added to it in a refreshing combination, Rainbow Ryan surely delivers without doing anything groundbreaking. People on either side of the divide, either looking for something truly unique or staying very close to the classic slot experience, probably won't find what they're looking for here.