Yggdrasil has let their imagination go wild with the steampunk theme when making Cazino Zeppelin, and in my opinion, to a great effect.
If you are a fan of the idea of riding in a secretive Cazino blimp that was built by Wild West-era mechanical engineers, then the game will unleash its hydraulic powers and captivate your interest with a 6,700x max win potential.
Although I am not a huge fan of this genre of science fiction, I think it can provide the right setting for a fun-loving slots adventure. The setting is a deranged game of poker played by people who seem to be the chief tinkerers in their world. It shows on their faces that they are intent on winning it all.
In terms of graphics, Cazino Zeppelin has lots of moving parts, cool sounds and a set of extra features that can provoke the best of its high volatility potential. Amazingly, anyone who is willing to make this a high-stakes game can do so without robbing a bank, thanks to a maximum wager of only $20.00 per spin.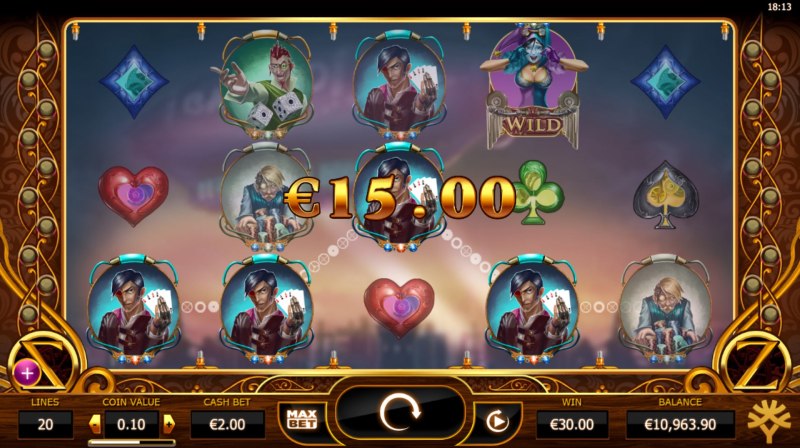 It's been almost five years since Yggdrasil made this release, which makes it one of very few slots in the steampunk genre – one being NetEnt's amazing Steam Tower. This fact by itself should be enough to inspire some players to try Cazino Zeppelin, but of course, there is more to the game than just the above.
Cazino Zeppelin Theme and Graphics
One look at the screen and it is obvious that you are inside a zeppelin that's been decked out with regal furniture just for that exclusive poker game. The three-row and five-reel layout is filled by the cards' suits and a set of expert bluffers whose portraits appear as major symbols.
In my opinion, the visual experience could have been far better if these symbols were animated at all times, but the game compensates for it with a fast-paced dynamic and a documentary film-type of a musical theme, which sounds absolutely great.
Part of the design features is the ability to click or tap on any of the symbols and view its respective payout potential. The same can be done for the wild symbol, as well as for the scatter.
Bonus Features
The game can offer only one bonus feature, but this isn't such a tragedy because I think it provides just enough for anyone to enjoy it.
Free Spins

The bonus is a round of free spins that can get triggered by three or more scatter symbols. Players can get ten free spins for three, 15 free spins for four and 20 spins for five scatters.

An added bonus is a token win of 2x your bet for any of the outcomes above. Two scatter symbols landing anywhere on the reel set pay the same amount, so not all goes south when you don't get three scatters.

Sticky Wilds

The wild symbol is a pretty automaton croupier that assumes a special role during the bonus feature. Any wilds that have appeared on the turn that triggered the bonus will remain sticky during the free rounds.

Wilds that land on the reels become sticky and if one fills each of the five reels, Cazino Zeppelin awards five extra spins.

Which brings me to the realisation that I didn't see any scatter symbols during the bonus and that means the possibility of retriggering the free spins is just not there.

On the other hand, getting two or more wilds early in the bonus is a sign of good things to come, as this is where Cazino Zeppelin can make its big win potential come true.
Bets and Payouts
The paytable on Cazino Zeppelin has a structure that I find quite appealing. Expectedly, any of the four minor symbols landing in threes pay less than the bet (0.25x your bet), but every other outcome pays more.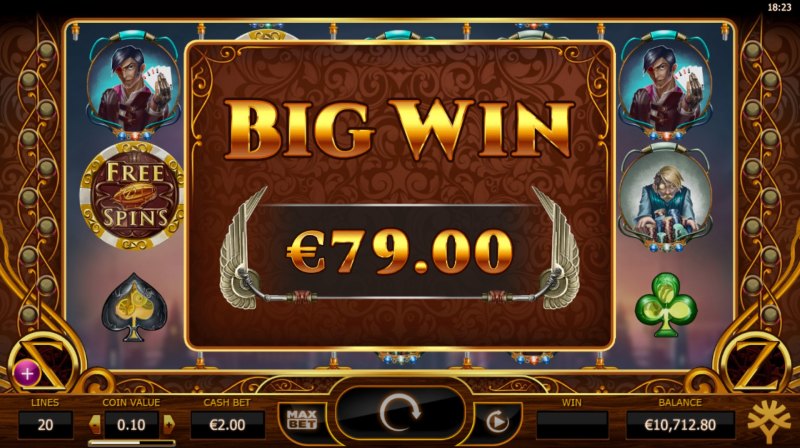 Over in the high-paying category, only the last symbol in terms of value pays 1x your bet. All other symbols pay more than that. The type of wins that we all want to see more of occur with four and five of a kind.
A jackpot of sorts can crop up with the character who is the equivalent to a steampunk robber baron. Five such symbols pay 100x your bet, however, the guy clad in green doesn't pay half bad either with 50x your bet for five of a kind.
Big outcomes such as these aren't necessarily pipe dreams, but they do occur rather sparsely, as you will notice that the high variance is fully at work in Cazino Zeppelin. This shouldn't discourage you because I think that the free spins bonus can put together a marvellous show with the help of the wilds.
Conclusion
Yggdrasil has become the slots experts they are by making games such as this. Even with not so much visual grandeur on the playing field, the game can prove to be an engaging endeavour for any slot player. Thankfully, the smallest bet is only 20p per spin, so anyone can at least check it out and get a feel for the mechanism in real time.