Leprechaun Goes Egypt answers the age-old question many of us have struggled with: what would happen if a Leprechaun visited one of the oldest still existing cultures on Earth? Well, you get this slot!
If the concept seems a little odd, keep in mind that developer Play 'n GO has other Leprechaun games where they introduce this character to different locations. It's expected for him to show up in Egypt at some point, and this happened in 2013 when the game was released.
This slot is based off a standard 5-reel, 3-row playing field with the usual 20 betlines. The smaller playing field means the symbols are bigger, showing off their impressive range of details both in graphics and animations. Even though the game is already a few years old it still holds up very well in the visual department.
Considering Leprechaun Goes Egypt is part of a series of slots it makes sense to compare them to others. Leprechaun Goes To Hell might be the strangest of the bunch, which put our eponymous hero in a rather hot situation. The graphics here are a bit more evolved since the game came out 3 years after this one, but it kept the overall vibe intact.
The musicians that worked on Leprechaun Goes Egypt had the unenviable task to create a song that combines Irish traditional folk music with Egyptian music. The end result is definitely unique although I'm not sure I would call it good. It includes Irish flute music with more Egyptian sounding guitar strums. When it comes to sound-effects, there were a lot of them. Especially during the bonus game, the leprechaun could be heard cheering and shouting.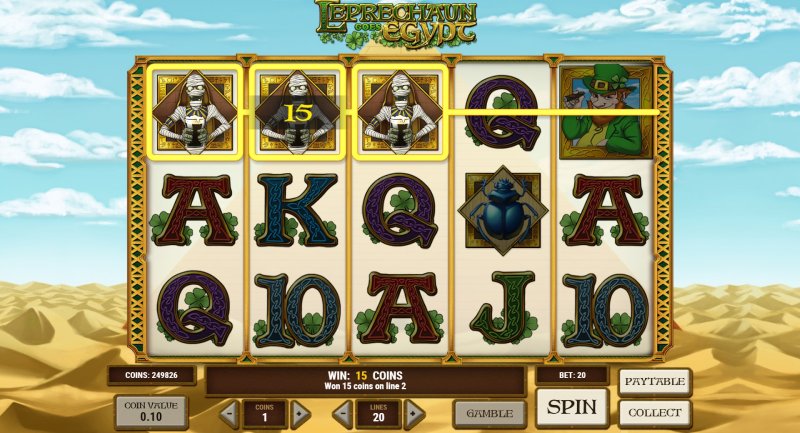 Symbols
The symbols in this slot are divided between high- and low-paying symbols. The high-paying symbols all depict something traditionally Egyptian. When they're part of a winning betline they are animated, often to include a bunch of lucky clovers. The low-paying symbols are cards, drawn with Irish patterns and more lucky clovers.
From highest to lowest they are:
Free Spins: Get 3 or more Free Spins symbols on the screen to activate the Free Spins feature.
Wild: Wilds substitute all other symbols in the game except the special symbols. They also multiply all wins by 2x.
Scatter: 2 or more Scatter Symbols grant an immediate coin win.
Bonus: Get 3 Bonus Symbols to activate the bonus game.
Pharaoh: Max. 750 coins with five-of-a-kind on a winning payline.
Sphinx: Max. 500 coins with five-of-a-kind on a winning payline.
Mummy: Max. 250 coins with five-of-a-kind on a winning payline.
Scarab: Max. 250 coins with five-of-a-kind on a winning payline.
Ace: Max. 150 coins with five-of-a-kind on a winning payline.
King: Max. 150 coins with five-of-a-kind on a winning payline.
Queen: Max. 125 coins with five-of-a-kind on a winning payline.
Jack: Max. 100 coins with five-of-a-kind on a winning payline.
10: Max. 100 coins with five-of-a-kind on a winning payline.
Because of the relatively high number of symbols the game gets stuck on a Medium Volatility, helped by the frequent appearance of the Bonus and Scatter symbols that granted immediate wins. Players are free to pick a bet between $0.01 and $100 per spin to help the size of their bets along, or to play it safe instead!
Features
Play 'n GO is always rather hesitant in introducing different features it seems. Leprechaun Goes Egypt again has a limited but interesting number of features that affect the game in smaller and bigger ways.
Wilds: Wilds substitute all other symbols in the game except the Free Spins, Scatter and Bonus symbols.
Multiplier: All wins that include a Wild will have a 2x multiplier applied to them. During the free spins mode, players get to choose a balance between free spins and the multiplier applied to all wins.
Bonus Game: The Bonus Game activates when 3 Bonus symbols appear on the screen. The player then chooses different doors for the Leprechaun to open as they descend into the pyramid.
Free Spins: With 3 or more Free Spins symbols, the Free Spins mode is activated. Players first pick the number of free spins coupled with a multiplier, then receive that number of free spins to spin.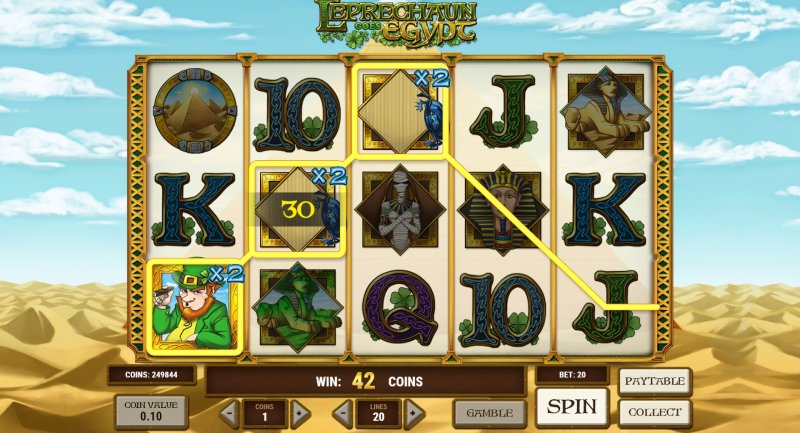 The base game is rather simple in this slot. The main things that can happen are the Scatter Symbols appearing, instantly granting a coin win, or the Wilds to show up and facilitate a win. When they do, a 2x multiplier is applied to all wins they are a part of.
The bonus game is a fun extra that we've seen before in Play 'n GO slots, including Enchanted Meadow and Leprechaun Goes To Hell. The Leprechaun is transported into a pyramid where they're presented with a series of doors. Behind each door is either a passage down, a coin win, or a mummy.
The passage down simply transports the Leprechaun to a lower level where there is 1 less door to choose from. The coin win comes in the shape of a scarab which is added to the win pool before the character is moved to the next level. The mummy appearing instantly ends the bonus game.
The goal is to either pick the passage down or the coin win every time until the Leprechaun reaches the treasure room of the pyramid where they make their final choice between 2 treasure chests. One has a big coin win, the other a mummy. After this, the total win is awarded and the player returns to the base game.
I found this bonus game to trigger quite often, but that's probably also because the total coin wins were rather low. It's theoretically possible to reach the treasure chamber and end up with 0 coins, assuming you pick the chest with the mummy at the end.
The other big feature is the Free Spins mode. This activates automatically with 3 or more Free Spins symbols. It's not possible to trigger additional free spins during this mode.
The player gets to make a choice here as well. Either pick 5 free spins with a 6x multiplier, 10 spins with a 3x multiplier or 15 spins with a 2x multiplier. Each multiplier is applied to every spin during the free spins mode. Once the free spins are done, the total win is awarded and the player is again returned to the main screen.
I found the Free Spins mode a lot harder to activate and it took me more than an hour to see it appear for the first time. I liked that the player gets the choice at how many free spins and how high of a multiplier they want to try. I found the third option to be the best on average, considering there are no extra mechanics at play that facilitate easier wins and with the medium volatility that means the more spins you get, the better.
Conclusion
Leprechaun Goes Egypt might be getting older but if Play 'n GO features have proven anything, it's that they're rather resilient. The graphics still look good, the animations are fun and the features are effective. The music is original as well, even if I personally wasn't too fond of it.
Players that enjoy other games by this developer will likely appreciate this one as well. The gameplay is close to classic but has enough original features to keep it interesting. Where the more adventurous players might not get everything out of it that they're looking for, the average player will be satisfied.
If you want to try out this game, you have an impressive max. win of 6,568x your bet to look forward to. The average wins were large enough to keep things interesting and spaced out enough to fit the medium volatility, during my time playing.