Deadwood is set in the infamous Wild West town which had a television show named after it, depicting scenes of violence, drinking and gambling. Players that want to get immersed will also get to enjoy some free spins, Stacked Wilds and a bonus game.
This game was released in 2020 by Nolimit City, showing off some of their best artwork so far as well as a whole collection of interesting features. The game has a non-standard playing field with reels 1 and 5 3-rows high, while reels 2, 3 and 4 are all 4-rows high. In total, this gives the game 576 paylines on which to win.
All the elements in this slot are made to fit the Wild West theme, starting with the background showing the dour mining town where everything takes place. The image is mostly hidden by the playing field. There aren't any animations to see but it looks suitably old and puts us in the right mood.
The symbols come in the usual low- and high-paying types, with card letters being the simplest. Using the right font and some degrading effects do make them like they belong, which was a good choice. The high-paying symbols are created for the slot, even though they aren't the most original ideas. When part of a win, these aren't animated either, unfortunately.
Deadwood Highlights
Buy bonus game: You can instantly enter the bonus round by paying a lump sum.
Freespins: You can get in-game free spins in Deadwood.
Multiplier: In Deadwood, the winnings can be multiplied by different multiplier mechanisms.
Stacked wilds: Stacked wilds appear as a tall column and create winning combinations across the reel.
Multiplier wilds: Multiplier wilds multiply the winnings in their winning combos.
Symbols
When playing Deadwood, there is a larger selection of symbols. The game makes uses of a few different features but they don't really make it easier to get wins, rather facilitating bigger wins. As a result, the game is listed with High Volatility and players should be aware that it will probably be a while before they can see any big wins.
The symbols in Deadwood include:
Scatter: Get 3 Scatter Symbols to activate the Free Spins mode.
Gold Bars: Max. 3.75x your win with five-of-a-kind on a winning bet line.
Pocketwatch: Max. 3x your win with five-of-a-kind on a winning bet line.
Vault: Max. 2.5x your win with five-of-a-kind on a winning bet line.
Whiskey: Max. 2x your win with five-of-a-kind on a winning bet line.
Shotgun: Max. 1.5x your win with five-of-a-kind on a winning bet line.
Ace: Max. 1.25x your win with five-of-a-kind on a winning bet line.
King: Max. 1.25x your win with five-of-a-kind on a winning bet line.
Queen: Max. 1x your win with five-of-a-kind on a winning bet line.
Jack: Max. 1x your win with five-of-a-kind on a winning bet line.
10: Max. 1x your win with five-of-a-kind on a winning bet line.
The game has low payouts, depending on the ways to win and the extra features to create big enough wins to make back a number of spins. In my experience, the funds went a little above my starting point and stayed there for quite a while.
Features
Deadwood is a slot that makes use of some special features that work quite well together. The list of features is:
Stacked Wilds: Special Wilds can appear that are stacked and fill the entire reel.
Multipliers: Stacked Wilds get nudged to fill the reel. Depending on the total number of nudges, the multiplier increases.
Shoot Out: Sheriff Badge symbols appear on reel 1 and 5. These trigger the Shoot Out feature where all low-paying symbols on reel 3 act as Wilds.
Free Spins: Get 3 Scatter symbols on the screen to activate the Free Spins mode. Players choose either Gunslinger or Hunter spins.
Gunslinger Spins: During Gunslinger wins, there is an unlimited win multiplier that is sticky for the entire free spins mode.
Hunter Spins: With Hunter Spins, at least 1 Hunter Wild is guaranteed to land every spin.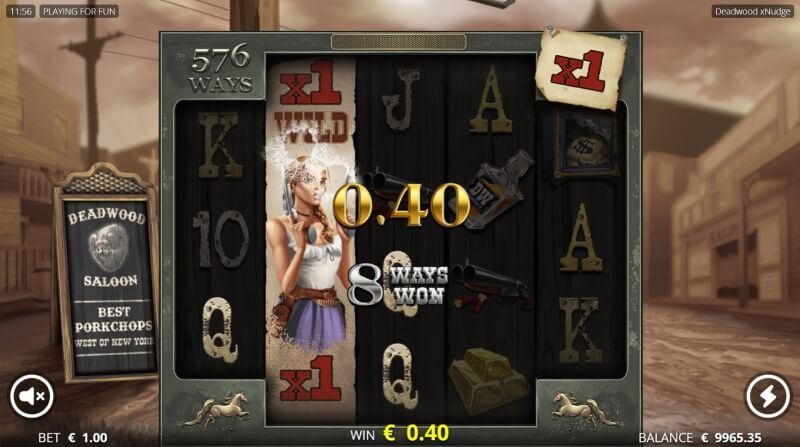 Deadwood hides its features a little as you begin to play, as the game looks as if it's just a simple slot that would only hold the regular number of features you'd expect. Even though it does have Wilds and Free Spins, it does some special things with it to make it a bit more complicated.
Not that any of the features are very difficult to understand but they do operate together in special ways. I thought the Shoot Out feature, for example, was a pretty substantial part of the game, but it's difficult to explain how it works. Players need to get a Sheriff's Star symbol on both reel 1 and 5 to change reel 3 into a Stacked Wild. Then the Wild gets nudged in place, increasing a multiplier by 1 with every row.
When you read this, it probably won't make a lot of sense. It's also rather hard to visualise but the game does a decent job at visualising it. By having the reels light up when waiting to see if the Sheriff's Star shows up and the Wild showing up with the multiplier on the screen, the player will get an idea of what's going on.
Even this is just one of the features in the game. There are many others, including two different free spin modes. One is focused on volatility, the other gives smaller but easier wins. I think the game did a good job at pacing it out, not overwhelming you with all of them at the same time.
Conclusion
Deadwood is a good-looking slot that really embraces the Wild West aesthetic and seems to get a lot of enjoyment in showing off. There are a number of great symbols and the art style is pretty unique as well. The game is sure to please people that are a fan of cowboys.
Playing the game is either going to please or annoy people. If you don't mind a frequent supply of different features triggering at different points in the game, you're likely to have a good time. If you prefer your gameplay to be uninterrupted by the special features then it will likely have the opposite effect, as the game is constantly interrupted by these features.
Due to the high volatility, players should pick a bet between $0.20 and $100 that they feel comfortable with. The max. win of 13,950x your bet is a substantial incentive though and might make some people very happy. It's just a matter of getting the stars to align to trigger this jackpot.
Pros
Deadwood slot offers a unique Wild West theme with high-quality graphics, animations, and sound effects that add to the game's overall atmosphere.
It features multiple bonus features, including free spins, multipliers, and wild symbols, that can help increase your chances of hitting a big win.
A high maximum payout of up to 13,950 times the bet, providing players with the potential for substantial winnings.
The game's RTP (Return to Player) percentage of 96.03% is higher than the average for online slots, making it a profitable slot for players.
Cons
Deadwood's high volatility means that wins may not come as frequently, and it may take more time to hit a big win.
The game's high minimum bet limit may be a downside for players with smaller bankrolls.
Its theme may not appeal to all players, especially those who are not fans of Western movies or cowboy-related themes.
The game lacks a progressive jackpot, which may be a downside for players who prefer to play for the chance to win big.