When you consider the facts, our planet is more salty than sweet and therefore needs more vanilla-dipped fruits.
Houston doesn't have a problem with this idea. Just think about it, the earth (and the seas) contain huge amounts of salt and we have developed a taste for meticulously-crafted delights made of sugar.
Therefore I think that Sweet 27 is just the game for one's eyes to feast on as the fruits on it are spinning on the reels towards the potential cash.
This is a three-reeler that gives you more pep for the layout thanks to 27 ways to win that can invite winning outcomes of up to 1750x your bet. I let the layout fool me thinking this is a standard three-reel, multiline slot, but its potential is quite decent and it can be pretty fun to play.
Players can get a taste of a high-variance slot that can make its biggest payouts with the help of walking wilds and retriggering free spins. Sweet 27 may not be so rich in features, but what it has is sugar-coated to the extent of making even a 20p game sweeter than any average slot game out there.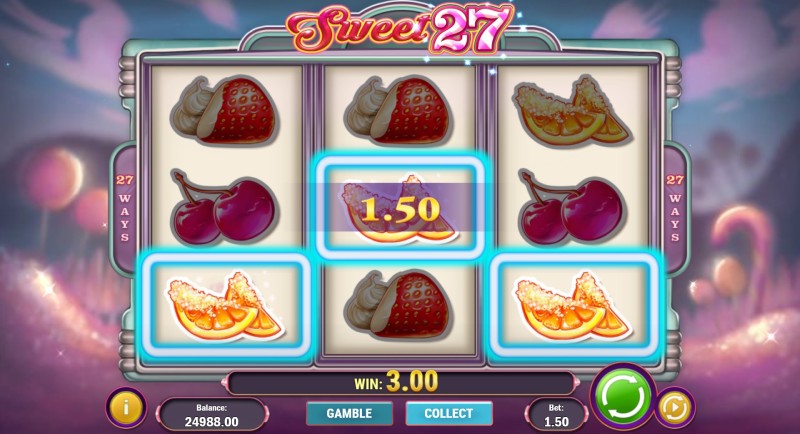 Theme and Graphics
From the get-go, I was hooked on the graphics which I can describe as 'melty' rather than 'fruity'. Yes, the theme is fruits that have been sufficiently treated in sweet sauces so as to inspire the sweet-tooth in you, for something that is sweet and wholesome at the same time.
Besides the gameplay, the best part of the game are the graphics, which is to say that the entire package is sweet and pleasing. Cherries, strawberries, oranges and blueberries are made abundant on the reels and a candy-coloured '7' and a chocolate BAR (get it?) top up the paytable as the high-paying symbols.
Perhaps there isn't much animation around the fruits like they don't get munched on the side by an invisible cookie monster nor do they get scooped by a spoon, but there is something like a liquid universe behind them that keeps things in flow with each winning outcome.
As for the soundtrack to this sweet rhapsody, Play'n GO has tapped some surf-rock, bebop and classical rock music for inspiration and come up with a 1950's American drive-up diner mood. It works marvellously.
Features
The one symbol that I didn't mention just above is the wild. It is represented by a candy, likely a mint because it has green stripes, but nevertheless, that symbol substitutes for all on the paytable.
The wild is definitely the sweetest symbol that you can get because it pays 5x your bet for three of a kind and it triggers two free spins during which this 'mint candy' rolls to the left from the reel where it had originally landed.
The gods of sweets had mercy on my candy-crushing soul and rewarded me additional wilds during the initial two free spins, which resulted in a 3x multiplier and extra free spins. The way it works is if you get a wild on the third reel you get two extra spins and 3x your bet on the winning outcomes resulting thereof.
Play'n GO has decided to let this retriggering event happen for up to nine times, so you can get a handful of free spins while that 3x multiplier stays. Maybe the maximum exposure of 1750x your bet isn't a huge amount, but I think getting a big win on Sweet 27 is quite realistic.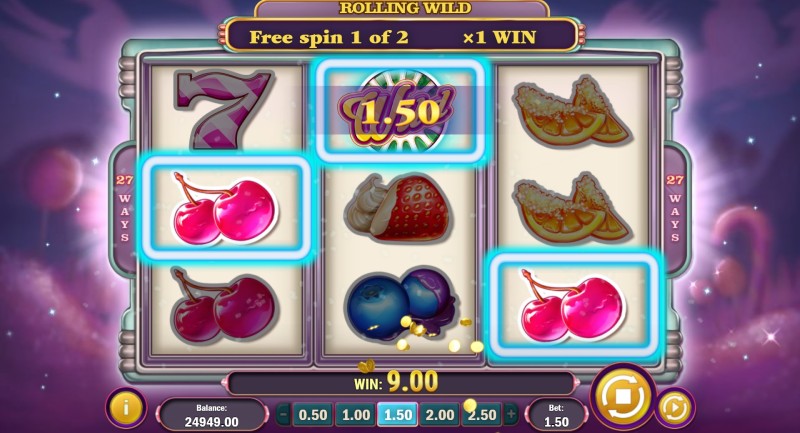 Bets and Payouts
In terms of the payout structure, Sweet 27 is short and sweet as there are only seven symbols on the paytable. That doesn't make any clutter on the three reels and three rows and keeps the gameplay dynamic.
Even though I like everything about the game, I think that the symbol payouts could have been just a tad higher. Thankfully none of fruits, sevens and BARs pays less than 1x your bet, but two of the six symbols pay exactly this amount – the cherries and the orange slices.
The blueberries and the strawberries pay 2x and the sevens and the BARs pay 3x your bet for three symbols across the 27 ways to win. I guess the wild is the symbol to 'blame' for these payout amounts because it can really turn any outcome into a moderately-sized win, that is relative to the bet, of course.
Conclusion
My final take on Sweet 27 is that it is a game with low symbol payouts but which has high variance. This leaves room for big wins, however, your base game isn't going to be inclined to trigger those. So, the heft of the payouts depends on the wild and how often it stops on the third reel to trigger the Rolling Wild feature.
Everything else about the game is fine and dandy when you need a change of scenery that can be provided by a simple game.