Jackpot Express is a game that is set in the Dirty Thirties in America, where gambling on riverboats was a common activity. Players get their own taste of this experience, with free spins, multipliers and three progressive jackpots to help them along.
Developed by veteran studio Yggdrasil and released in 2020, Jackpot Express has a name that implies a standard fruit machine slot but actually hides a modern and intricate slot. Although the game isn't as experimental as some of their other games, this slot still features some excellent graphics as well as a load of details.
The setting of the riverboats is displayed openly in the game with its 5-reel, 3-row playing field. The background shows us the banks of the river with opulent buildings in the distance. Meanwhile, the symbols on the playing field itself are more aimed at what happens inside the riverboat, with characters as the high-paying symbols. The low-paying symbols are card suits, which considering the setting are appropriate.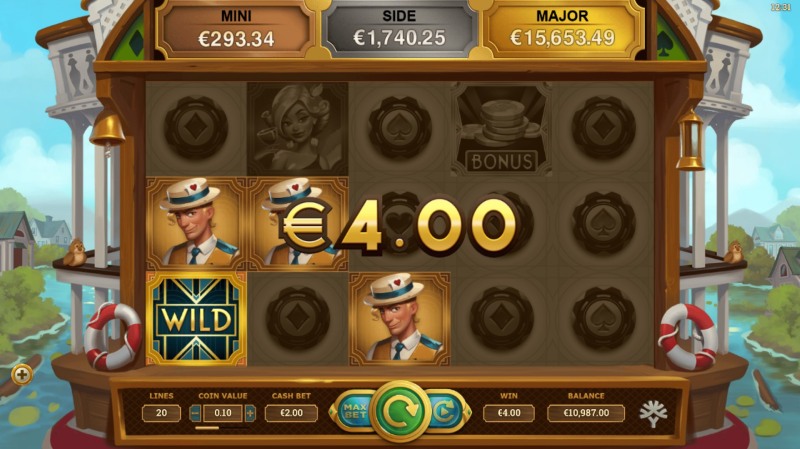 When it comes to the sounds, these really fit the setting quite well. We hear a jazzy song playing in the background of the game which changes its tune whenever the jackpot bonus game or the free spins mode are enabled. The sound effects are also appropriate, from the wheel spinning to hearing the reels click in place.
Symbols
Jackpot Express features 20 paylines, used to trigger wins with a moderate number of different symbols. Coupled with the features, this results in the game having Medium Volatility. As I played this game I found the regular wins to be quite steady and my funds hovered around the starting point. I did manage to hit it quite big during a jackpot round once but this was a one-time occurrence and shouldn't be considered standard.
The symbols you'll find in this game include:
Bonus: 3 Bonus symbols on the screen will activate the Jackpot bonus game.
Wild: A wild substitutes all regular symbols present in the game.
Captain: Max. 25x your bet with five-of-a-kind on a win line.
Angel: Max. 15x your bet with five-of-a-kind on a win line.
Socialite: Max. 12.5x your bet with five-of-a-kind on a win line.
Dealer: Max. 10x your bet with five-of-a-kind on a win line.
Spade: Max. 7x your bet with five-of-a-kind on a win line.
Heart: Max. 6x your bet with five-of-a-kind on a win line.
Club: Max. 5x your bet with five-of-a-kind on a win line.
Diamond: Max. 5x your bet with five-of-a-kind on a win line.
Getting wins isn't very rare but they aren't very high either, even with longer winning bet lines. This is compensated through the different features, but players can also help it along by picking a bet between $0.20 and $100 per spin. Besides the progressive jackpots that can increase over time, players can get a max. win of 2,175x your bet.
Features
Jackpot Express has only a small number of features but they're pretty common and they can impact the game with some bigger wins. The features include:
Wilds: Wilds substitute all the other symbols in the game except for the free spins symbol.
Free Spins: Getting 3 bonus symbols on the game triggers the free spins mode. During the free spins mode, it's possible to win additional free spins.
Jackpot Wheel: Landing 3 bonus symbols on the screen can also activate the jackpot wheel. The wheel gives access to three jackpots, as well as extra spins, multipliers and coin wins.
Multipliers: During the free spins mode, the game draws two cards. Their combined value is the total multiplier for that spin.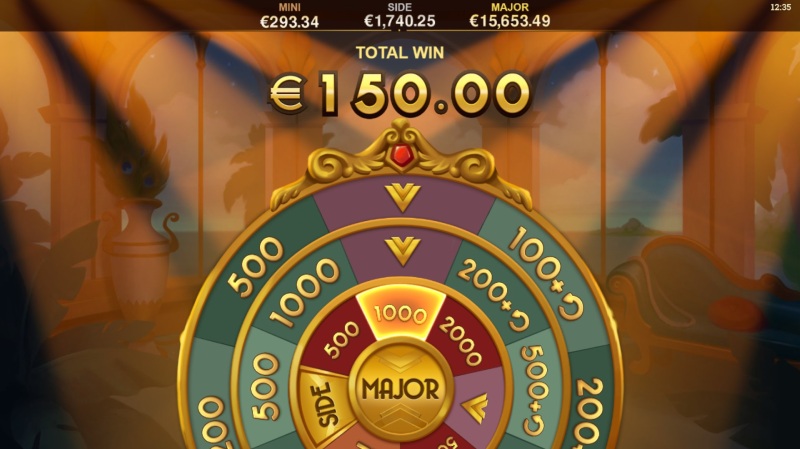 During the base game, only the Wilds will activate to help with granting wins. In my experience, this happened quite often but wouldn't trigger any big wins. The Wilds wouldn't appear stacked and even more, than one at a time was rare.
Getting a bonus symbol on the screen will randomly activate one of two features, either the bonus game or the free spins mode. As I was playing the game this was split pretty evenly, and both of them were about as useful. The Jackpot Wheel is made up out of 3 wheels, each progressively having a bigger jackpot.
The only way to get the biggest jackpot is having the previous two wheels land on the arrow symbol. There are more symbols on the wheel as well, including extra spins and multipliers as well as a direct coin win. While I played the slot, I did manage to get a big coin win but it's not something you can count on.
The free spins mode is what you'd expect but it has a single twist, where it will show two playing cards at a time. These will show two numbers that are added and become the multiplier for that spin. I found this mode to be pretty good at getting wins but they weren't as high as the wheel.
Conclusion
Jackpot Express has a rather generic name for a slot that actually has quite a lot of character and an actual theme it is based around. I think the developers should have chosen a title that would stand out a bit more because as it stands the name doesn't really tell you what's going on.
The graphics and the sound design are all excellent quality, especially considering the number of animations that are triggered when there's a win. If you are someone who enjoys a visually attractive slot you should definitely give this one a try.
I had a good time playing this game, especially considering I won a pretty big coin win. However, this only happened once and it shows how volatility plays a big part. Even so, the game tended to trend upwards so it's possible to end up with more than you started.