It looks like Play'n Go had tapped Tarantino's talents for the making of the zombie-apocalyptic Wild West slot, Golden Colts.
The game is a bonus feature galore. It comes with seven features that can scare the living hell out of the random number multiplier, for wins of up to 2,500x your bet.
I've played it many times and always enjoyed its consistency in generating events on the reels and because it is medium variance, the range of outcomes isn't constrained as in high variance slots, even if you decide to play it for a brief amount of time.
My personal favourite element of Golden Colts are the stacked wilds that can cover one or two reels during the respective feature game. Another highlight I find impressive is how intricately animated all of the symbols are, binding all events in the game together for a seamless visual experience.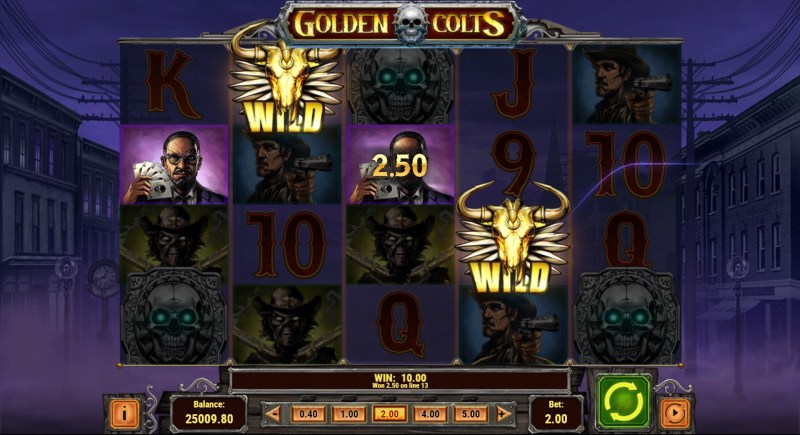 Theme and Graphics
Come to think of it, maybe Play'n GO did consult with a certain Tarantino movie for inspiration. The setting of Golden Colts is an alternative Wild West universe where renegades and gun-toting zombies are all vying for the winnings of a twisted poker showdown.
Playing the game feels like your visual field is mesmerized by the constant apparitions, such as the scatter skull staring at you with glowing eyes and the purple sky getting torn by lightning. The soundscape made of harrowed guitar riffs and wind fits the theme and the gameplay like a gun in its bespoke holster.
In plain words, I find the design features of Golden Colts simply marvellous, filled but not oversaturated in visual effects and underpinned by any imaginary backstory, if you ever wish to give it one.
Bonus Features
Wild

If you decide to play Golden Colts you are going to see plenty of its wild symbol. This is a paying symbol also, so it does double the benefit, besides substituting and posting stacked on the reels.

Scatter

The silver skull belt buckle is a cool way to say 'scatter symbol' when referring to it in this game. You need three to trigger the bonus game, which is going to award one of seven games.

When the bonus triggers, the open barrel of a revolver is spun and each chamber packs one of the seven features. Now, mind that you aren't getting a whole lot of spins for the bonuses, but they come supercharged with extras so you are getting a fair chance at landing decent wins.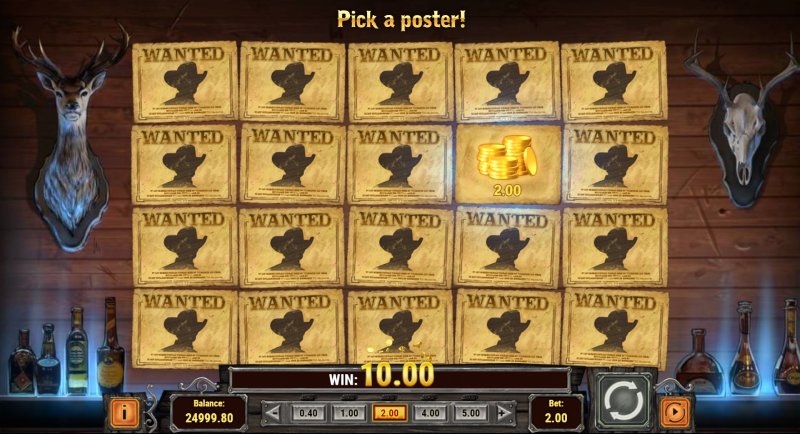 Bonus Games
Ace-High Gang gets you three free spins with mega symbols that take up 4×4 between reels two and five.
Wild Bull is the second three-spin game in which one or two reels are stacked wild on each spin.
Law of the Wild is a one-spin game where the zombie sheriff comes fully stacked on the reels. If the game dishes out a 3×3 block on the middle three reels, the player gets a respin, and subsequent respins with more of these symbols.
Gunslingers isn't just a name of a slot game by another company. Who knows, maybe they got the cue from this Golden Colts feature where one spin is awarded with a random win multiplier of up to 30x.
Poker Play starts as a one-respin game but can lead to subsequent respins, if the poker player's symbol lands on the reels at the start. The feature starts with a 2×2 symbol of the gambler, which acts as a wild and is sticky for the eventual respins.
Furies could be the name of the renegade cowgirl or maybe this is how she calls her pistols. At any rate, two 2×2 symbols stick anywhere on the reels for the subsequent respins until a winning outcome is made.
Most Wanted probably my favourite bonus game where you get to choose from a lot of 20 'Wanted' posters. These may reveal cash prizes that can add up, a wild symbol or a bonus symbol, or crossed bars.Selecting the wild or bonus symbol before you click on the crossed bars ends the Most Wanted bonus and brings you to one of the six previous bonus features.
Bets and Payouts
So far everything about the game sounds extremely good. Golden Colts is in the habit of triggering the features frequently, but in the meantime, you have to brave the small payouts.
Regardless of whether you land three low or high-paying symbols, neither outcome pays back your wager. To make gains you need to get at least four matching picture symbols on a payline. From low to high, the symbols in this category pay 1x, 1.25x, 1.50x and 1.75x your bet.
The picture isn't so pretty for four-symbol wins over in the cards category because your bet can make gains only for win outcomes consisting of five matching symbols. Start from nine to ace, these outcomes pay 1x, 1.25x, 1.5x, 1.75x, 2x and 2.25x.
Conclusion
Golden Colts is the perfect game for players who are looking for a thrilling experience with every spin. Many games can't arrange for that kind of experience, so this is a one-stop-shop to have fun and possibly make some big wins.
It is very probable that the base game isn't going to fill up your balance, so we have seven bonus games to do that. I can see the theoretical maximum of 2500x cropping up in two features – Poker Play and Law of the Wild, where Golden Colts can trigger successive respins.
Considering all of the above, the medium variance and the 96.00% RTP are the perfect way to describe what you may expect from the game.