Developed by Play'n Go, Black Mamba is a 5-reel, 20-payline slot that pays tribute to an Italian hard-rock band. Most hard rock music fans, let alone online slot players, had probably never heard of the Black Mamba band. Still, the game sure delivers Play'n Go's famous detailed design and innovative game features.
So whether you are into Italian hard rock or rock in general, it's worth checking out the Black Mamba slot machine. Featuring Cascading Reels, Progressive Multipliers, a Concert mode and Solo bonus features, the Black Mamba online slot brings to the reels a rock concert packed with excitement.
But did the Black Mamba online slot make us rock? Let's find out.
Theme and Graphics
I can't tell what made Play'n Go pick for its slot theme an obscure band. But uploading the game for the first time revealed a slot that is committed to the rock genre. The welcome screen shows the Black Mamba band members in the background of what appears to be a brick-walled rock club/cellar.
The same walls then serve as the game's backdrop, with the 5×5 grid in the screen's centre. To the left of the grid are loudspeakers that turn into a bonus meter and multiplier counter. To the right of the greed stands Cecilia, one of the band members, on a small stage. Although different band members take to the stage during solo bonus rounds, it is mainly occupied by Cecilia.
Sounds
Whether or not you are a rock fan, the background music is pretty good. As soon as you upload the game, it greets you with guitars and tunes that leave no doubt as to the rock concert you are about to enjoy on the reels.
When the Solo bonus features are triggered, the music becomes more intense. But all being part of the slot's theme, it works well. And remember that if you get tired of the music and it's too loud for you, you can always turn it off and keep spinning.
Mechanics
Black Mamba is not a traditional slot with horizontal paylines. Instead, it awards wins when symbols form clusters. With at least 3 symbols aligned vertically or horizontally, it's something in-between standard clusters mechanics and cascading reels. When you land a winning combination, the winning symbols are removed off the reels, making room for new symbols and more chances to win.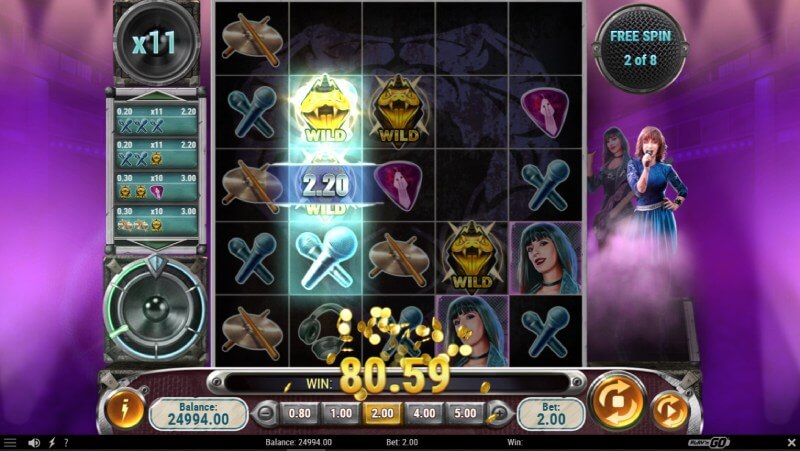 Black Mamba Highlights
Cascading reels: Cascading reels explode the winning symbols and drop down more to fill the gaps.
Multiplier: In Black Mamba, the winnings can be multiplied by different multiplier mechanisms.
Freespins: You can get in-game free spins in Black Mamba.
Random wilds: Random wilds are sprinkled on the reels after the spin to create more wins.
Wilds: Wilds substitute any standard symbol and help create more winning combinations.
Symbols
As expected from a slot dedicated to a hard-rock band, the high paying symbols at the Black Mamba slot machine are depicted by no other than the band members themselves. Continuing the rock theme, Black Mamba's low paying symbols are represented by different elements from the music world.
High Paying Symbols
Fred Maragoni (Drums): Pays max 10x for 5 symbols in a cluster
Cecilia Nappo (Bass): Pays max 10x for 5 symbols in a cluster
Alexandra Maiolo (Guitar): Pays max 10x for 5 symbols in a cluster
Band Member Combo (multiple member symbol): Pays max 6x for 5 symbols in a cluster
Low Paying Symbols
Plectrum, Cymbal: Pays max 1.5x for 5 symbols in a cluster
Headphones, Microphone: Pays max 1.0x for 5 symbols in a cluster
Special Symbols
Determined to rock you, the Black Mamba online slot boasts not one, but two Wild symbols:
Black Mamba's Band Logo: Substitutes for all symbols except a Scatter, pays 25x for 5 symbols on a cluster
Martina Cori: Substitutes for all symbols except a Scatter, pays 50x for 5 symbols on a cluster
The Black Mamba online slot doesn't feature a Scatter Symbol per se. Instead, you will need to clear the full grid to trigger Free Spins.
Features
So are you ready for a hot and heavy rock concert? Along with the energizing music, the Black Mamba slot machine will also pump up your adrenaline with cool bonus features.
Multipliers
The top speaker to the left of the grid is a multiplier counter. The multiplier is increased by 1x with every win and can rise up to 11x. If you charge the bonus meter all the way with Concert bonus rounds and Free Spins, you can get a multiplier of up to 50x your stake!
Solo Features
Once activated, each band member can then go on stage for a solo performance:
Fred: Transforms one set of symbols on the reels to another for more chances to win.
Cecilia: Greets you with 1 or two Wild Symbols that will be added to the reels.
Alexandra: Removes off the reels 2 sets of symbols and replaces them with new symbols.
Martina: Replaces band member symbols with Martina symbols from the bottom row. Martina will only perform during Concert mode or when Free Spins are activated.
The Solo bonus feature can be triggered randomly at any losing spin.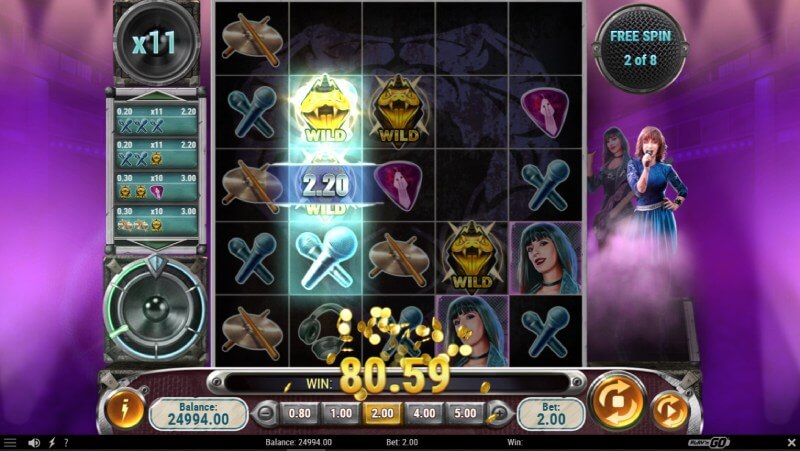 Concert Mode
The bonus meter is set left to the reels. If you manage to charge it with 4, 5, or 6 bars, you will activate the Concert feature. During the concert, each band member will perform their solo, and you will enjoy each's respective bonus features.
Free Spins:
If you manage to clear the entire grid of cascading reels from symbols, Free Spins are triggered. During Free Spins, one Martina solo will feature on each spin. Also, a solo by another band member will feature during losing spins.
Bets and Payouts
You can play the Black Mamba slot machine with a stake of between $0.20 and $100. The maximum win is 5,000x your stake. This means that you could win up to $500,000 in a single spin, not bad at all for a rock concert ticket, considering it is a high-volatility slot. The RTP (Return to Player) of the Black Mamba slot is a respectable 96.5%.
More Slots to Rock Your World
If you are into the rock genre, you must also try Annihilator. It is Another Play'n Go slot machine released in May 2020. Similar to Black Mamba, you will enjoy here high volatility and a 5,000x max win. It also features a 96.2% RTP, Sticky Wilds, Stacked Wilds, and exciting bonus games.
Conclusion
Black Mamba is a high volatility slot machine with a lot of noise and action all around. So keeping up with all the rock-on-the-reels can be a bit challenging if you aren't a band roadie. The design is good but very busy and cluttered at times. So if you are into action-packed gameplay with a lot of guitar riffs in the background, you'll definitely enjoy spinning the reels of Black Mamba.
If you prefer a more subtle experience on the reels, this slot may not be for you. Still, with inspiring solos, great concerts, and chances to win 5,000x your stake, you can come and visit for a few spins. If it gets too loud for you, just turn off the sound.