Rich Wilde made his name as a renowned adventurer and explorer. This time he's shaken off the sands of Egypt and starts a new quest in Play 'n GO's slot Rich Wilde and the Tome of Madness.
This game is a real treat for the fans of H.P. Lovecraft. Tired from fighting with the gods and mummies, Rich Wilde has stumbled upon a new book that piqued his interest. It's dusty, old and written in a strange language but that hasn't stopped Mr Wilde before! Throwing himself into translating the weird symbols, he manages to learn quite a bit about a cosmic entity called Cthulhu. According to the book, he's a Great Old One, slumbering in his house at R'lyeh beneath the ocean… And waiting for the time of his return.
For millions of years, the winged and octopus-faced creature has been in a death-like sleep. But, that hasn't stopped it from invading the dreams of people… For Rich Wilde, it's now clear that he must stop Cthulhu from gathering any more followers!
Rich Wilde and the Tome of Madness is not a traditional slot, as it has abandoned reels and paylines. Instead, it follows the footsteps of Gemix, Golden Ticket and Sweet Alchemy. If you love this type of grid games and are a fan of Lovecraft or Cthulhu Mythos, this slot might be a perfect choice.
Graphics and sound
The ambience of this slot is spot on. The game starts by reading out loud a passage from Call of Cthulhu;
"That is not dead which can eternal lie, And with strange aeons even death may die".
Horror and mystery entwine beautifully in Rich Wilde and the Tome of Madness with both music and graphics. Once you actually start the game, you can see Rich already waiting for you in a dark and run-down hall. Once so grand windows are now shattered, and the remaining pieces of glass shine with the brightly flashing lightning. It's also hard to see the stone floor beneath the thick, ominous fog. It seems like everything is waiting for something to happen.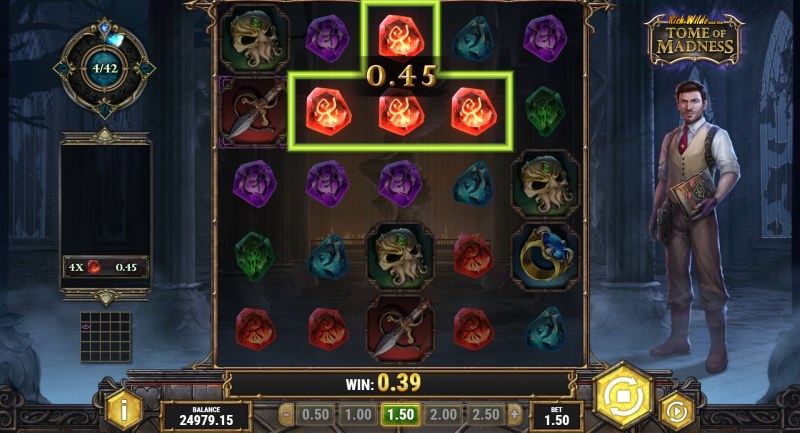 The appearance, music and sound effects get an A+. I'm not usually too fond of grid-style slots, but it makes a handsome pair with the theme.
Symbols and wins
Rich Wilde and the Tome of Madness is a 5×5 grid instead of a set of reels. To win, you need a group of at least 4 matching symbols. These symbols touch each other either horizontally or vertically; the location of the group doesn't matter.
The winning symbols are removed from the game and new symbols are added in.
The maximum win from the game is 2,000x your bet. This means a $2,000 win with a $1 bet, so judging from this the slot needs a much heavier wager to have any hope for those really massive winnings. In comparison, Rich Wilde and the Book of Dead can pay up to 2,500x your bet.
High-value symbols:
10 or more Cthulhu pendants pay 100x your bet
10 or more daggers pay 60x your bet
10 or more rings pay 40x your bet
10 or more Cthulhu masks pay 30x your bet
Low-value symbols:
10 or more purple stones pay 6x your bet
10 or more red stones pay 5x your bet
10 or more blue stones pay 4x your bet
10 or more green stones pay 2x your bet
Features
All winning symbols get replaced by new symbols falling from the top. This makes it possible to get more than one winning combination on each spin.
Rich Wilde and the Tome of Madness is a 5×5 grid. It doesn't have any reels or actual paylines but instead, wins are calculated by symbol groups.
Eye marks are dimly highlighted spots. During the base game, there can be only one Eye mark and during Other World Free Round, there are several. If a winning symbol happens to be in the same spot as the Eye mark it adds Special Wilds to the grid.
Activating all Eye marks in Other World Free Round summons the Mega Wild Cthulhu.
Each win in the game fills up the Portal meter. You need at least 42 symbols for the Portal to open and let you pass in Other World.
However, there are perks in filling the meter even if you don't manage to acquire all 42 symbols. The meter has certain steps that, once achieved, can add Special Wilds to the game.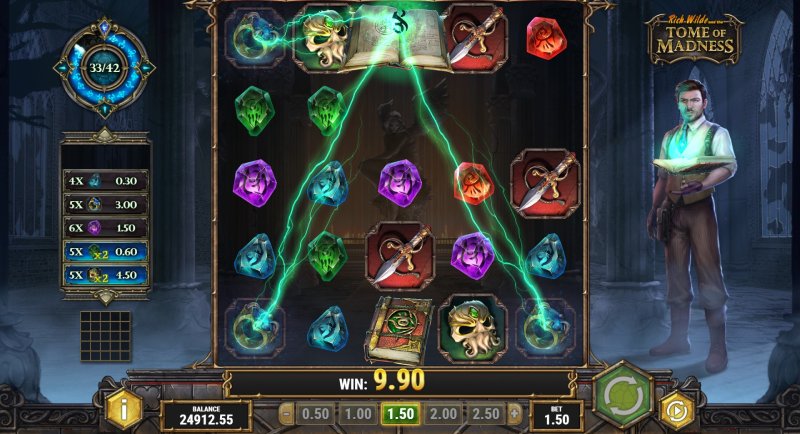 Special Wilds act as regular wilds that can substitute all other symbols but, they can also activate Abyss and Void if they belong in a winning group.
Can be triggered by activating Special Wild. Abyss empties either rows or columns.
Can be triggered by activating Special Wild. Void removes all of one random symbol from the grid.
Rich Wilde is a multiplier wild that substitutes all other symbols and doubles the win.
If you can get the Portal meter filled up with at least 42 symbols you get to step to Other World. Other World Free Round keeps going until there are no more winning clusters. You can also win Portal features during the Free Round, including Special Wilds, Void and Abyss.
You win Mega Wild Cthulhu only by activating all of the Eye marks.
Mega Wild Cthulhu is a 2×2 Wild that substitutes all other symbols in the game. As it creates winning clusters it travels down until it reaches the bottom of the grid. Then it pays the last wins and the feature ends, returning you to the main game.
Final Thoughts
Rich Wilde and the Tome of Madness is a must-try for the lovers of horror and of course, the fans of Lovecraft. The game doesn't follow the story as deep as it could go at any point (even though there would be so much from where to take). However, the theme doesn't feel too much like it was just glued on, either.
Playing the slot is simple so that even newcomers can relax and just enjoy the ride. After adjusting the bet, all that's left is to start spinning and trying to fill up the Portal meter with symbols – the free round of Other World does have the level of potential worth pursuing.
But, even the main game has lots of action and excitement. Even if you don't get the meter 100% full it can help you to collect chain wins, as they are the true power behind big wins. And here's where I get to the greediness of the slot. I don't recommend playing Rich Wilde and the Tome of Madness unless you have bets to burn, as it is a highly volatile game. The best chance to hit it big is to get to Other World and summon the Great Old One.
Rich Wilde and the Tome of Madness is a very handsome slot and straight out treat for us horror maniacs. The features are looking good and keep things interesting but, they often leave you disappointed as they just can't seem to get rolling well enough. Also, the slot doesn't offer anything new in any way. Still, I'd recommend this game for a fellow cultist… I mean, for a totally normal and not suspicious person.