Frost Queen Jackpots revolves around the eponymous Frost Queen who is in control of 5 different jackpots that might be awarded to a player. The game further features a bonus game, free spins and multipliers that might help the player get along.
The slot that was developed in 2020 and released by Yggdrasil features a 5-reel, 3-row playing field that can be found in the middle of a number of snowy peaks. The graphics are pretty good but the symbols aren't particularly original. Looking at the card letters you'll know what you need to know: the design team made them look icy, but they still don't make sense in the context of the slot.
Much of the gameplay is exactly what you'd expect from a standard slot which is quite disappointing considering much of Yggdrasil's library. The studio has always had a reputation for coming up with innovative features and designs for its slots, which make this one stand in stark contrast. The game simply uses 20 paylines to determine wins and not much else.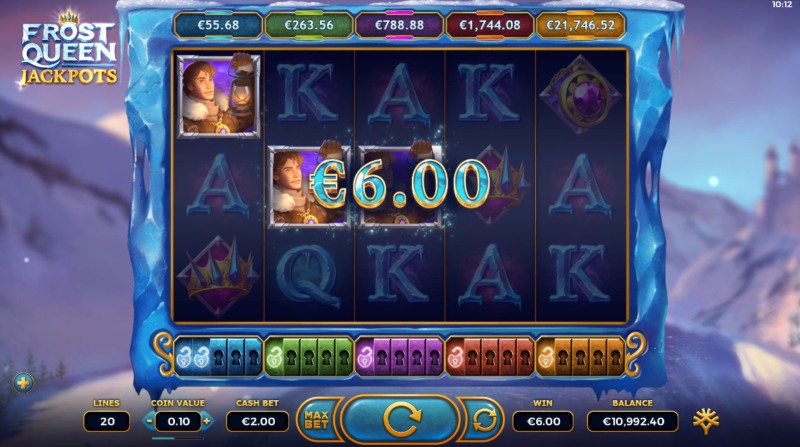 The sound design is solid with an orchestral soundtrack that plays in the background of the game during the free spins mode. When the player is in the base game the music is sharply contrasted by only being very toned down and ethereal, which was a nice distinction. Wins were emphasised by loud jingles which did ruin the mood somewhat.
Symbols
Frost Queen Jackpots has a moderate number of different symbols which can be divided into the usual low- and high-paying symbols. Due to this, the normal size of the slot and the average number of paylines, as well as the frequent features the slot lands on Low Volatility. Players can expect wins relatively often although they won't be very high. In my time playing, I did find that my funds kept dropping almost the entire time, even if this was somewhat compensated by the frequent wins.
The symbols in the game include:
Bonus: 3 or more Bonus symbols activate the Magic Mirror bonus game. Max. 500x your bet with 5-of-a-kind on the screen.
Frost Queen: Max. 400x your bet with five-of-a-kind on a winning bet line.
Prince: Max. 200x your bet with five-of-a-kind on a winning bet line.
Crown: Max. 100x your bet with five-of-a-kind on a winning bet line.
Amulet: Max. 75x your bet with five-of-a-kind on a winning bet line.
Ace: Max. 20x your bet with five-of-a-kind on a winning bet line.
King: Max. 18x your bet with five-of-a-kind on a winning bet line.
Queen: Max. 15x your bet with five-of-a-kind on a winning bet line.
Jack: Max. 13x your bet with five-of-a-kind on a winning bet line.
Players can adjust their experience somewhat by increasing or decreasing the size of their bets, between $0.20 and $40 per spin. It's always a good idea to take a little time playing the game on a lower bet regardless of their volatility to get a feel for the game, before deciding whether to increase the size of your bets at all.
Features
Frost Queen Jackpots has a couple of different features that are all based around the base game but don't keep the player there. In fact, there are 2 bonus games and a free spins mode that will distract the player, which might be something that either excites or annoys people.
The features include:
Magic Mirror: When the player gets 3 or more Bonus symbols on the screen the Magic Mirror bonus game is triggered, letting players pick between 1 of 5 chests.
Coin Win: 3 of the 5 chests in the Magic Mirror bonus game will hold different size coin wins, based on your bet.
Treasure Chest: 1 of the 5 chests in the Magic Mirror bonus game holds the Treasure Chest key, activating the treasure chest bonus game. This will let the player pick from 3 chests, each of them hiding a coin win.
Free Spins: The remaining 1 of the 5 chests holds a Free Spins symbol, granting the player the free spins mode.
Jackpot: During the free spins mode, the player can collect Jackpot Keys. When collecting enough of a certain colour it will reward that jackpot.
Multiplier: All wins during the free spins will have a 3x multiplier.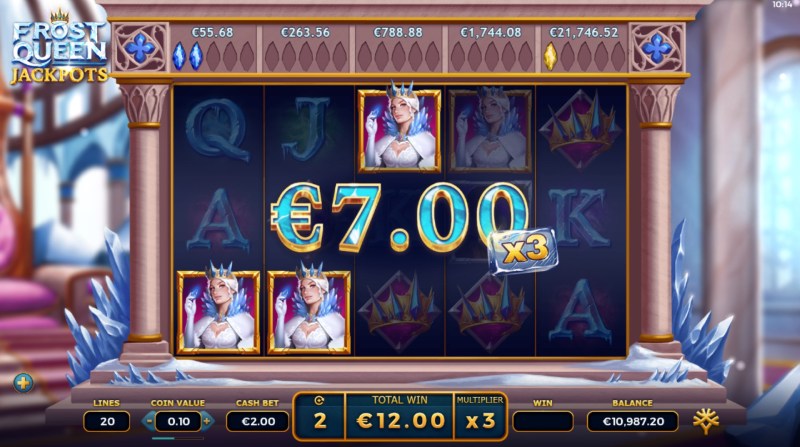 In contrast with most other slots out today, this game doesn't feature wilds at all, in any shape or form. Instead, players will be helped by various bonus games and free spins to give them an edge. There are a total of 5 jackpots in the game that can be won in any order, as each jackpot requires 5 crystals of a certain colour and these are obtained randomly.
Players will often be shown a series of 5 chests as these are activated when 3 or more scatter symbols appear on the screen. These chests can hide free spins, the bonus game or 3 coin wins. Depending on how high your bets are, the coin wins will be bigger or smaller.
Special mention goes to the treasure chest bonus game, as it shows the player 3 series of 3 chests. If the player manages to pick the right chest every time they can amass a nice total win, but picking the wrong chest will instantly end the bonus game.
Conclusion
Frost Queen Jackpots is a fine basic slot, it's just a shame that the studio that released it has made a name for releasing more original slots. Perhaps Yggdrasil, just like Netent, concluded that it is a safer and more lucrative business decision to only produce standard games instead of the experimental slots they were known for.
That said, the game offers exactly what most players will be looking for. The jackpots are always on screen and it always feels like a possibility that you can win at least one of them. The maximum win varies as they are all progressive, but through standard means, there is a max. win of 1,256x your bet.
If you're looking for a slot that you will be able to instantly play but which will require player input frequently, then you might enjoy this game. People who would rather switch their brain off and watch the reels spin might get annoyed by the constant interruptions.