It is time to enter the Tomb of Akhenaten and explore its 3,125 winding win-ways and huge max win potential.
Akhenaten was a famous pharaoh who decided to reconfigure the entire ancient Egyptian religion in one fell swoop – by casting himself as the ultimate god.
Good on him, because he made history and now there is an online slot bearing his name.
Nolimit City makes an adequate tribute to his "overlordliness" by equipping a 3×5 layout with Sticky Win Spins, Pyramid Wilds and the Akhenaten Spins features.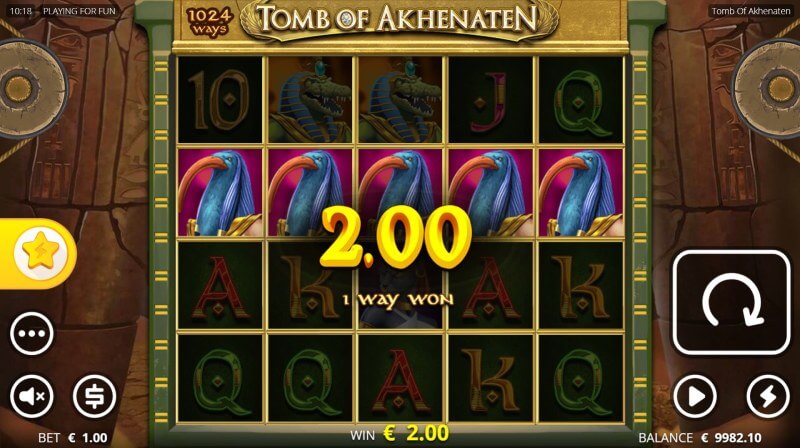 I enjoyed the gameplay thanks to the shifting layout which comes by way of respins and win multipliers. What starts with three rows and five reels can quickly expand with the help of subsequent winning outcomes.
In my opinion, most slot players will find this game to be fun to play and potentially rewarding. The game mechanic enables big wins and second chances from the same spin.
This makes Tomb of Akhenaten dynamic and a welcome alternative to any of the "Book of…" series of slots that seem to dominate the Ancient Egypt theme.
Theme and Graphics
Nolimit City didn't splurge on animation in making Tomb of Akhenaten, but there are bits and details that make the game appealing.
The high-paying symbols are the usual suspects of Ancient Egypt: Amun, Anubis, Bastet, Thoth and Sobek. I am not too impressed with the way they are drawn and they are as still as statues even when part of a winning outcome.
The dynamic that makes the game enjoyable is its shifting mechanic. Winning symbols are wrapped in a cool electric fire and remain as such for the respins. This can bring you to the edge of your seat as you are expecting the third respin and the Pyramid Wilds.
In my opinion, Tomb of Akhenaten can hold your attention, but it all depends on how you fare in the base game. At times, the gameplay appears to be slow, but that can change quickly as the machine begins to add rows to the reel set.
I consider the Sticky Win Spins to be both an extra feature and part of the standard game mechanic. Nolimit City has fused the best of both worlds to create a dynamic semi-cascading wins mechanic with the added benefit of respins.
I found the Wild symbol to be super helpful in improving my winning outcomes. This is especially true in view of the third and last respin which can lock in place all of the winning symbols for a super win.
Here is how it works.
Landing three or more matching symbols adds one row at the top. If there is another winning outcome or the first one is improved by adding extra matching symbols, Tomb of Akhenaten adds another row.
If there is yet another winning outcome, the game locks in place all of the winning combinations for a third respin. This gives you a chance to reach the maximum 3,125 win-ways and get the benefit of the supercharged Pyramid Wilds.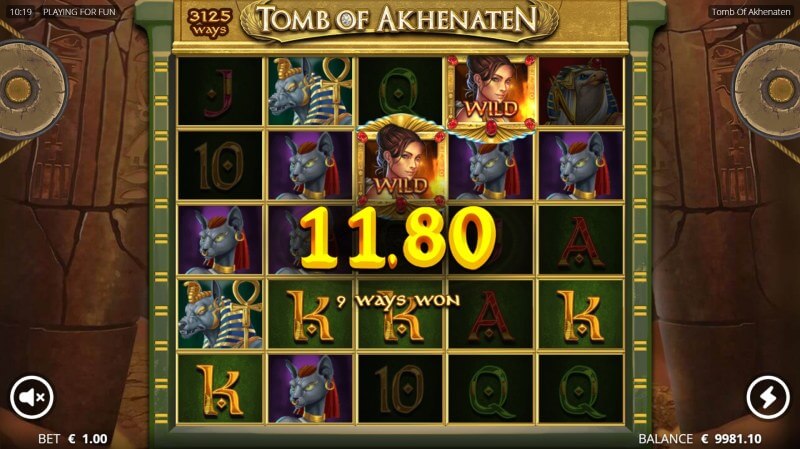 Reaching the third Sticky Spin level can result in one Pyramid Wild added per reel. All of the standard paying symbols on the reel that gets the supercharged Wild token are converted into Pyramid Wilds, except the Bonus and standard Wild symbol.
There is a big payout potential in this feature, however, getting it to trigger during the free spins bonus can take your game to a whole other level.
The main bonus feature is triggered with three or more Akhenaten bonus symbols. These can land anywhere on the five reels, including the respins.
There is no other way to describe the potential effect of the feature except by saying it is a behemoth of a bonus game.
First off, the win multipliers don't reset when the Sticky Win Spin is over and second, you can extend the free rounds by getting additional Bonus symbols, which add +1 spin to the tally.
Overall, this is why players play Tomb of Akhenaten. Getting the free spins bonus to trigger can translate into extraordinary wins. The finishing touch on any spin can be put by a single Pyramid Wild reel, however, these aren't easy to come by.
Bets and Payouts
Tomb of Akhenaten can surprise you with the extent of the respins and win multipliers, but one-off winning outcomes tend to disappoint.
The paytable structure is typical for any game whose winning outcomes depend on win multipliers and cascades. The values start off really low, with 0.1x your bet for any three of the royal card symbols.
Even if you get a base game win multiplier of 3x, the outcome isn't going to surpass your bet unless it consists of two or more winning combinations.
As it can be expected, this is how Tomb of Akhenaten strikes its balance between the high win potential and the low values on the paytable. The range of bets is between 10p and $100.00.
10 card: 0.1x, 0.2x, 0.5x
Jack: 0.1x, 0.2x, 0.5x
Queen: 0.1x, 0.2x, 1x
King: 0.1x, 0.3x, 1x
Ace: 0.1x, 0.3x, 1.2x
Bastet: 0.2x, 0.5x, 1.5x
Thoth: 0.2x, 0.6x, 2x
Sobek: 0.3x, 0.7x, 2.5x
Anubis: 0.4x, 0.8x, 3.5x
Amun: 0.5x, 1x, 5x
Conclusion
Tomb of Akhenaten has hard specs that are typical for high volatility slots. A huge win potential of 26,261x is appealing and theoretically reachable by repeated respins and extra spins.
Experienced players will recognize the potential from the first few spins, but don't expect big payouts in the base game. I noticed that the Pyramid Wilds are not too common. When they do post on the reels, they almost certainly translate into appetizing wins.
Overall, it is a fun game to play and one that can give Book of Dead a kick in the behind.