24K Dragon is a Play 'n GO slot that has the player face off against a massive dragon that is guarding an equally massive treasure. The game doesn't just feature an animated dragon but also entertains the players with free spins, re-spins, expanding rows and multiplier wilds.
The game was developed and released in 2020, making it one of the latest to be released by this experienced studio. 24K Dragon has a 5-reel, 4-row playing field that can expand during the free spins mode with a series of extra rows. The game draws a lot of inspiration from classic European dragons, placing us in the middle of a massive pile of gold. Many of the symbols are similarly based around different kinds of riches.
24K Dragon doesn't use standard paylines but instead has the less-popular but still familiar Ways To Win mechanic. The same symbol appearing on consecutive reels from left to right count as a win, regardless of their place on the reel. In turn, this means that the game has between 1,024 to a massive 8,192 Ways To Win depending on the number of expanding reels that are activated.
In terms of music, this slot brings out the bombastic, dramatic music with lots of drums and loud orchestral music. This brings the idea of venturing into a dragon's lair to life and I liked that. Some people might find it a little too much though, especially considering the song doesn't let up and calm down at any point. The sound effects are also fitting, including rattling chains and symbols dropping down.
24K Dragon Highlights
Max. win: The maximum win of 24K Dragon is 24000 x your bet.
Freespins: You can get in-game free spins in 24K Dragon.
Re-spins: Re-spins make the reels spin again without having to place an additional bet.
Expanding reels: Expanding reel feature copies the symbols to neighbouring reels or adds new places for symbols.
Multiplier wilds: Multiplier wilds multiply the winnings in their winning combos.
Symbols
The symbols in 24K Dragon aren't all original but they are somewhat made to fit the theme. The low-paying card letters are done in a simple gothic font with some effort to make it fit the fantasy theme. Meanwhile, it doesn't do enough to justify their presence in a game about a dragon. The high-paying symbols are unique and represent different types of valuables.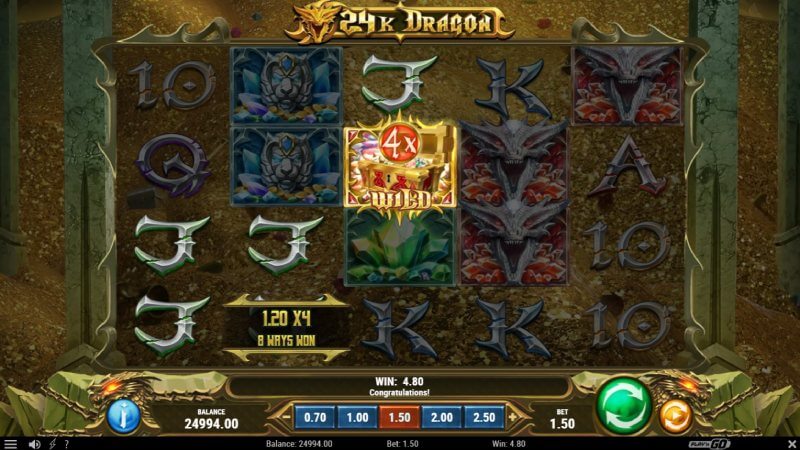 You'll find the following symbols in the game:
Diamond Scatter: Get 3 or more Diamond Scatters during the base game to activate the free spins mode. Winning additional spins during the free spins mode is possible.
Wild: The Wild substitutes all regular symbols in the game, only appears on reel 3 and may activate a multiplier up to 64x your win.
Golden Dragon: The Golden Dragon Head will award you with a re-spin. Max. 5x your bet with five-of-a-kind on a win line.
Silver Dragon: Max. 5x your bet with five-of-a-kind on a win line.
Gold: Max. 2.5x your bet with five-of-a-kind on a win line.
Gems: Max. 2x your bet with five-of-a-kind on a win line.
Sapphires: Max. 2x your bet with five-of-a-kind on a win line.
Ace: Max. 1x your bet with five-of-a-kind on a win line.
King: Max. 0.6x your bet with five-of-a-kind on a win line.
Queen: Max. 0.6x your bet with five-of-a-kind on a win line.
Jack: Max. 0.4x your bet with five-of-a-kind on a win line.
10: Max. 0.4x your bet with five-of-a-kind on a win line.
The payouts per win are very low but due to the Ways To Win mechanic, it's assumed you'll usually get multiple wins per spin. In my experience, this would often be the case, especially during the free spins mode. The game in total reminded me a lot of NetEnt's Rage of the Seas. Even though they're made by different developers they both use almost the exact same features.
If you were wondering where the slot got its name from, the 24k is referencing the max. win of 24,000x your bet which is, of course, a massive jackpot. Players can pick a bet between $0.10 and $100 per spin but the High Volatility does make a bigger bet a lot riskier.
Features
24K Dragon is a slot with a sturdy number of features that work together in interesting ways. My experience with the game was that my funds tended to go into the positives but it was dependent on getting the free spins mode to activate, and not every time the free spins mode started would it grant any wins. I even had times where it quite literally gave zero coins.
However, if things go as planned you will notice that your funds will start to trend upwards, largely thanks to the following features:
Ways To Win: Wins are counted by symbols appearing on consecutive reels from left to right.
Expanding Rows: During the Free Spins mode, Dragon Heads unlock additional rows, up to 4 extra rows.
Multiplier Wilds: Wilds only appear on reel 3 and can activate a multiplier up to 64x your win.
Re-Spins: When the Dragon Head appears during the base game, this immediately triggers a re-spin.
Free Spins: With 3 or more Scatter Symbols on the screen the Free Spins mode is activated. Retriggering additional spins during the mode are possible.
The Free Spins mode is a big part of the game even though it doesn't activate all that often. Once it does, the game starts the free spins as normal but every time a Golden Dragon symbol appears on the screen it works to unlock one of the expanding rows. As the free spins progress, more Golden Dragon heads unlock additional rows. The more rows that are opened, the more ways to win are unlocked.
This was for me the best way to get big wins, especially when coupled with winning additional free spins. During one of my times accessing the free spins mode, I unlocked all rows and more than 60 free spins. This is not common, however, and players shouldn't count on this happening often.
During the base game, the player still has several options to get big wins. With the appearance of a Dragon Head symbol here, the game triggers a single re-spin with 3 expanding rows unlocked. Even though the amount won might not be very big, it can still be a much-needed boost.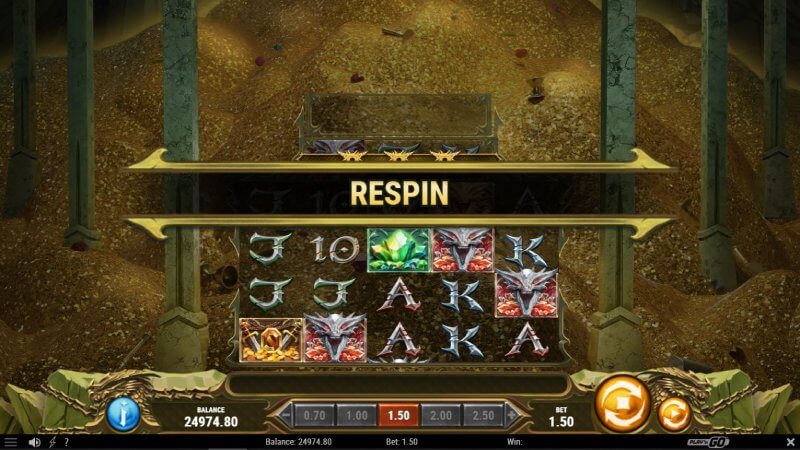 Another element in the base game is the Wild. This one only appears on reel 3 but when it shows up it will help in creating wins regardless of its position considering the Ways To Win mechanic. At the same time, the Wild can add a random multiplier between 2x and 64x your win.
I found the features to be pretty interesting and they all activated often enough to feel like they were a part of the slot. My experience with the features is that they end up being pretty beneficial, but keep in mind the high volatility and that it might not work out that way for you.
Conclusion
24K Dragon is a nice, interesting slot with great graphics and an impressive soundtrack. Players will need some time to get used to the variety of different features but they all work together to create the occasional larger win.
If you can afford to play the game for about 15 minutes to get a grip of the features, I'm sure most players will have a good time playing this slot. There are a number of features but they aren't that difficult to understand, the main bottleneck is figuring out how they work together!