Winterberries fills our reels with delicious looking berries that are kept ice-cold and frozen in place to get the big wins.
It continues to amaze me what sort of concepts people can turn into games, and Winterberries tops that list. If you thought that you couldn't make a video slot out of different types of berries in an arctic environment, you'd be wrong!
Winterberries was developed by Yggdrasil and released in 2016. It has the normal 5-reel, 3-row playing field with 20 paylines. The game is filled with all types of berries, all drawn with impressive detail.
The first thing I noticed when starting up this slot game 4 years ago was the graphics and it still does that now. Winterberries has a distinct look to it that is a little hit-or-miss for me. The background places us at the edge of an icy lake, surrounded by mountains with snow-covered tops. When looking closer however it seems like these are low-resolution photos, or maybe they were traced. Either way, it doesn't look very good.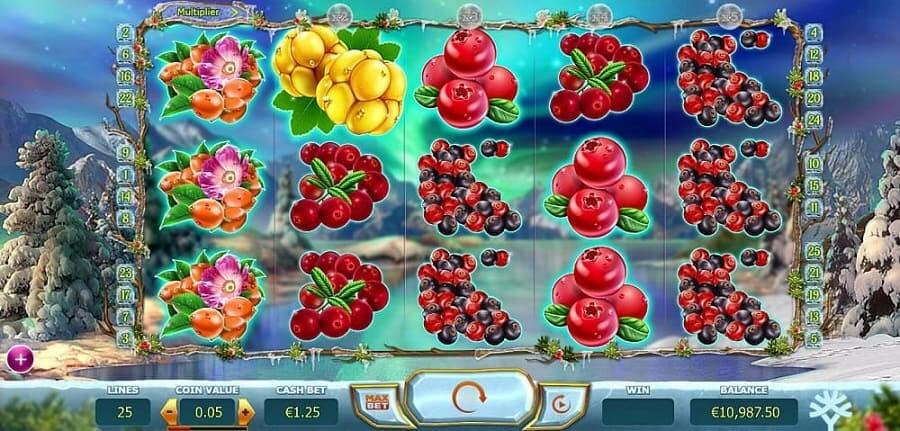 The different types of berries are all expertly hand-drawn however. There was seemingly no attempt to give them character, they are just drawings of real berries. That said, they are sharp and quite big. I found it helpful that they are easy to tell apart as well.
Unfortunately, I don't have much to say about the sound design. In fact, it might be one of the worst I've heard in a long time playing slots! From what I can gather, the idea was to simulate a blizzard or arctic wind sound effect that's playing the entire time. Instead, it sounds like someone is vacuuming in my ear. It almost drowns out all other sounds in the game. Luckily the game has a mute function.
I don't let the graphics and sound sway my opinion on slots too much since some of the best slots I've ever played have poor graphics and little sound. That's why the graphics of Winterberries are nothing to worry about. However, the sound is really bad and that's a shame because it might have been a way to add some personality to the game.
Symbols
With a game like Winterberries, it's easy to guess what types of symbols we get to play with. They are from highest to lowest:
Golden Berries: Max. 500 coins with five-of-a-kind on a payline.
Blueberries: Max. 150 coins with five-of-a-kind on a payline.
Cranberries: Max. 75 coins with five-of-a-kind on a payline.
Orange Berries: Max. 50 coins with five-of-a-kind on a payline.
Red Currant: Max. 50 coins with five-of-a-kind on a payline.
Black Currant: Max. 25 coins with five-of-a-kind on a payline.
Mixed Berries: Max. 25 coins with five-of-a-kind on a payline.
Even though they're all berries, the drawings make them distinct enough to tell apart. The use of colour helps a lot plus the playing field is quite big. I never had an issue seeing how close I was to land on a win.
Features
Winterberries is one of the simplest slots I've played, back when it first came out and now. It has no bonus game, scatters or free spins. It only adjusts the base gameplay a little bit but that does do a lot to change the gameplay. For the better, I might add.
Be aware that Winterberries has High Volatility, and I think the features make this very obvious. Expect to win rarely but get a sizeable one when you do!
Sticky Symbols: Whenever you get 3 or more symbols on a payline, the symbols will stick in place.
Re-Spins: If there are 3 or more symbols on a payline, the symbols will stick and the reels will start a re-spin. These re-spins continue for as long as more of the same symbol appear, which will also stick.
Multipliers: For every reel past the first one you fill with the same symbol, you gain a multiplier up to 5x your win!
As you can tell, that's not a lot of features but they all work together to create the big wins I was talking about. I'll take you through an average spin.
The first thing that needs to happen is to get 3 or more symbols on a payline. Once that happens, the symbols freeze in ice and stay in place on the playing field. Immediately afterwards, the re-spins start. These re-spins are to add more of the same symbols on the screen. If that happens, they freeze in place too and another re-spin begins!
This continues for as long as more of the same symbol keeps appearing. Once there are no more, or the entire field is filled with the same symbol, the re-spins stop. I thought this was a fun concept which shows up pretty regularly. Unfortunately, it often happened that I got no extra symbols during the re-spins and I only got a small payout.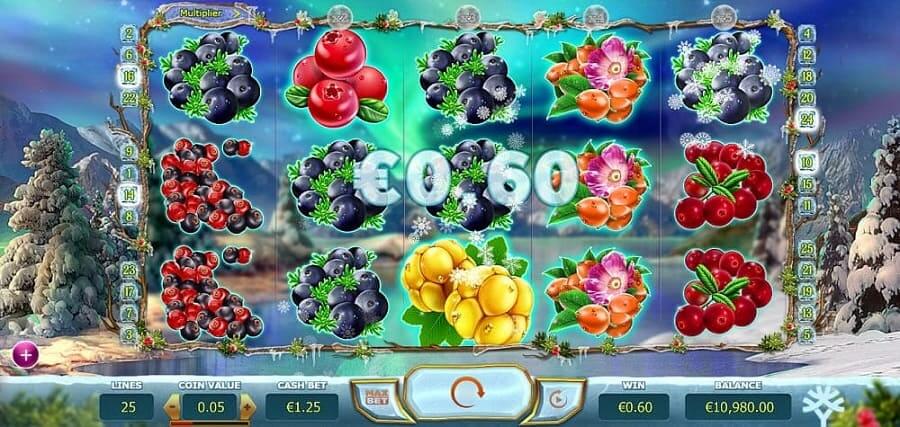 To help increase your wins, and to help with the high volatility, each reel from the left after the first has a modifier. Reel 2 has a 2x modifier, reel 3 has 3x, reel 4 has 4x and reel 5 has a 5x modifier. In order to activate the modifier each reel starting from the left has to be filled with the same symbol.
It meant I had to fill the first 2 reels with the same symbol to get a 2x modifier. If I filled reel 3 I got the x3 modifier, etcetera. It's unfortunately not possible to only fill reel 5 and get the 5x modifier!
Even though these are some interesting changes to the base gameplay, they don't require any input from the player. All I could do was click on the spin button and see if I got any winning paylines! I thought it was very relaxing but if you're looking for a game that has more to do for the player Winterberries won't deliver.
Conclusion
Yggdrasil is for me a developer that often incorporates highly original, beautiful and detailed graphics in their games. Winterberries definitely breaks from that perception. The images aren't especially bad but they don't evoke any kind of emotional response either. I was a little disappointed because the concept is so strange, that I feel they could have done more with it!
The sound was dreadful, I can't really make anything more out of it. The sound of the blizzard was a grating, continuous loud sound in my ears that did not relent. If its purpose was to immerse me in a wintery setting it absolutely failed.
The gameplay more than makes up for it. Its high volatility is immediately noticeable since wins are few and far between, but once they happen they were likely to push up my funds quite a bit. With the ability to select bets between $0.25 and $125 you're able to choose how risky you want to be.
If you're an active slot player that likes to be on the lookout for free spins or bonus games, Winterberries does not have those on offer. Instead, the game stays completely with the base game, giving the player only the ability to press the spin button. All the features in the slot happen automatically.
I found Winterberries to be a simple but entertaining slot. I'm not a huge fan of High Volatility and I prefer my slots with some more interactivity but even then I can see how solid the gameplay is. A perfect game for players that get their excitement out of seeing what happens instead of actively playing!