WildPops online slot is the second release in Yggdrasil's PopWinsTM slot series. The Swedish game developer partnered with Hong Kong-based studio AvatarUX to bring Western players a series of slots bursting with vibrant Asian themes. Combined with innovative PopsWinsTM technology, the WildPops slot machine pushes conventional boundaries of design, slot mechanics and game features.
WildPops slot has 5 reels that expand from 3 to 7 rows, providing a maximum of 33,614 ways to win. The game symbols 'pop' and make room for new symbols while the reels grow in height and give way to more winning combinations. Features such as Free Spins, Random Wilds and Multipliers add even more excitement and chances to win.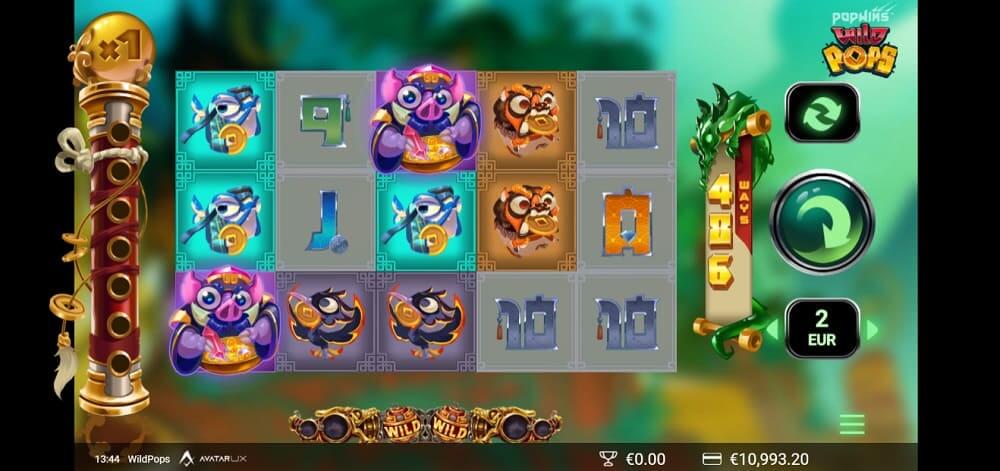 Playing WildPops slot online brings all the excitement with an above-average RTP. This means that you can play for long and have a chances to win while playing the WildPops slot online, especially if you manage your bankroll carefully and capitalize on the game's bonus features and multipliers.
The WildPops online slot certainly stands out from the crowd. But does this alliance of Asian development and Swedish expertise make for a bestseller slot machine? Read this detailed review to find out.
Theme and Graphics
When first playing the WildPops slot machine, I immediately noticed the elaborate design and attention to detail that is typical of Yggdrasil's games. Add the coloured dragon symbols that pop on the reels, expanding reels and backdrop elements that burst into flames – and you get one busy slot, perhaps even a bit too busy. The WildPops slot design clearly reminds PopRocks which is the first title in the PopWinsTM series. Either intentionally staying true to the sequence, or just playing it a bit too safe – Visually there's no doubt that WildPops is a follow-up slot. But producing a sequel is an opportunity to improve on the original. Something AvatarUX did nicely by giving WildPops a brighter, more cheerful design and elaborate dragon symbols that bring the reels to life.
Welcome Screen
Most developers use the slot's welcome screen to make a first impression and set the game's atmosphere, but Yggdrasil seems to miss that opportunity. The WildPops slot greets you with yet-another Yggdrasil welcome screen that is underwhelming and confusing.
It shows a slider containing three random features with a big 'Play' button next to it. But when trying to toggle and read about each feature, I discovered that clicking anywhere on the screen just took me straight into the game. It is not a big issue, but certainly contrast to Yggdrasil's usual attention to detail.
Sounds
The soundtrack of WildPops sets you in the right mood with gentle Chinese Zen music. In the same fashion, winning spins make subtle sounds that flow nicely with the background ambiance. Even the blazes and flames of popping symbols are at the right volume. The gentle sounds of WildPops work beautifully with its gameplay. It allowed me to relax and concentrate on the game's busy visuals. So as far as the WildPop slot's soundtrack goes, AvatarUX nailed it.
Symbols
Playing the WildPops slot online might seem complicated because of all the moving parts. But after I took a quick look at the paytable to familiarize myself with the basics, gameplay was pretty straight forward. Still, it's worthwhile to take a few minutes to understand the symbols and features.
The WildPops slot machine has a 'Super High' symbol on a category of its own (depicted by a blue dragon), which only appears when the WinPops feature is triggered. The Wild symbol is represented by a Chinese firework. In addition, there are 7 high-paying symbols that are depicted by dragons and 6 low-paying card-suit symbols.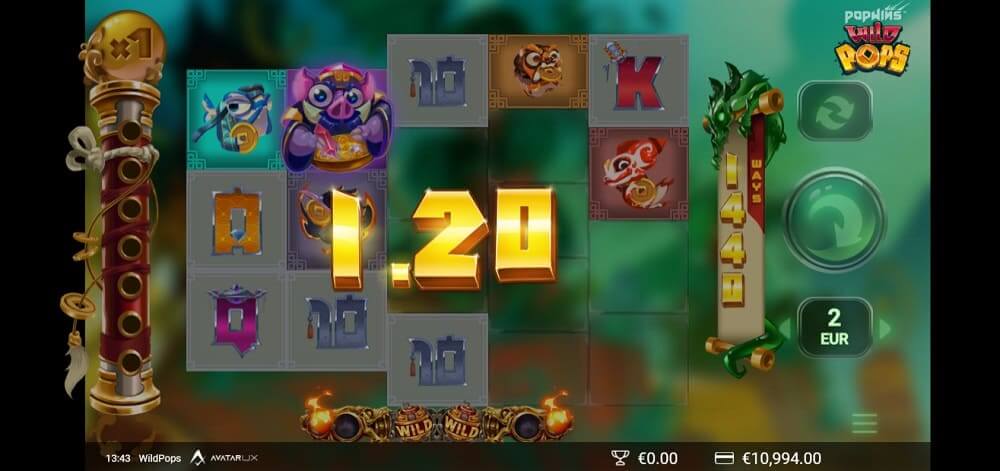 Following are the game symbols and their maximum payouts:
Special Symbols
Super High (Blue Dragon): Only appears from pops: Max 30x with 5 on a payline.
Wild (Chinese Firework): Substitutes for any other symbol to make winning combinations.
High Symbols
Orange Dragon: Max 5x with 5 on a payline.
Green Fish: Max 4x with 5 on a payline.
Purple Pig: Max 3x with 5 on a payline.
Purple Crow: Max 2x with 5 on a payline.
Red Crab: Max 1.5x with 5 on a payline.
Brown Dragon: Max 1.2x with 5 on a payline.
Blue Fish: Max 1.2x with 5 on a payline.
Low Symbols
A, K, Q, J, 10, 9: Max 0.5x with 5 on a payline.
Features
Similar to the rest of the slots in the series, PopWinsTM mechanics is what mostly defines the WildPops online slot. Every time a winning combination shows on the reels, each symbol will 'pop' and be replaced by 2 new symbols that increase the reels in height. Each reel can expand upwards from 3 to 7 rows, effectively providing more chances to land winning combinations per spin.
The WildPops slot lets you increase winning multipliers by collecting 'pops', whereas 7 'pops' will increase the multiplier by 1x. The WildPops multiplier meter to the left of the grid shows how many 'pops' you collected. There is no limit to how high the multiplier can reach, but it will reset with each new spin.
If you win 3 times in a row, you will trigger 2 Random Wilds on WildPops expanding reels. The Wilds Meter below the grid shows how many wins are still required to trigger the next two wilds. There is no limit to how many times this feature can be repeated by getting 6, 9 consecutive wins and so on. However it will reset after a winless spin.
The Free Spins feature is activated when the PopWins mechanics expand all the reels to the maximum height of 7 rows. You will receive 3 lives (which are practically free spins), and the grid stays enlarged at 5×7 for all of these. All the symbols are replaced when you 'lose a life' (after a winless free spin) but multipliers are kept during each re-spin.
If you would like sit back and watch the dragons pop and the reels expand, use the Autospin Feature to set up your bet limits. You can also set it on continues play, but always monitor your bankroll closely.
More PopWins Slots
If you enjoyed the gameplay of WildPops, you should also try the PopRocks slot machine which is the first title in the PopWins slot series. PopRocks slot is also powered by the innovative PopWinsTM mechanics, but its design lets you play in dark electro settings with elegant gem symbols on the reels. Beyond the differences in design, note that PopRocks also has higher volatility and a different RTP.
Bets and Payouts
The base game of WildPops slot starts with a 5×3 grid and 486 ways to win, but this changes very quickly. Once you land a winning combination of symbols on the reels, the games PopWinsTM technology springs into action and expands the reels – raising the game to 36,614 ways to win at max capacity.
The minimum bet is 0.2 coins and the maximum is 50. With uncapped Multipliers and unlimited Random Wilds, 3-life Free Spin rounds and Expanding reels, WildPops offers a max win potential of 17,707x your stake.
At 96.3%, the WildPops slot RTP (Return to Player) is above the 96% industry average. However WildPops is a high volatility slot which means you will need to play with patience and manage your bankroll carefully until you win. But with a maximum win of $885,350, it's sure worthwhile to pop the dragons on the reels.
Final Thoughts
Perhaps because it was produced by a Hong Kong Studio, the WildPops online slot boasts distinct Asian visuals. This sets WildPops design miles apart from many Asian-themed slots that feature stereotypical waving cats and fortune-cookie symbols. The brilliant dragon symbols work well with the PopWinsTM mechanics, and the soundtrack perfectly complements all the action on the screen.
I personally felt that there was a bit too much going on in the WildPops game. With all the pops, expanding reels and colourful dragons, it felt sometimes like AvatarTX and Yggdrasil tried to pack too much into the WildPops slot machine. Taking out a few symbols (is there really a need for 7 high-paying symbols and 6 low-paying symbols with the same value?) and toning down the design could have gone a long way towards reducing the clutter.
Players that like to relax while spinning the reels of a calm and elegant slot machine should look elsewhere. But for those who are looking for immersive gameplay and don't mind a busy layout, the PopWinsTM mechanics and expanding reels of WildPops provide a truly unique experience with decent chances to win.