Trolls Bridge follows the adventures of a small band of trolls guarding the bridge to the castle and their enormous hoard of wealth hidden underneath!
This slot was released in 2017 by developer Yggdrasil, consisting of a standard 5-reel, 3-row playing field with 20 paylines. So far, nothing new. What set the slot apart for me was the presentation. The game is filled with colourful, detailed drawings of trolls surrounded by their ramshackle defences and a drawbridge they use to keep people out.
Yggdrasil is already known for their attention to detail and Trolls Bridge is no exception. The slot is designed to fit the theme entirely, with a beautiful castle far in the distance before the view is blocked by the crudely built bridge the trolls erected. The different trolls are symbols that become animated when they're part of a winning payline. When the free spins mode is started, we drop down to the hoarded gold underneath the bridge.
I found the soundtrack to be suitable but rather underwhelming, with whimsical cartoon music playing as the reels spun and sometimes a sound effect that fit the trolls burping or grunting when they were animated. It sounded fine but didn't leave me very impressed.
Symbols
The game has a couple of very nice, detailed symbols that consist of the different troll characters. These are animated when part of a win and come with their own sound effects. In contrast, the lower-paying symbols are simple card suits. They are designed to fit the theme though, made out of various different bones shaped to fit the heart, diamond, spade and club shapes.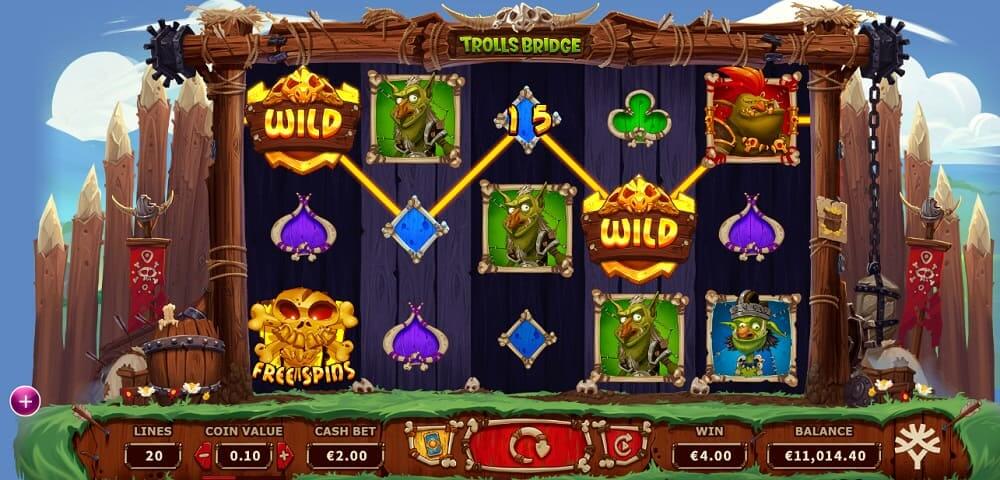 The symbols are from highest to lowest:
Free Spins: Get 3 or more Free Spins symbols to enable the free spins mode.
Red Troll: Max. 250 coins with five-of-a-kind on a winning payline.
Purple Troll: Max. 175 coins with five-of-a-kind on a winning payline.
Green Troll: Max. 150 coins with five-of-a-kind on a winning payline.
Blue Troll: Max. 125 coins with five-of-a-kind on a winning payline.
Heart: Max. 75 coins with five-of-a-kind on a winning payline.
Spade: Max. 60 coins with five-of-a-kind on a winning payline.
Club: Max. 50 coins with five-of-a-kind on a winning payline.
Diamond: Max. 50 coins with five-of-a-kind on a winning payline.
Wild: Substitutes all other symbols in the game except the Free Spins symbol.
The symbols are all very colourful and help in setting the mood of a bunch of misfit trolls holding a bridge. The relatively small number of different symbols helped in the Medium Volatility of the game since wins were pretty common and reasonably sizable as we'd expect.
Features
Trolls Bridge is a standard slot when it comes to the features, offering a few common ones that are slightly tweaked by the random bonus side of things. To start with, here are the base features:
Wilds: The game adds Wilds to the screen, substituting all regular symbols in the game.
Free Spins: With 3 or more Free Spins symbols on the screen at the same time, the Free Spins mode starts.
Golden Bet: With Golden Bet enabled, players pay an extra 5 coins per spin but are given an extra pick for the Free Spins bonus feature.
Bonus Pot: On reel 5 a random Bonus Pot can appear, granting a coin win between 40 and 1,000 coins or up to 10 free spins.
Bonus Stone: The Bonus Stone is triggered randomly, granting a multiplier up to 5x when there's a win or up to 1,000 coins when there isn't.
As you can see, this isn't very spectacular. However, just like Yggdrasil's other game Lucha Maniacs, the slot allows the player to randomly pick different bonuses that apply to the free spins mode. Based on the amount of Free Spins Symbols and the activation of the Golden Bet feature, players get to pick more or less of these bonuses.
If you get 3 free spins symbols with Golden Bet enabled, you get 4 picks. If you get 4 free spins symbols with Golden Bet disabled, you also get 4 picks. If you manage to get 5 free spins symbols and you have Golden Bet enabled, you'd get the maximum of 6 picks!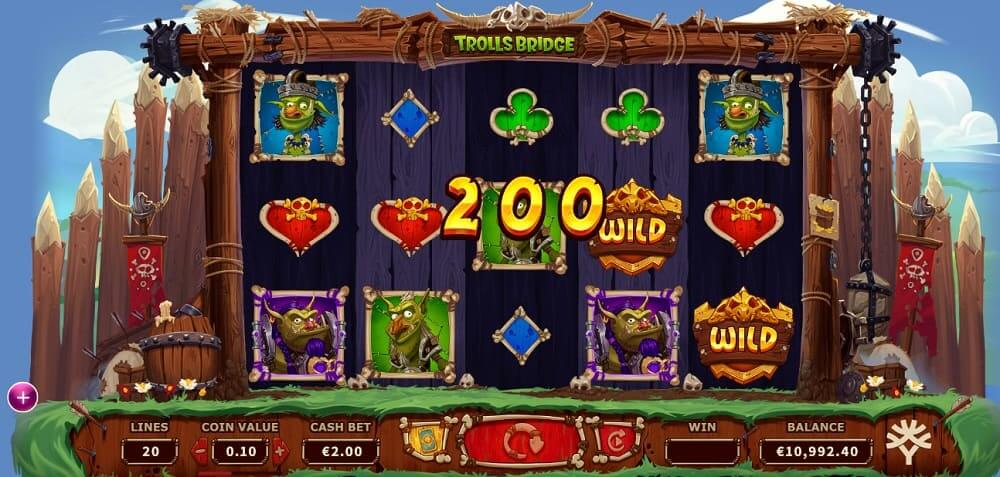 So what do these picks look like? The possible choices are:
Extra Free Spins: Get 3 or 3 extra Free Spins.
Random Wild: 1 or 2 extra Random Wilds are added to the playing field.
Sticky Wild: A Sticky Wild is added to reel 2, 3 or 4.
Troll Wild: One of the Trolls is turned into a Wild.
Super Stacked: One of the Trolls becomes super stacked.
Multiplier: A 2x multiplier on all wins.
Since I picked the bonuses randomly it was hard to develop any kind of strategy but there were definitely combinations that worked better than others. One time I walked away from a free spins mode with literally zero coins, which I have not seen before in any slot.
Luckily, the free spins mode is pretty common and I saw it often enough to make it worth it. The Golden Bet feature paid off in my eyes, even though it's quite a hefty price that's added on top of the regular coin cost. Players are able to choose a bet between $0.20 and $100 to control that.
I found the game's features to be quite standard but still a lot of fun. The random Bonus Stone and Bonus Pot felt very inconsequential but still delivered a nice addition to the game, although I didn't have the Bonus Pot give me any free spins, unfortunately. The extra coins were always appreciated, of course!
Conclusion
Trolls Bridge fits comfortably in the standard Yggdrasil tier of slots. It's competently made, looks amazing, plays well, has a lot of popular features and offers players plenty of choice in how they want to play it. The medium volatility and the max. win of 1,250x your bet makes it appealing to play.
That large group of players that prefer the classic slot experience with some modern additions will be perfectly served by this game as it is exactly what it offers. Trolls Bridge looks excellent without muddying up the waters with any confusing new features or a drastically altered playing field.
Instead, you can sit back and relax while watching the reels spin, making your bonus picks when the free spins mode activates and try and get your hands on the trolls' hoard!