It's time to rock out with Helloween. The legendary power metal band got its own slot and pumpkins are going wild.
Right before Halloween in 2020, Play'n GO released their Helloween slot. Sure, it's not the same thing, but this slot has more pumpkins in it than any Halloween-themed game.
There are many slots about bands, like Motörhead, Guns 'N Roses, Jimi Hendrix or Ozzy Osbourne, but some of them are just using the band as a thinly veiled theme. That's not the case in Helloween, where everything is about the band and their legacy.
If you are a fan of Helloween, this slot is made for you. It is full of recognisable artwork, references to songs and albums, and a good amount of music by Helloween. The theme is amazing and the game is great as well. In my books, this is the best music-themed slot, period.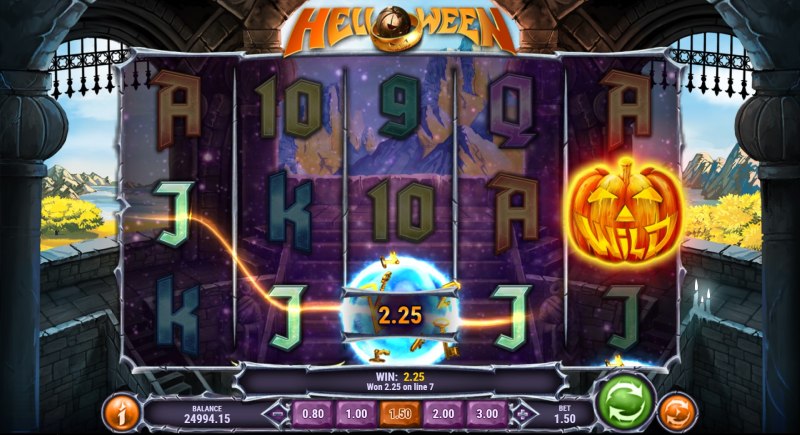 Graphics and sound
Helloween slot is a perfect amalgamation of the band's legendary works. You get to hear great music and see the golden-era artwork from the late 80s.
The theme of the game is not just based on the band, but also on the story from Keeper of the Seven Keys. The blind seer is guiding you on your path, as you cast the seven keys. There are also a lot of smaller references, like the eagles, the funny creatures, judges from a future world and even Fangface, who makes a quick appearance.
One of the big draws of the game is the audio-visual experience. Every feature that is named after a song is properly made. It's not just a name, but also the backgrounds change, that song starts to play and you get a short video from a live performance.
All of the music you hear in the game are actual Helloween songs. They are taken from the Pumpkins United live tour, so we get to hear both Michael Kiske and Kai Hansen. There are eight songs in total, of which Keeper of the Seven Keys is the only one you get to hear in full.
Symbols and wins
The symbols are taken from the band's album artwork. Most effort went into the high-tier symbols and all of the pumpkin wilds, as there are a lot of them. The low-tier card numbers are also there, but least they look decent when done with a heavy-metal font.
There is a massive amount of symbols in the game. During the base game, there are twelve different symbols, of which two are wilds. The number of different wilds grows even more if you count the ones that show up only during free spins. Those six pumpkins are of the best features of the game.
The single most important symbol in the game is a combination of a wild and a scatter. It is the mystical orb with seven keys floating in it. Each of those keys will open a special Free Spin feature if you get three orbs of the reels at once. Get the orbs, spin the pumpkin wheel and see which feature you will unlock.
Activating these free spins is vital. The wins in the base game are pretty weak due to the special wilds, so to get anything good, you need the Free Spin feature. Fortunately, that feature is not hard to activate. I was fairly consistently able to pull it off roughly once every 25 spins.
The game has a medium volatility and it bombards you with a lot of tiny wins. This is a curse and a blessing. You feel like you're getting somewhere, but actually, most of the wins are less than your bet. I felt like the only way to get ahead was to activate the special features.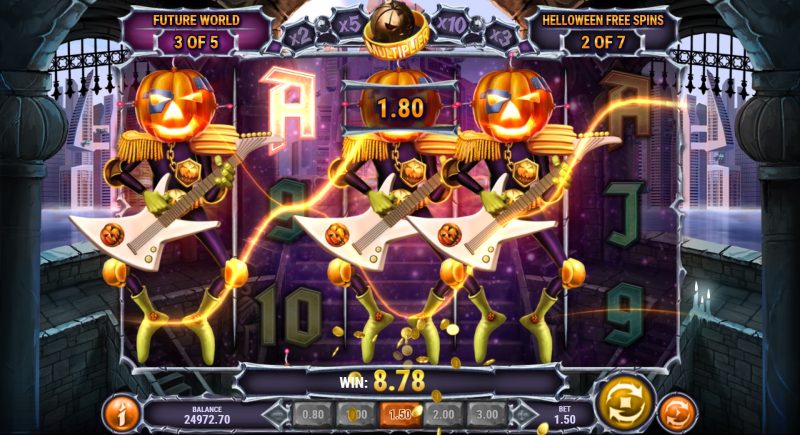 Features
Free Spins: Seven different ways to spin
Getting three scatter orbs full of keys will unlock the free spins. There are a total of seven different features and one will be chosen at random. They are references to Helloween songs and the wilds are done accordingly. You'll get 5 free spins and a special set of rules.
Dr. Stein: The funny creatures are running wild. At the start of every spin, a random low-tier symbol is chosen and all instances of that symbol are turned into pumpkin wilds.
I'm Alive: Pumpkins are rising from their graves. Wilds will now get stuck on the reels for a while and copy themselves.
March of Time: Time is marching on and so are the pumpkins. Every wild will stay on the reels and hop one reel over to the left with each spin.
Eagle Fly Free: Pumpkins have now grown wings and fly across the reels. You get a new eagle pumpkin at the start of every spin and they will land on a random space.
Future World: Judge Pumpkin is patrolling the world of tomorrow. Every wild will immediately expand to fill the entire reel.
I Want Out: I want to live my life and to be free. Pumpkins will now explode and reveal the hidden colossal Fangface inside. Every wild will turn into a 2×2 colossal wild.
Helloween Free Spins: This is a very special mode, where everything is possible. You start off with 7 free spins and the scatter keys are still on the reels. You need to collect them and every third scatter will activate a random Free Spin feature. After those spins are over, you are taken back to the Helloween Free Spins and you have a chance of doing it again.
When your spins are over, there's one more surprise waiting for you.
Win Multiplier: Get up to 10x wins
After each Free Spin feature, the pumpkin on the top of the screen starts to rumble. If it wakes up, it will grant you a random multiplier. You can get a 2x, 3x, 5x or 10x multiplier on the total win.
Final Thoughts
When I first saw that Play'n GO had released a slot about Helloween, I just had to try it. I have been a fan since I was knee-high to a grasshopper, so this game intrigued me. My expectations were high and I was not disappointed.
This game is an experience. It is filled with a massive amount of small and some not-so-small references to the band and their music. The developers didn't cut any corners and went all out. To a fan, this game is simply a marvellous slot.
Even though the game is good, it's not perfect. To me, the pay structure is a bit too much on the low side. Sure, the excessive amount of wilds makes it easier to get longer lines, but often I felt it lacking. The base game is just one tiny win after another, and you are just waiting for big pumpkin to arise.