There is more than one way to fish and none can match the space-like technology on the Sea Hunter slot game by Play'n GO.
This is a game of three rows and three reels, which makes it even more interesting considering the gameplay specs and features.
The theoretical Return to Player (RTP) is 96.63% and the volatility is high. Now, this is what I like to see about games that come equipped with four different "Cannon" modes which can generate that many reel modifiers.
Another very important detail that I like is the fact that Sea Hunter has a very good paytable structure. Winning outcomes are paid for three matching symbols and these can pay more than your wager starting with the second symbol from the bottom.
One of the details that I wish was different about this game is the number of paylines. Play'n GO has decided to make it a five-payline affair and I can understand why – it's the necessary balancing act against the extra features and all of the high-paying symbols.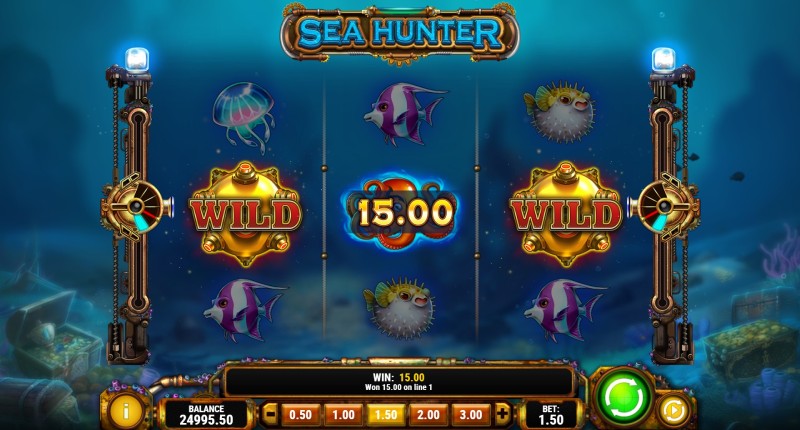 Theme and Graphics
The graphic designers at Play'n GO have combined a deep-sea exploration premise with some high-tech gizmos that seem to be out of this world. I am talking about the so-called Cannon whose twin heads slide up and down the sides of the reel set and blast the symbols with lasers.
Visual niceties abound on the screen thanks to this, which makes for speedy, entertaining gameplay. The symbols are also quite lively when they are impacted by the reel modifiers. So is the music. It's a groovy, spaced-out tune that definitely fits the premise.
Needless to say, I am overall satisfied with the level of entertainment Sea Hunter can provide, let alone the potential payouts.
By this point, I think I've hyped up the added feature more than enough. Now it's time to break it down in detail, how it works and what it does.
The Cannons are two round contraptions on each side of the reel set. Every winning outcome fills one charge on a six-gauge meter, but to get the maximum of its potential you need to make two or more consecutive wins.
The way it works is, each consecutive win adds more charges to the meter. A non-winning spin resets it back to a blank slate.
Two consecutive wins and you're in for the first reel-modifier. The cannon zaps one random symbol and converts it to the next one on the paytable ladder. This way, you can chance upon better winning outcomes when a Wild and another matching symbol are sitting on a payline.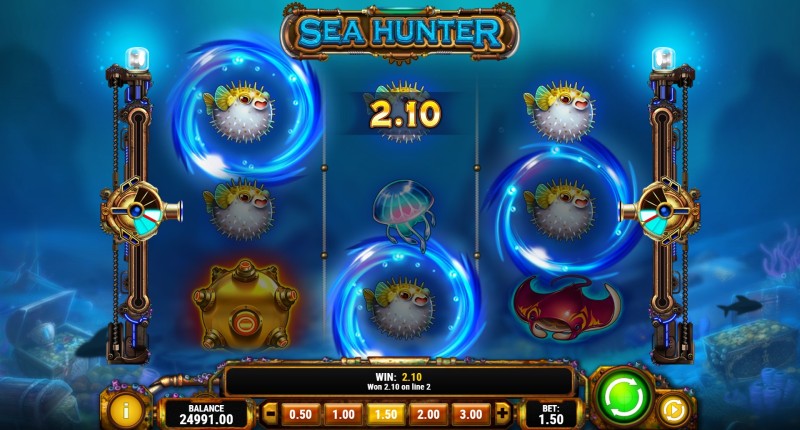 Four wins in the row ups the ante of the second reel modifier. This is basically a mini extra spin feature where one symbol kind is selected at random and all of its positions remain sticky. The remaining symbols take a respin, which can add another charge to the Cannon if it results in a win.
This one is my favourite reel modifier because it has resulted in a winning outcome every time it occurred on my Sea Hunter experience.
You need five consecutive wins – something that I've got four or five times in my few sittings on this game. In the event, the cannons add between one and three wilds.
Somehow, for me, it's always been two or three wilds, and an ensuing winning outcome thereof.
Cannon 4 – Multiply Mortar
This feature is a long shot. I had only won it once, but the random win multiplier was a bit of a disappointment. You need six consecutive wins here in exchange for win multipliers of up to 15x. It's super neat, but you can end up getting 5x instead of 10x or more. Not bad, after all.
Bets and Payouts
This is what I like to call a "second generation" Play'n GO game where you can simply choose your bet from the range below the reels.
I already said that the paytable structure is quite good and in my opinion, it's a perfect treat to a high volatility engine. Players who just want to test Sea Hunter can play with as little as five pennies per spin or select between that amount and $100.00.
In terms of payouts, we have a set of three highly-valuable symbols, three that lay something in the middle and another three that you can call 'low-paying' even though only two of them are below your bet amount.
Clownfish: 0.4x
Angelfish: 0.8x
Puff-fish: 1.4x
Jellyfish: 2x
Tortoise: 4x
Manta ray: 6x
Octopus: 10x
Orca: 15.00
Wild: 25.00
Conclusion
OK, I haven't had a bad thing to say about Sea Hunter. It's definitely an exciting game to play considering the extra features and the high-paying symbols, but keep in mind it's highly volatile too. If you are ready to forgo a good number of winless spins you may be in for a succession of outcomes that bring out the best of the concept.
I've played the game several times and overall, I've enjoyed it on every single sitting. If you want to test its 'behaviour,' you can play 5p spins or thereabout and see what it's all about.