Cazino Cosmos brings to life a possible future of our favourite pastime: seeing how the casino is placed onboard a spaceship and travels far across the galaxy!
Released in 2019 by Yggdrasil, Cazino Cosmos is another ambitious attempt by this developer to push the boundaries of what people consider possible with online slots. The game boasts some amazing visuals and a wide set of animations.
As for its appearance, Cazino Cosmos uses a standard 5-reel, 3-row playing field with a modest 20 paylines. The real way this game sets itself apart is by its unique premise and a large number of details the developers added to enforce this idea. As a science-fiction fan, I really enjoyed the idea of having an interstellar casino that travels through space as we play the game.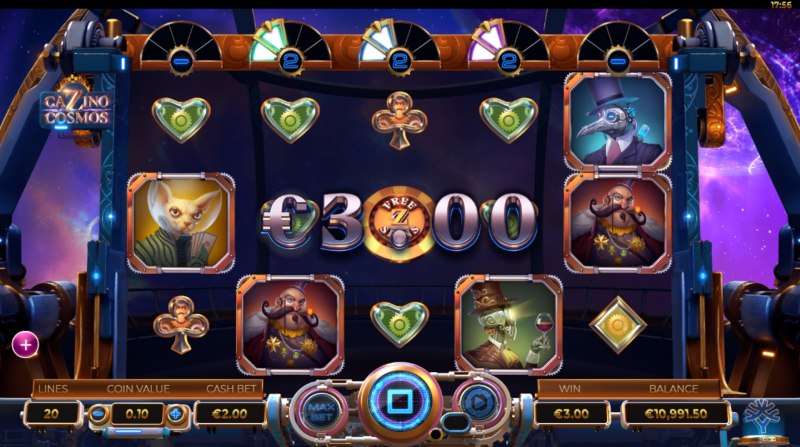 This idea is enforced by every aspect of the game. The background gives us an enormous viewport showing a grand view of space. When free spins mode starts and ends the reels temporarily drop down to show us shooting through space and stopping at different solar systems. Meanwhile, the game combines a sci-fi style with a distinct sense of steampunk due to a large number of gears and the ornate classic clothes of the different characters.
For those few people old enough to remember this, Cazino Cosmos reminded me a lot of the regular video game Starship Titanic. This game also combined the sci-fi aesthetic with steampunk and was set aboard a giant spaceship travelling through the galaxy.
Symbols
Cazino Cosmos uses the popular combination of original high-paying symbols and card suit low-paying symbols. I will give Yggdrasil some extra credit since even though it uses card suits in the game, these are highly detailed and animated when forming part of a winning payline.
The symbols from highest to lowest are:
Free Spins: Get 3 or more free spins symbols on the screen to activate the free spins mode. 2 Free Spins symbols award 40 coins.
Wilds: Substitute all other symbols in the game except the Free Spins symbol.
Lord: Max. 2,000 coins with five-of-a-kind on a winning payline.
Plague Doctor: Max. 1,000 coins with five-of-a-kind on a winning payline.
Cat: Max. 750 coins with five-of-a-kind on a winning payline.
Robot: Max. 500 coins with five-of-a-kind on a winning payline.
Club: Max. 170 coins with five-of-a-kind on a winning payline.
Spade: Max. 150 coins with five-of-a-kind on a winning payline.
Diamond: Max. 125 coins with five-of-a-kind on a winning payline.
Heart: Max. 100 coins with five-of-a-kind on a winning payline.
All the characters are otherworldly and strange, including an anthropomorphised cat holding cards and a robot plague doctor. I thought they fit the theme perfectly, combining different settings into a weird combination that makes it feel actually alien.
Features
Cazino Cosmos is a game that focuses heavily on Wilds and incorporates a variety of wilds that trigger at different times. To start with, a brief overview of the other features:
Free Spins: Getting 3 or more Free Spins symbols on the screen will activate the free spins mode.
Sticky Wilds: During Free Spins mode, all Wilds become Sticky. If you get a Sticky Wild on every reel, you will get another 5 free spins.
Those are pretty standard features I think, with the Sticky Wilds during the Free Spins mode a nice addition. It helped me get some big wins, even though it didn't cause me to get any extra free spins very often.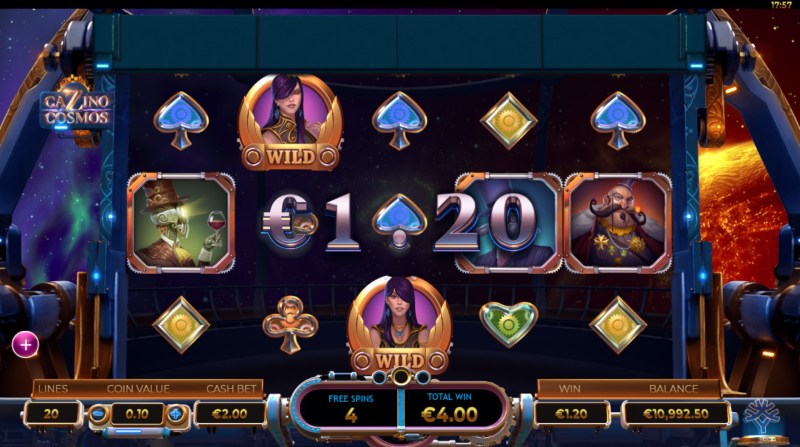 At the top of every reel in the base game, there is a tracker with a different colour. The idea is to get a Wild of a particular colour on the screen for the tracker to tick up. When the player has collected 5 Wilds of the same colour during their time playing, they activate free spins with every spin benefiting from the specific effect.
The different types of effects are:
Card Shot: 2 Random Sticky Wilds are added at the start of these free spins.
Hack Free: 5 Extra free spins at the starts of the free spins mode.
Zero Gravity: Each reel is nudged 1 position up or down if it reveals a wild.
Mutation: A random high-paying symbol may turn into a wild each spin.
Expansion: All wilds are double stacked on the reels.
In my time playing it was rare to get any pips on the trackers, although it did happen slowly over time. It reminded me of Yggdrasil's other game Dwarf Mine which also had a system with different 5-tier trackers that gave free spins with different effects.
I found it to be rather inconsequential to the overall experience since it was so hard to trigger. It was more likely to get into the real free spins mode, and considering that always comes with Sticky Wilds I considered that to be good enough. The fact Wilds aren't terribly common and it requires an even rarer form of Wilds to count, it seemed astronomically unlikely to get a tracker completely filled up during a standard play session. I did manage to do it eventually but it took me more than two hours of continuous play.
Conclusion
Cazino Cosmos is an amazingly themed slot with some incredible graphics and details. The animations that show the ship zoom through space are great as well as the ways the different characters react to being part of a winning payline. It's a colourful affair that seems whimsical and serious at the same time. Some connection with science-fiction epos Dune isn't completely remiss, even though they're obviously incomparable.
If you're the type of player that enjoys an extravagant presentation but a classic slot experience, Cazino Cosmos fits that perfectly. The features it does have are not very original and shouldn't be a surprise to most players.
Unfortunately, the big draw of the game is supposed to be the collection of Wilds that unlock different features but they are hidden behind such a big wall of randomness they're almost impossible to see. I played for a good long time to see if I could get to them and even though I did eventually unlock one, I can't imagine a lot of players are willing to stick around for that long.
Yggdrasil has shown favouritism towards this type of mechanic in other recent games like Dwarf Mine and Nitro Circus and I hope they shy away from them soon since they detract from the enjoyment of the slot in my opinion. With the ability to choose a bet between $0.10 and $20 there isn't a lot of room to pick a bet size that gets too ridiculous but with the High Volatility, I consider that a good thing. It's possible you stumble into the max. win of 2,000x your bet but I wouldn't count on it.