Night Trax is a rather unique slot that is set in a neon-soaked city as you attempt to guide a car through its road network. The game is built around a number of arrows that will show the track a vehicle will follow, combining it with more classic ideas like a bonus game, multipliers and respins.
This slot was developed by Elk Studios, who are best known for games that try to do things a little differently from most. It's the same with this 2021 release, where players aren't looking for the classic paylines. Instead, we see a 6-reel, 4-row playing field. There are 72 win lines but these can start and end anywhere on the screen.
What makes this game so original is the way that the paylines are displayed. The goal is to get arrows with the same colour to touch and create a route. That means red arrows that go the same way will be linked, but red arrows that go separate ways are not. The goal is to create the longest possible route on the screen, which will then reward a payout.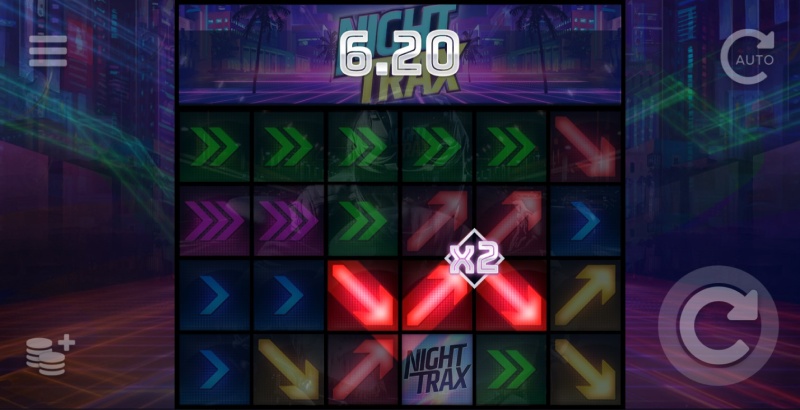 To help with that, the entire game makes use of the sticky respins functionality. If the player gets part of a route together, those symbols stick in place as the reels spin again. Any new routes that are created, or if the original route is expanded on will also make those symbols sticky. After that, the respin is triggered again. This continues as long as new symbols are added to a route.
Symbols
Night Trax looks pretty simple, with the symbols all being different types of arrows except for the Scatter and Wild. These arrows are in different colours and shapes but there simply isn't a lot of creativity possible when designing them. The background shows some more neon-coloured shapes that enhance the idea of being in some sort of sleek futuristic cityscape. Unfortunately, though, I missed animations that maybe helped it feel more like a real city or actual place.
The game has an RTP of 95% which is normal for a slot with Medium Volatility like this. It's not a very forgiving game when it comes to winning money, even though wins are pretty easy to come by. The idea is that the game relies heavily on multipliers and longer routes to create wins that are actually profitable. If the player only gets the smallest possible wins, they won't be enough to compensate for spinning.
People can choose to place bets between $0.20 and $100 per spin if they want to either take a smaller or bigger risk with their funds. I found the game to be tricky in getting it to pay out, although I did manage to stay somewhat around my starting funds. The game also has a maximum win of 10,000x your bet, which is a lot bigger than normal for a slot with this volatility.
The symbols are:
Night Trax (Scatter): Get 3 Scatters on the screen to activate the bonus game.
Wild: Wilds substitute all regular symbols in the game.
Purple Arrows: Max. 25x your bet with six-of-a-kind on a win line.
Green Arrows: Max. 10x your bet with six-of-a-kind on a win line.
Blue Arrows: Max. 6x your bet with six-of-a-kind on a win line.
Yellow Arrow: Max. 5x your bet with six-of-a-kind on a win line.
Red Arrow: Max. 3x your bet with six-of-a-kind on a win line.
Features
Night Trax does a few things differently from other slots while still keeping it simple enough to understand quickly. The goal is to get 3 or more of the same symbols next to each other on the same win line, just like with other slots. The features do change how this is done, however:
Paylines from Both Ways: Winlines count from any part of the playing field. A win line can even start from reels 2 or 3, as long as the minimum length of 3 symbols is reached.
Sticky Respins: Whenever there's a winning line, those symbols become sticky and the reels respin. As long as a new win line is created or symbols are added to the existing line, another respin is triggered.
Multipliers: Whenever a win line splits in two, a multiplier is added.
Bonus Game: With 3 Scatters on the screen the bonus game is added. Players get 3 respins to add a multiplier to the screen. Whenever a multiplier appears, the respins are reset. The multiplier is applied to the base bet at the end of the bonus game and awarded as a coin win.
Activating the bonus game is no easy task and I only saw it trigger once during my hour of playtime. However, getting it to activate will often mean a sizeable win. This is still very volatile however and I can see it happening players will walk away with almost nothing. Considering the difficulty to get it to activate does make it a bitter pill to swallow.
Most of the time then you'll be playing the base game. This does keep things entertaining thanks to the way the wins are calculated. It's possible for the entire screen to be filled with various routes that split and wind across the screen.
The sticky respins are largely to thank for this, but it does mean that getting a bigger win is desperately needed to win enough coins to balance things out. As can be seen in the list with symbols, payouts are low for regular wins and the game depends heavily on multipliers and longer wins.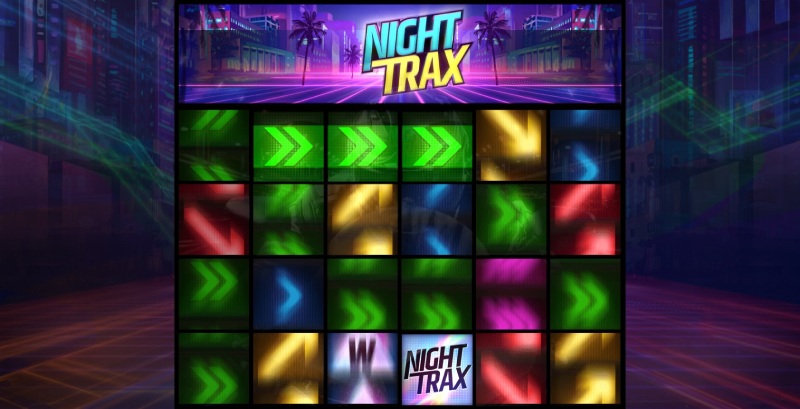 All in all, the features keep things fresh and interesting but don't completely alter the way the slot plays. Fans of classic slots will likely be very pleased with the way it mixes new ideas with the comfortable base gameplay we're familiar with.
Conclusion
Night Trax is an interesting slot that tries to change things up without making it a completely alien experience to most players. It has a few good ideas that it has incorporated into the gameplay without requiring research to figure out how it works.
I wish there had been a bit more attention put into the presentation. The game looks great but it lacks personality or even some kind of narrative thread. Having even an image of a car that's supposed to travel across the routes we create would have been a nice addition.
Overall, I think most players will enjoy their time with this game. Power players might be interested in it for the jackpot, but getting it will not be an easy task. Similarly, more casual players will enjoy the variety but I found the low payouts to be a bit too harsh.