Chi is an Elk Studios slot that takes inspiration from the classic Asian concept of chi as a sort of inner-force which humans can call upon to do extraordinary things. Besides that, this game also makes use of Sticky Wilds, Multipliers and Free Spins.
Developed and released in 2019, Chi is a beautiful looking slot that has something for people that enjoy standard slots with some pretty major changes. The game is very brightly-coloured and the art is very nice even though most of the symbols are static. There are different characters in the game that do look very nice. In the background, we can see some lush mountains with buildings, trees in blossom and a small temple that holds the playing field.
When it comes to the playing field we start to notice the first differences. The game has a 3-reel, 5-reel playing field with 27 paylines. So far this seems rather standard until I tell you that the paylines run from the bottom up or vice versa, and not from left to right. That essentially means that the entire slot is on its side, with everything tilted 90 degrees. In essence, the game still has a 5-reel, 3-row playing field just put on its side.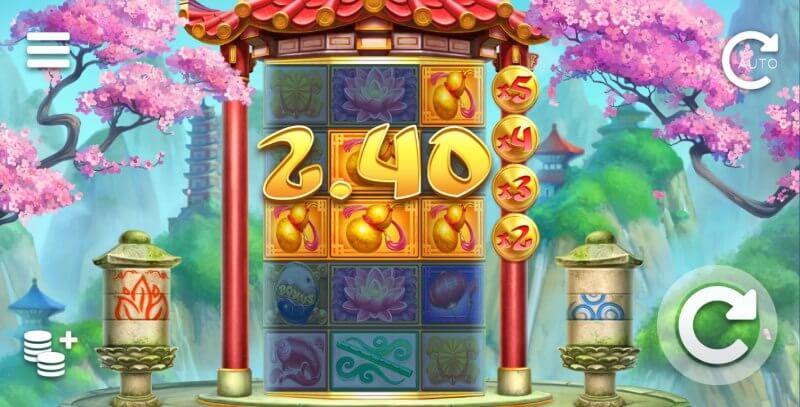 This is important to know as it obviously affects the possibility to get wins, as well as knowing where to look when checking to see how close you are to a win. The game functions the same to normal slots in every other way, so once the initial surprise fades players should have no problem adjusting.
Symbols
When it comes to the symbols in Chi, the game doesn't go out of its way to introduce anything new. They are mostly different abstract symbols and some popular Asian items. They are all very brightly coloured. Some do look alike a little too much to tell apart, but in general, it was no problem seeing when there was a win.
The game lets the player pick a bet between $0.20 and $20 per spin, which isn't a lot of room to choose but considering the High Volatility probably a good idea. I found the game to be very volatile with dozens of spins without a single win and even if I did get a win they'd often be very small. In general, I found my funds to drop down hard and fast without any real opportunity to get it back up.
The symbols include:
Bonus: Get 3 Bonus symbols to activate the Bonus Game.
Wild: Wilds substitute all other symbols in the game, except the Bonus and Free Spins symbol.
Free Spins: Get 3 or more Free Spins symbols to activate the Free Spins mode.
Lotus: Max. 10x your bet with five-of-a-kind on a win line.
Lantern: Max. 6x your bet with five-of-a-kind on a win line.
Jug: Max. 5x your bet with five-of-a-kind on a win line.
Necklace: Max. 3x your bet with five-of-a-kind on a win line.
Koy: Max. 2.5x your bet with five-of-a-kind on a win line.
Cup: Max. 2.5x your bet with five-of-a-kind on a win line.
Fan: Max. 2x your bet with five-of-a-kind on a win line.
Flute: Max. 2x your bet with five-of-a-kind on a win line.
The game has a possible max. win of 12,500x your bet which is obviously a very high jackpot but considering the extreme volatility, I would not hold out hope of getting it. The slot seems very keen on not giving out big wins which means that only a very tiny number of people will see this maximum win.
Features
Chi comes with a number of different features, some of them related to the base game and others augmenting the special modes the game offers. As a player, you'll mostly be a rather passive viewer of the game as it won't require you to do much more than spin the reels.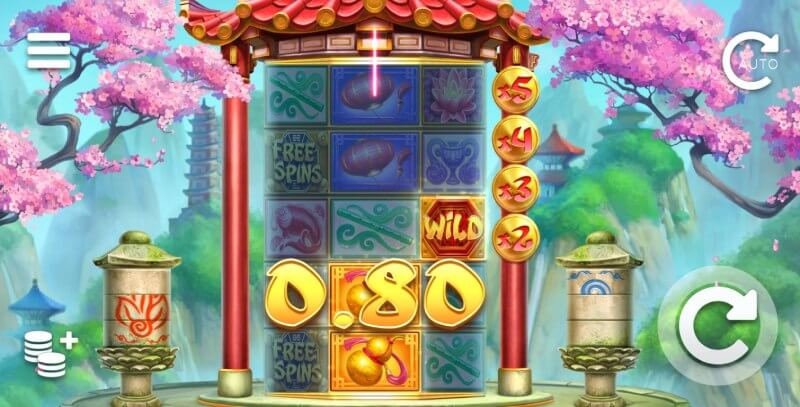 The features include:
Tilted Playing Field: The game is turned 90 degrees, meaning paylines run vertically instead of horizontally.
Pays Both Ways: Paylines go both ways, both from top to bottom and vice versa.
Wilds: Wilds substitute all regular symbols in the game. Spirit Chi adds 1 to 6 random Wilds to the playing field if it is activated.
Multipliers: Mow is a spirit that activates the Multiplier feature, adding a progressive multiplier to any wins during the Free Spins mode.
Free Spins: Get 3 or more Free Spins symbols to activate the Free Spins mode.
Sticky Wilds: When Chi is activated during the Free Spins mode, all Wilds are Sticky.
Bonus Game: Get 3 Bonus symbols to activate the Bonus Game. During the Bonus Game, players can win a flat coin win.
The playing field being tilted took me some time getting used to but doesn't change the gameplay in any significant way. If you wanted you could simply tilt your head to the side and the game would be exactly the same as many other slots.
There are two separate reels to the side of the slot which have only 1 symbol on them and only 3 reels. Only when these match up do they activate their respective spirits: Chi and Mow. Chi adds a number of random Wilds to the playing field, which become Sticky during the Free Spins mode. Mow activates a multiplier during the Free Spins mode, possibly adding a 5x multiplier to all wins.
I found these two features to be very rare and rather lacklustre. The Wilds were a nice addition even in the base game but it almost never activated. The Multiplier would often be useless as the high volatility means that there were almost never any wins at the same time, even in the Free Spins mode.
The Bonus Game simply shows us how Chi climbs a number of steps with increasing multipliers. Once Collect is reached, the total multiplier is applied to your bet per spin and awarded immediately. This is the only way to win the game's jackpot and it's very disheartening that I didn't activate the Bonus Game even once during my time playing.
All in all, the features that are here are gated and hard to activate, making them feel inconsequential. Even when they do appear, it's unlikely they will aid you in getting a win, making them also feel irrelevant. Not a good sign for its features, in my opinion.
Conclusion
Chi is a pretty looking game but it lacks any real character and I found it to be rather dull. This is mostly because the base gameplay is something we've seen before except for the tilted reels, and the features are incredibly difficult to activate.
I would almost never activate the two spirits during the base game, the Free Spins mode was rare and the Bonus Game simply never activated at all. Then, even when I did manage to activate the features, they would often not help in creating a win. It felt like a lot of padding without any real benefits.
If you're looking for something different, Chi might hold your attention for a while. The game looks good and it has some interesting ideas but it doesn't really work out. I feel like the high volatility is a big detriment and ultimately, the slot hardly feels like it's worth your time.
Pros
Unique playing field design with paylines going vertically, adding a new twist to the slot game experience
High-quality visuals and graphics, including beautiful character designs and lush mountain scenery in the background
Multiple special features including Sticky Wilds, Multipliers, and Free Spins, which can help players achieve bigger wins
Cons
Very high volatility, with small wins being infrequent and large wins being rare, making it difficult for players to maintain their funds
Limited betting range between $0.20 and $20 per spin, which may not be suitable for all players' preferences and strategies