Nirvana is the state of perfect freedom and highest happiness and something a lot of people strive to reach. For me, it's one of the prettiest slots, developer Yggdrasil has released in recent years.
When you reach Nirvana it is said that you are free from earthly hardships and are surrounded by love and the highest happiness. If that sounds like an excellent concept for a slot, I'd agree with you. So did Yggdrasil when they released this slot in 2016!
Taking the form of a 5-reel, 3-row slot with 20 paylines I was immediately at ease when I started up the game all those years ago. Even now it feels like coming home. Yggdrasil's game design was stunning back then and still continues to hold up very well.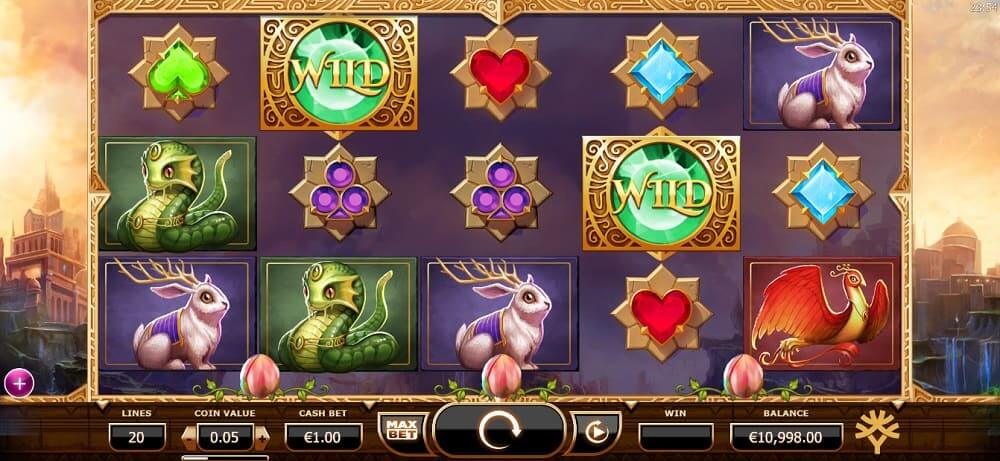 We find ourselves in what we can assume is the eponymous Nirvana, represented in this slot as a mythical city clouded by mist and the soft glow of the sun. The different symbols add to the mysterious sensation. They are strange, otherworldly animals that seem fitting for a place like Nirvana.
With a slot like this, the soundtrack plays an important part, and I found it to be very fitting. It plays a piece of continuous aetherial background music that evokes the idea of being somewhere that's not quite like what I'm used to.
Symbols
What I've come to expect from Yggdrasil when it comes to their game design came true with Nirvana as well. Each symbol is lovingly drawn by hand, with the highest paying symbols being the beautifully weird animals. When I got any animals on a payline they'd briefly come to life, blinking their heads or tapping their feet. Details like that make me very happy.
The symbols are, from highest to lowest:
Free Spins: Max. 10 free spins and 5000 coins with 5 symbols on the screen at the same time.
Phoenix: Max. 250 coins with five-of-a-kind on a winning payline.
Snake: Max. 200 coins with five-of-a-kind on a winning payline.
Rabbit: Max. 175 coins with five-of-a-kind on a winning payline.
Falcon: Max. 150 coins with five-of-a-kind on a winning payline.
Heart: Max. 75 coins with five-of-a-kind on a winning payline.
Spade: Max. 70 coins with five-of-a-kind on a winning payline.
Club: Max. 60 coins with five-of-a-kind on a winning payline.
Diamond: Max. 50 coins with five-of-a-kind on a winning payline.
Wilds: Substitute all symbols in the game except the Free Spins symbol.
Yggdrasil always makes the game feel special and a big part of that I feel is their attention to detail. Here it's no exception and I will sometimes pause the slot just to look at the different animations and drawings.
Features
Nirvana is a slot that keeps things relatively simple. Its core gameplay is still reminiscent of a classic slot but introduces several elements that kept it interesting for me. With its Medium Volatility, I saw a decent amount of wins during my time playing.
First I'll go over the different features quickly:
Wilds: Appear during the base game and free spins mode, Wilds substitute all other symbols in the game except Free Spins symbols.
Free Spins: Get 2 symbols on the screen at the same time and you get 1 free spin. When you get 3 or more at the same time it activates the Free Spin mode.
Nudge Reels: When activated, 1 reel will get a nudge up or down to achieve the best possible payout.
Mega Reel: When activated, reels 2, 3 and 4 are linked and will all show the same symbol.
Wild Seeds: When activated, will create 2 to 4 Wilds on random positions.
While I was playing, the game didn't require much of my input. I mostly spent my time spinning the reels and enjoying the sights. The soothing music helped a lot in putting my mind at ease and transporting me to a possible Nirvana.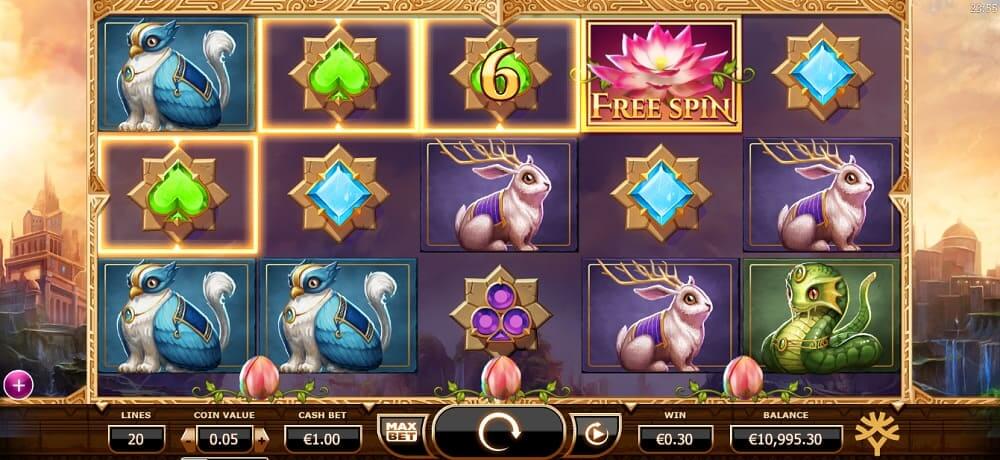 As we play, the Free Spins symbols are the most interesting when it comes to the Features. When I got 2 at the same time, one of the 3 goddesses that inhabit the game randomly came to life. They each have their own flower pod at the bottom of the reels, and when one of them is activated they blossom outward and bless the reels with their feature.
It's only when I got 3 or more Free Spins that I would be allowed to pick one of them, and that goddess would aid me with every Free Spin. It's possible to get more Free Spins during the Free Spins mode and if you get 3 or more on the screen at the same time you get to choose another goddess to aid you!
In the most joyous occasion, it might happen that you'll even get to activate all 3 goddesses at the same time, but unfortunately for me, I didn't reach that point.
I feel like the slot is leaning a lot on its meditative and relaxing qualities so I would have been fine if the 3 goddesses had always been random, allowing the player to simply enjoy the sights and sounds of the slot. By making it a little more interactive it helped me get drawn in a bit more though, so I think it was a worthy trade-off.
Conclusion
Nirvana is a slot that has been one of my favourites since it came out and I return to it quite often, especially when I'm feeling stressed. It does a marvellous job of being a classic slot but giving players a sense of peace and relaxation.
The beautiful art style coupled with the animations do a lot to get me drawn into the world it creates and makes the idea of a Nirvana more palpable. Having the 3 goddesses, each with their own benefit to the game even makes it seem like there's more to this place than I got to see.
Of course, it's still a slot and in that aspect it also delivers. It offers the ability to choose a bet between $0.20 and $100 per spin and has a max. win of 800x your bet. I thought this was pretty respectable. You won't see the Free Spins mode activate a lot but when it does, expect it to be enjoyable!
Nirvana has a special place in my heart and it keeps up remarkably well even now. Compared to other games that attempt to envision some mythical place, I think that Yggdrasil is one of the only ones that have actually captured the idea behind Nirvana.
Where Netent's Shangri La slot chooses a more cartoony look and Yggdrasil's own Avatars: Gateway Guardians goes for completely different game design, Nirvana stays close to its roots and by doing so made it something I see myself enjoying for years to come.