Mongol Treasures is an Endorphina slot that focuses on the ancient Mongol empire as a source of inspiration. This unique civilization has a lot of interesting elements that the developer strives to include in the slot. The game boasts original art as well as free spins, wilds and expanding reels!
This slot was released back in 2014 by developer Endorphina. The looks have begun to slightly age as the graphics aren't as sharp as they could be, but the images still look lovely. All the symbols are hand-drawn and draw inspiration from the Mongols, making it fit the theme perfectly. In the background, we can vaguely see some of the wild plains of Mongolia as well.
The game uses a 5-reel, 3-row playing field with 10 paylines to let players play on. There are also a number of features that help spice up the gameplay somewhat but I'll come back to that later. The symbols can be divided into high- and low-paying symbols, with the high-paying symbols original drawings that fit the theme and the low-paying ones as simple card letters.
Unfortunately, there's not much to say about the sound design as most Endorphina slots use the same effects. Getting a win or spinning will trigger the same simple electronic buzz or click which don't fit the theme at all. Only occasionally will we hear a sound that fits the setting, such as a whinnying horse.
Symbols
The symbols in Mongol Treasures are drawing inspiration from the actual Mongol empire, with the characters dressed in traditional garbs and of course a plethora of different horses. The art is well done and when they're part of a win line they also play a brief, simple animation. It's not much but I appreciate the effort nonetheless.
The symbols included are:
Woman (Scatter): Max. 200x your bet with five-of-a-kind on the screen. 3 or more Scatter Symbols trigger the Free Spins mode.
Man: Max. 500x your bet with five-of-a-kind on a win line.
White Horse: Max. 200x your bet with five-of-a-kind on a win line.
Black Horse: Max. 75x your bet with five-of-a-kind on a win line.
Brown Horse: Max. 75x your bet with five-of-a-kind on a win line.
Ace: Max. 15x your bet with five-of-a-kind on a win line.
King: Max. 15x your bet with five-of-a-kind on a win line.
Queen: Max. 10x your bet with five-of-a-kind on a win line.
Jack: Max. 10x your bet with five-of-a-kind on a win line.
10: Max. 10x your bet with five-of-a-kind on a win line.
The symbols look clear and are very different from each other, making it easy to see when there's a win. This is a good thing too since the line that runs across the screen to show which payline is paying out is the same colour as the background and so falls away somewhat.
The Scatter symbol is not indicated as such, it's simply the woman. I had to check the paytable to see that it counted as the Scatter symbol. Also not mentioned anywhere but apparent when playing is that the Scatter symbol can count as a Wild during the base game.
Features
As an older Endorphina slot, Mongol Treasures uses a few standard features as a way to spice up the gameplay. I don't think a lot of people will be surprised by these features but I thought they offered some meaningful changes to the game itself.
The features included are:
Wilds: The Scatter symbols double as Wilds, substituting all other symbols in the game.
Free Spins: Get 3 or more Scatter symbols on the screen to activate the Free Spins mode.
Expanding Reels: At the start of the Free Spins mode, a random symbol is selected. During the Free Spins, this symbol can be added on the screen to fill the reels. This symbol does not need consecutive symbols on a payline to trigger a win.
The Scatter symbol doubling as a Wild is actually quite profitable as they offer both their own value and help in creating other paylines. This isn't made clear at all in the game itself, so it required some research on my part. However, if you're paying attention you can notice it for yourself.
The free spins mode triggered often enough to feel like a part of the slot but not so often that it was a huge boon. Overall, the wins I got during this game mode were adequate enough to compensate for my spending during the base game. With the game's High Volatility, this fits the type of play the creators seemed to go for.
I really enjoyed the Expanding Reels feature. This only activates during the Free Spins mode and randomly selects one of the symbols. This symbol will then appear during the Free Spins to fill several reels, but only when it will trigger a win. The number of reels it will fill depends, as I've seen it hit only 2 reels, but I've also seen it fill the entire screen.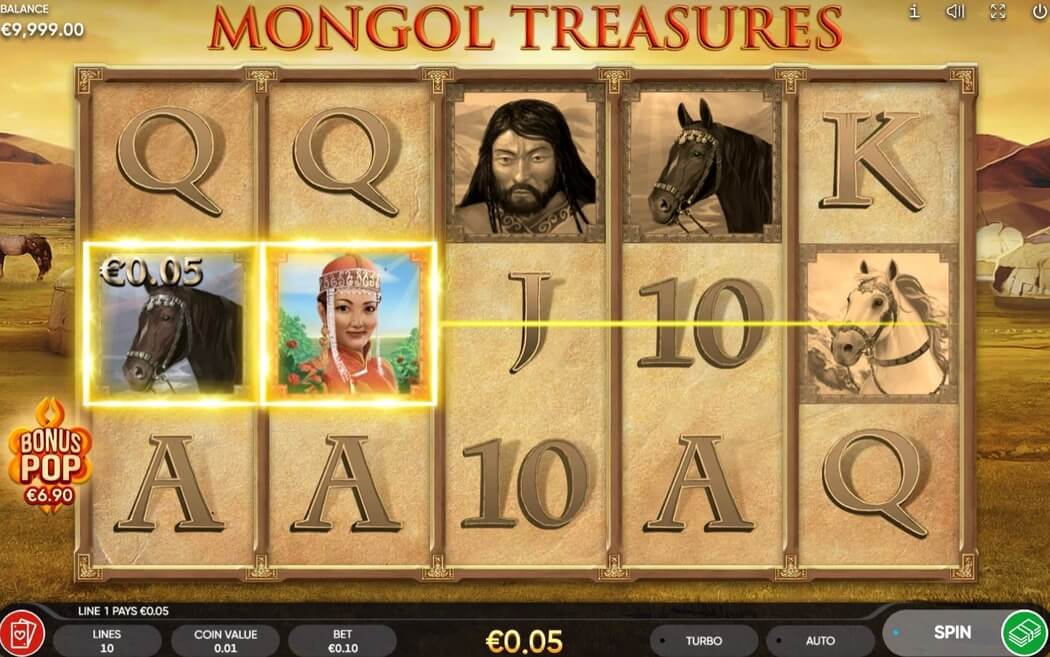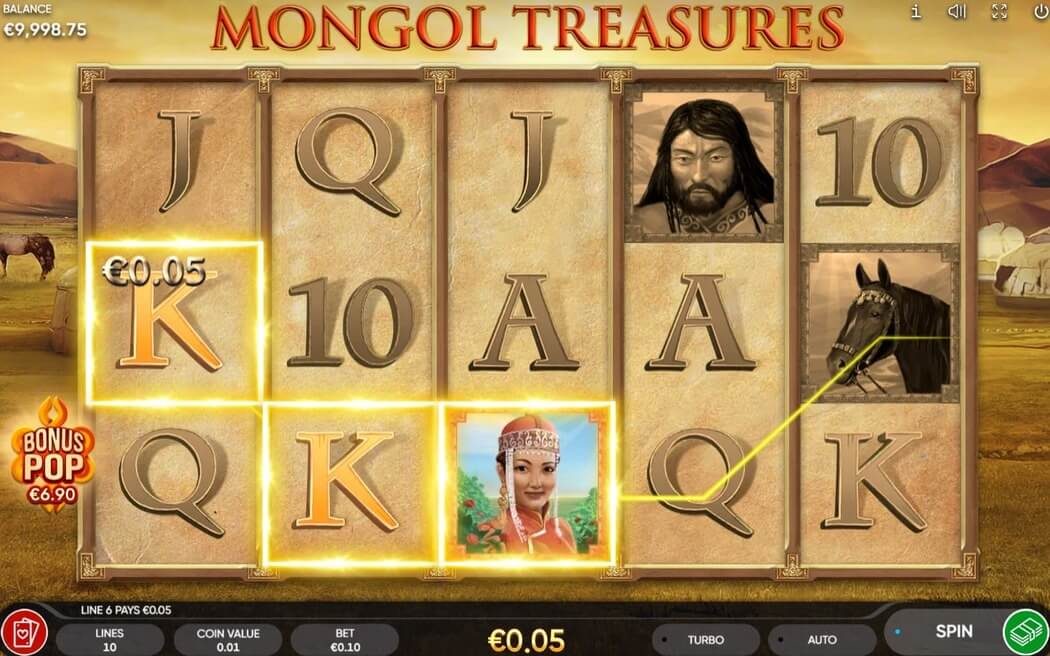 A very welcome addition to this feature is that the Expanding Reels don't require consecutive reels to trigger a win. If reels 1, 2 and 4 are filled with the same symbols, this will count as three-of-a-kind wins. I thought this fit nicely with the theme as well as making it much likelier that the free spins mode will offer a big payoff.
Conclusion
In many ways, Monol Treasures is a variation on the common slot that Endorphina has made a dozen times before. The game features some simple additions to the game, has a few interesting graphics and skips out on the soundtrack.
The big difference here is that the features feel a bit more involved and offer a lot more rewarding gameplay once they trigger appropriately. Getting into the free spins mode is the big bottleneck here as it didn't activate as often as I would have liked. Still, once you get it to start you're likely to walk away with a big win.
Speaking of such, the game offers a sizeable max. win of 5,000x your bet. To augment this, players can place a bet between $0.10 and $100 as you can with most Endorphina slots. I found the game to be pretty even in terms of funds, keeping me at a steady middle ground. Definitely give it a look if you are looking for a classic video slot with some interesting but standard features.