Sherlock Holmes is the most popular literary figure in the world. When people think 'private detective' his is the first name that comes to mind. So it is a small wonder that there are more than a dozen online slots bearing Holmes' name, but I am yet to find a more appealing rendition than Holmes and the Stolen Stones.
This is a memorable Yggdrasil slot that owns its reputation. It stands apart from the rest because it comes with five instant jackpots that can be won by collecting shards and precious stones in two bonus features.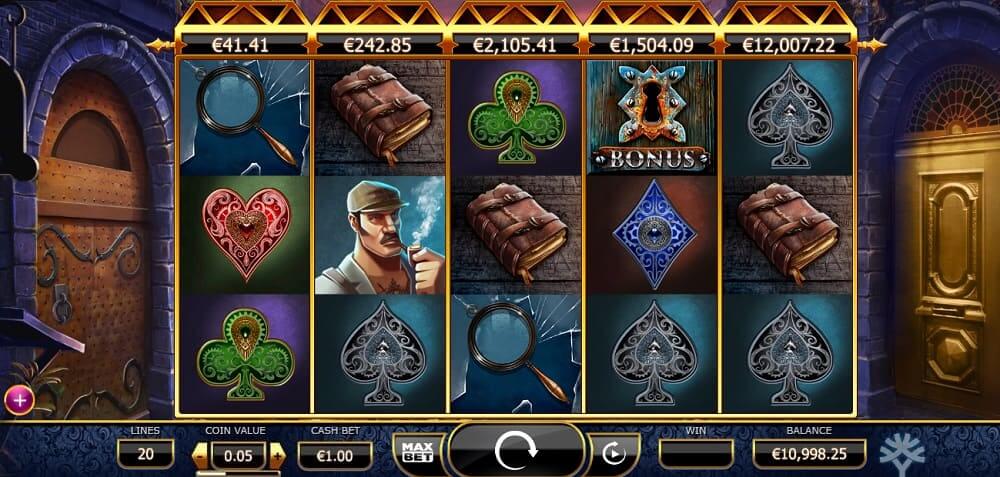 Anyone who is willing to embark on a clue-finding adventure with Holmes and Watson will have the pleasure of placing bets between 20p and $40.00. The layout consists of three rows and five reels, which in my opinion is a perfect structure for a multi-tier jackpot slot.
I've enjoyed every single spin on this game and I especially like it that it has medium variance, which gives the game a consistency in triggering win outcomes, with the possibility of throwing in one or few surprise big wins.
Theme and Graphics
The theme ought to be more than familiar to anyone who has seen a Sherlock Holmes movie, the TV series featuring Benedict Cumberbatch, or have possibly read the work of Sir Arthur Conan Doyle.
To be perfectly honest, I was imagining Holmes' character more of a slender, coffee doused gumshoe than a square-jawed rougher, but hey! It's not my business telling Yggdrasil how to draw their games.
Jesting aside, the symbols appear just fine. Perhaps they lack a bit of animation but are well-drawn and consistent with any of Sherlock Holmes' crime-solving predicaments. Symbols such as a magnifying glass, a heavy leather-bound notebook and fractal-patterned cards' suits leave it all to the imagination.
On the other hand, the game has a flawless musical theme, complete with a noir ambience, string-instrument undertones and reverberating trombone punctuations. Personally, I can have the sound on, and loud, for as long as I play this game.
Bonus Features
Two bonus features can trigger on any turn of the reels that produces three or more of the specific bonus-scatter symbols.
It may mean something to the jackpot hunters out there to know that both bonus features can make a contribution towards the prospect of piecing together the jackpot-triggering shards. And here is how.
Pick-me Bonus GameOne of the two bonus symbols on the paytable is a keyhole on an old wooden door. Three, four or five symbols on the reels will let you enter a wine cellar that's been decked out with 18 crates.Each crate may contain the following: cash prize that is relative to the bet, a shard in any of the five colours, or, the least desirable object – a clockwork explosive, which brings the pick-me bonus to an end. Unlike the other bonus, this one lets you hold on to the shards, of which you can collect more in the base game.
Free SpinsAnother keyhole, this one made of gold, is the symbol that can trigger the free spins bonus with three, four or five landing on the reels. Regardless of the number of symbols, the player gets 10 free spins, 3x multiplier on every win and a chance to collect five diamonds for one of the jackpots. When the bonus spins are over, the diamond meter resets to a blank slate.
WildThis is just to make a note of the fact that a substitute symbol is not part of the game. I am still amazed that it took me many spins to realize it, which means that the gameplay is doing just fine without it.
Bets and Payouts
Holmes and the Stolen Stones has the potential to become cash prize galore, if you hit the right clues, ahem, symbols. I didn't get any of the jackpot prizes. Perhaps it was not meant to be for me on this particular game, but what I found amazing is that there are so many big prizes on the paytable.
For example, both bonuses can pay a cash prize if you've had it trigger with four or five bonus scatter symbols. In the first instance, you can get 1000 coins and in the second, 10,000 coins. These coin amounts translate to 50x your bet for four scatters and 500x your bet for five.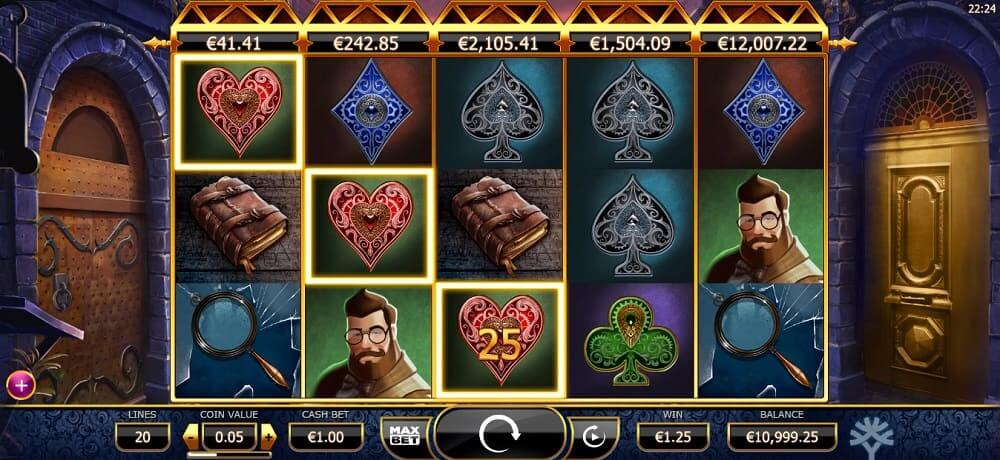 I want the slots players out there to be on the same page, so let me just emphasize that it is not very common to hit the free spins bonus with five scatters in any given game, however, unlike most other games, Holmes and the Stolen Stones can pay you quite a beautiful sum.
In terms of payouts with standard symbols, the paytable has four card suits that pay between 1x and 10x your bet for any of the possible combinations, while the high-paying symbols can dispatch amounts between 2x for three loupes and 200x your bet for five of Holmes' portraits.
Holmes and the Stolen Stones Jackpot
So how do you go about winning a jackpot prize? There are five prizes in total, and each is tied to a stone (diamond) of a certain colour. The highest jackpot is connected to the pink diamond, which means you need to collect pink shards.
Like I said, the game provides more than one setting in which you can amass the shards. Once you've got five for any of the particular colours, a 10 free-spin game is triggered which pays 3x on the wins and turns up diamonds on the reels.
Collect five diamonds and you've won the corresponding jackpot prize, which is displayed above the reel set.
Conclusion
Holmes' jackpot slot has above-average RTP of 96.80% and medium variance. I prefer both to high variance and higher RTP simply because with a medium variance slot you are going to see more regular payouts. Speaking of, the payouts aren't going to be anything grand.
Three of a kind wins will dominate the events on the reel set, but that is not to discourage anyone because this is a game that packs a rarely-seen payout structure. If a big-symbol win crops up, it will be enough of a reason to feel mighty glad. Do I recommend the game? I surely do, and those who aren't so sure can always try it out with 20p per spin.