Smokey the Bear should have been given a role in Miss Wildfire. The game is a tinderbox of a slot with a max win potential of 5,000x your bet.
First appearances are definitely deceiving in this case. The symbols on the reel set seem like an odd selection and have a hard time relating to one another.
But never mind that, because Miss Wildfire steps in as a maven of arson and helps the smiling logs catch fire and become Wild.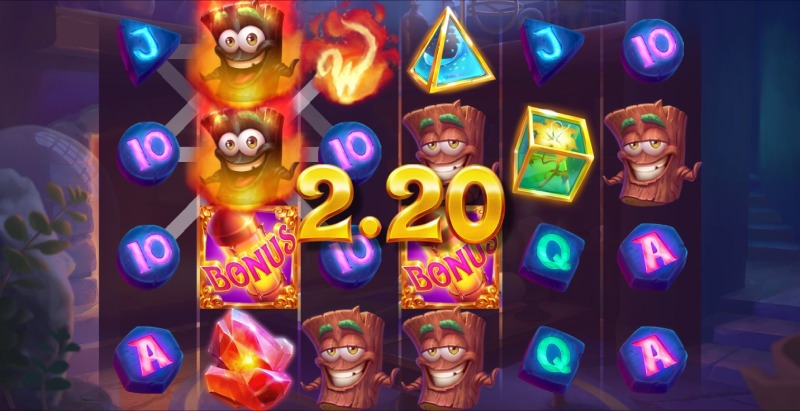 Regardless of how hard I try to sum it up in reasonable terms, the game evades a sensible description and it's best when you've tried it for yourself.
The specs can be told through the universal language of online slots: Miss Wildfire has four rows, six reels and a system of 466 connecting paylines.
I've played the game a few times and found a few likeable elements in it.
Theme and Graphics
The title of the game comes from one of the Wild symbols. Yes, Miss Wildfire is heavy on the Wilds and these are the symbols whose appearance you'd anticipate the most. This doesn't make it any easier to pinpoint a theme for this ELK Studios production.
The theme is a confluence of few magical objects, glowing stones, the missus and a smiling log. Go figure. Nevertheless, the graphic design is decent and there are animated details to make for a livelier gaming experience.
Features
Miss Wildfire rules the reel set when she pops on. This is essentially a respin feature with a walking wild. How about a double whammy! When the smiling fireball with a fiery hairdo, steps into the picture, walks one reel to the left and connects with matching symbols.
When the Wild and Miss Wildfire come onto the reel on the same spin, either of them can set the log symbol on fire. If there are multiple adjacent logs, they will all go up in a blaze, that is, they will convert into Wilds.
One major benefit for the player is that Bonus symbols are held in place during the respins. Additional Miss Wildfire symbols prolong the respins and don't reset the locked Bonus positions – giving you a fighting chance to get a third or fourth symbol to trigger the free spins.
A teal and purple rendition of that symbol can appear on any spin. This is indeed an exceedingly rare event, but when it does come on, all of the log symbols that haven't caught fire become sticky.
There is a weird symbol that appears to be a lantern or something that holds fire inside. This is the Bonus symbol. To trigger the bonus feature you need three or more to land anywhere on the reel set.
ELK Studios has done a marvellous job with the bonus. The base game can become explosive thanks to the Wilds and Miss Wildfire symbols. This is even more true for the bonus feature.
You start the game with a random number of free spins and one or more Miss Wildfire symbols to begin the rounds with. The logs that land on the reels but are not affected by the walking wild add free spins.
Collecting a certain number of logs results in a symbol upgrade, from lowest to highest in the low-paying category. Every time you get an upgrade, that symbol becomes replaced by logs and you get between one and four walking wilds.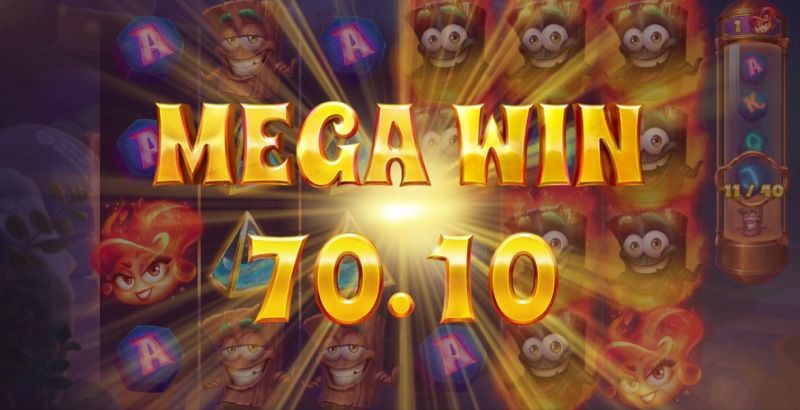 I have to say, the bonus game is superb. All of the extra features of the base game are part of it, making Miss Wildfire worth playing for that experience only.
On the other hand, getting three or more Bonus symbols is not a common sight. Simply said, it's best if you spread out your bets and bide your time for a chance to get to the bonus feature.
Bets and Payouts
A range of bets between 20p and $100.00 is standard for games by ELK Studios. Part of the excitement are the company's original betting strategies that can be viewed in the bet selection menu.
In simple terms, choosing one of the four options brings in a scheme of layout out different bet amounts. It keeps things edgy, but, of course, it isn't mandatory.
The payouts on Miss Wildfire's paytable are typical for a game that has two different Wild symbols, of which one is a walking Wild.
The reel set is spacious enough to invite more than five matching symbols of the same kind and the payout system (adjacent symbols) enables multiple winning outcomes from the same spin.
Winning combinations have the following values times your bet:
Log: 0.1x, 0.2x, 0.3x, 0.5
10 card: 0.2x, 0.3x, 0.5x, 0.7x
Jack: 0.3x, 0.4x, 0.6x, 0.8x
Queen: 0.4x, 0.5x, 0.7x, 0.9x
King: 0.5x, 0.6x, 0.8x, 1x
Ace: 0.6x, 0.7x, 0.9x, 1.2x
Pyramid: 0.8x, 1x, 1.5x, 2.5x
Cube: 1x, 1.5x, 2x, 3x
Crystal: 2x, 2.5x, 5x, 10x
Conclusion
Regardless of the bizarre theme, Miss Wildfire is fun to play. The standard Wild and the walking Wild can give a serious boost to outcomes consisting of low-paying symbols. In my experience, very few of the winning outcomes consist of pyramids, cubes and crystals. I believe this is generally true about Miss Wildfire. This leaves me with one main conclusion regarding its payout potential – free spins bonus!
It is very unlikely that the base game will lead to standardly-decent payouts. This is possible, thanks to the respins, but the walking Wilds aren't too common either. In the free spins bonus, you are at least guaranteed one such symbol. It may prove to be a great point of departure towards the 5,000x your bet maximum.