Lucky Neko – GigabloxTM online slot is a Japanese-inspired 6×4, 40-payline slot machine brought by Swedish game developer Yggdrasil. Taking place in a traditional Japanese antique shop, the Lucky Neko slot machine features beautiful symbols from Japanese culture such as Daruma Dolls and Lucky Cats (Meneki-Neko).
Most notably, the Lucky Neko online slot is Yggdrasil's first game to feature its GigabloxTM mechanics, with huge symbol blocks covering the reels. These gigantic symbols add a whole new dimension to a game that is already packed with features like Wild and Scatter Symbols, Free Spins, Expanding Reels, Multipliers and more.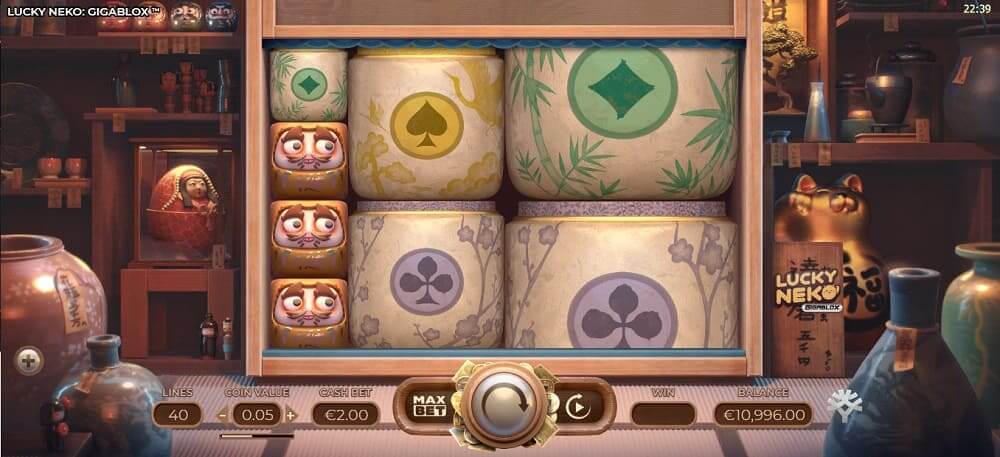 Even by Yggdrasil's standard that is known to be high, the Lucky Neko – GigabloxTM slot's design is strikingly unique. But does this Japanese beauty have the substance to match its style? Let's spin the Lucky Neko reels together and find out!
Theme and Graphics
As a big fan of Yggdrasil's design team, I have written before about the finesse and attention to detail this Swedish developer brings to its games. Lucky Neko – GigabloxTM slot machine is no exception to Yggdrasil's high standard. This time, with a design that is intricate yet subtle.
Everything about this slot looks great and works together, but in a very delicate way. Probably this is Yggdrasil's interpretation of the Japanese Zen theme, which sets you into the game's atmosphere right away.
A Japanese Welcome
The Lucky Necko – GigabloxTM loading screen displays a little Japanese storefront with the Yggdrasil logo on it. Once loaded, the welcome screen shows two wooden doors (the shop's entrance) with a collection of random images such as the game logo and Free Spins captions. Clicking anywhere on the screen will open the doors and take you into shop where the base game occurs.
The Antique Shop Backdrop
Lucky Necko – GigabloxTM slot's gameplay takes place in a Japanese antique shop. The beautifully detailed setting includes a collection of Japanese artefacts like a Bonsai tree, teapot and traditional vases and dolls. Two figurines in the shop's background play a main role in the Lucky Necko – GigabloxTM slot game's storyline:
Maneki Necko: To the right of the reels sits a large waving cat which is a symbol of luck and prosperity. Named in Japanese Maneki Necko ('beaconing cat'), it actually lends to the Lucky Necko online slot its name.
Daruma Dolls: In a display case to the left of the grid sits a Daruma doll, which is a traditional Japanese doll modelled after Bodhidharma, founder of Zen Buddhism.
Symbols
Daruma dolls are a gift of encouragement and a symbol of perseverance and good luck. Which is probably why they make up for the game's high-paying symbols. The Maneki cat is depicted in Lucky Necko slot machine's special symbols. Low-paying symbols are card suits decorated in an Asian style. Following are the Lucky Necko – GigabloxTM slot machine symbols, with their respective maximum payout (in coin stake):
Blessed Symbol: A random symbol becomes blessed with a 5x multiplier during Free Spins and shows with blue flames.
Free Spins: A silver lucky cat.
Wild: A golden lucky cat.
Red Daruma Doll: Max 64x with 6 on a payline.
Orange Daruma Doll: Max 44x with 6 on a payline.
Purple/Green Daruma Doll: Max 40x with 6 on a payline.
Playing Card Suits: Max 20x with 6 on a payline.
Powered by Yggdrasil's GigabloxTM mechanics, the base game symbols can expand to 2×2, 3×3 and 4×4. During Free Spins, the symbols can also expand further to 5×5 and 6×6.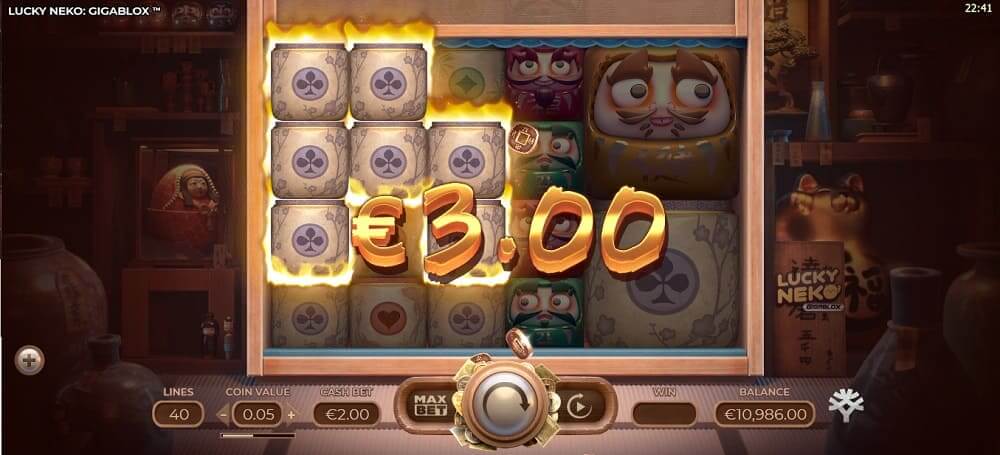 More Settings
If you are looking to sit back and explore the Japanese store while enjoying the Gigablox spectacle on the reels, you can set up Auto Play for between 10 to 1000 spins, as well as continuous play. But always make sure that you watch your bankroll closely when using the Auto Play function.
I liked the elaborate Settings screen on the Lucky Necko – GigabloxTM slot that lets you set up different functions for Auto Play, Audio settings that even Spin Speed (with a slider on a scale between a slow turtle and a speedy rabbit).
The Lucky Necko – GigabloxTM slot machine displays values in either coins of decimals. As I personally prefer to play while seeing the coin value, I was happy to see there is a button that allows you to adjust the coin display settings.
Sounds
The audio of Lucky Necko – GigabloxTM comprises of three sound elements:
Sound effects of tumbling reels, where the colossal GigabloxTM reels shake the entire screen when spinning.
Ambiance sounds that provide relaxing, Zen background music.
Voice-over lines which are spoken in Japanese. I have no idea what was said, but it sure adds to the gameplay and atmosphere.
The Audio section in the Settings screen allows you to adjust volume and turn on and off each of the three sound categories.
Features
As its name implies, the most defining feature of the Lucky Necko – GigabloxTM slot machine is Yggdrasil's GigabloxTM mechanics. All game symbols including Wild and Scatter symbols can expand to larger blocks of symbols (i.e. Gigablox). This makes every spin of the Lucky Necko online slot exciting and unpredictable in both the base game and during Free Spins.
The Wild symbol is a gold Lucky Necko which substitutes for all regular symbols to create more winning combinations.
The Free Spins symbol is a silver Lucky Necko, where landing 5 or more symbols anywhere on the reels will trigger Free Spins. The Free Spins game takes place in a different setting, this time featuring a Japanese garden. The game's grid will expand to 6×8. You will be awarded 1 Free Spin for every silver Necko symbol during the base game (from the 5 or more that triggered it). During Free Spins, you will also receive 1 additional Free Spin for every symbol.
One regular symbol will be randomly chosen as the Blessed Symbol for the duration of the Free Spins feature. This symbol will pay out a multiplier of 5x its base-game value for a winning combination. The Blessed Symbol is placed in a vase left of the grid, and appears surrounded in blue flames on the reels.
Another Great Adventure in the Far East
If you enjoyed the Japanese theme of Lucky Necko – GigabloxTM slot machine, why not take another trip to the Far East with Play'n GO's Imperial Opera online slot? Also following a theme of Asian tradition, this 5-reel, 20-payline slot lets you meet on the reels emperors, princesses and scholars. Similar to the GigabloxTM mechanics, the Imperial Opera slot machine features Mega Symbols that can expand up to 3×3 blocks on the reels.
Bets and Payouts
Bet sizes in Lucky Necko – GigabloxTM range from 0.08 to 100 coins. With the GigabloxTM big potential returns, this online slot is great for penny spinners as well as players that like playing for higher stakes. The base game features 40 paylines and during Free Spins the grid expands and paylines increase from 40 to 85 ways to win.
Lucky Necko is a medium-to-high volatility slot with a hit frequency of 15.45% and a 96.4% RTP, which is slightly higher than average. You probably shouldn't expect a gameplay sprinkled with frequent payouts. But with the GigabloxTM symbols expanding for more possible wins, a fantastic Free Spins feature, Blessed Symbol multiplier and a max win potential of 6,953x your stake – The Lucky Necko – GigabloxTm has a lot going for it. It definitely has enough to keep you spinning the huge GigabloxTM symbols on the reels until winnings come along.
Final Thoughts
One of the things I enjoyed most playing Lucky Necko – GigabloxTM slot online was the many differences between its base game and Free Spins rounds. Practically Lucky Necko lets you play not one, but two great games in a single slot machine.
The immaculate design is no big surprise for a game coming from Yggdrasil. But with the visual effect of the GigabloxTM on the reels, Lucky Necko – GigabloxTM slot machine graphics are exceptionally good even by Yggdrasil's high standards.
Once getting used to the GigabloxTM spectacle, the Lucky Necko gameplay can become a bit monotonous. Especially if you are looking for the excitement of frequent, small wins. But with Free Spins that take the gameplay to a whole new level and a potential win of 6,953x your stake – It's definitely worth paying a visit to this Japanese antique shop!