Lightning Joker is full of energy and shocking wins. The charged-up fruit machine is an updated version of a classic game.
Yggdrasil wanted to take a good crack at creating a modern fruit machine. Lightning Joker was the result of this and it was released in the summer of 2020. The game is fast, electric and perfectly volatile.
The idea of the game is that it's easy to learn and fast to play. You don't even need to read the rules, as the slot tells you how it works as you play it. The animation is clear and it teaches you as you go.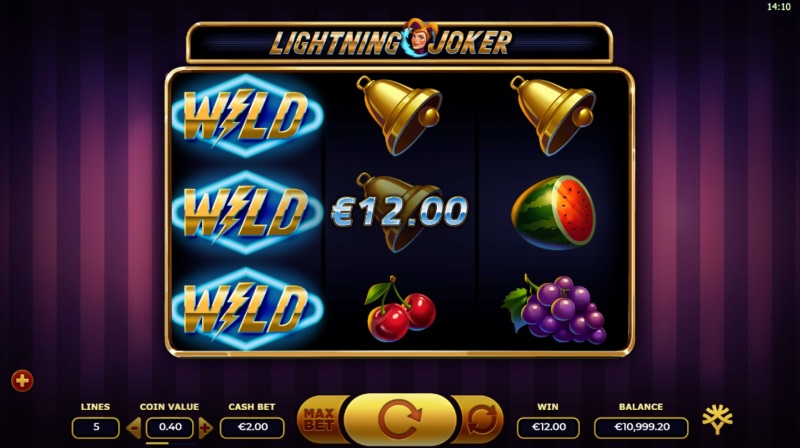 Lightning Joker is a good example of how an old idea can be brought to modern times. Though, not all improvements here are new. Play'n GO's Fire Joker and Mystery Joker have some of the same features, but Lightning Joker fixes the issues those games had.
Graphics and sound
At first, Lightning Joker looks like a standard Vegas-styled three-reel slot. When the game gets going, you start to see why it's called Lightning Joker. The game is full of energy and action.
What I liked about the theme is the nice balance between the colours and the effects. The slightly muted gold and purple work well with the bright white and blue of the lightning effects. It really livens up the game.
When it comes to the sound and music, we get a somewhat mediocre experience. It's not bad, but it's not that good either. The music is one of those songs you forget in less than a minute. They work in the context of the game but don't really improve the game.
Yggdrasil did a great job with the animation in this game. The features are explained surprisingly well with just the animation alone. It makes them a lot easier to understand even if you don't bother reading the rules.
Symbols and wins
Lightning Joker is a classical fruit machine with classical symbols. You have your lemons, cherries, grapes, watermelons, stars, sevens and bells. There are a total of seven regular symbols and two special symbols.
The first special symbol is the wild. It is a fairly common symbol that is also stacked. You can fill a reel or two with nothing but wilds, which is a great way to activate the special features.
The second special symbol is the joker. They are a scatter symbol that gives you mystery prizes. You need at least two of them to win, but if you get three on a single payline, you get an even better prize.
There are two main features in this game, which are nicely tied together. The Rapid Respin and Multiplier Strike both reward you for getting a lot of the same symbols on the reels. If you get at least two full reels, you get a respin. If you get all three reels full, then you get an extra multiplier.
The big question remains, can you win something with these features? The is actually really well balanced and the features activate often enough. The game has high volatility, so you are either not winning anything or getting a decent hit.
All symbols have good prizes and all except one are worth your bet or more. Especially when everything is stacked, it's not that hard to get a hit on multiple paylines. Sure, the game has only five paylines, but it's still multiple.
Features
Rapid Respin: Second chance to win
When you get at least two whole reels full of one symbol, you get a free respin. It doesn't even matter if there are wilds on the reels or if you have already won on some paylines. The non-winning symbols are spun again so you might get an even better win.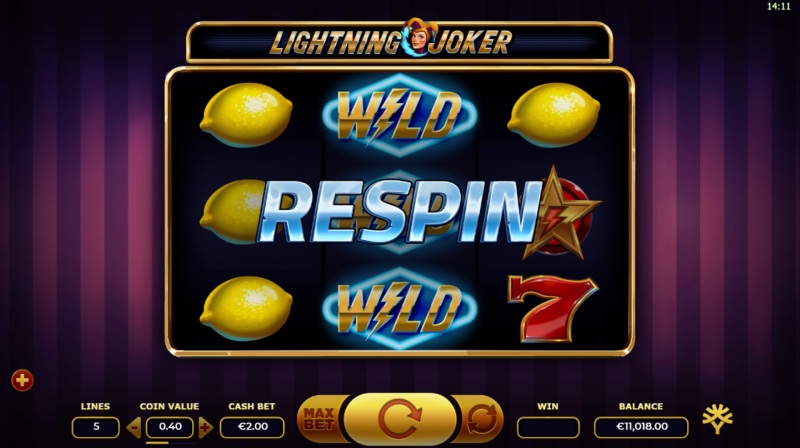 Multiplier Strike: Fill the screen and multiply your win
Filling the screen with a single symbol is a great way to win, but in Lightning Joker, it's even better. If you manage to do that, you get an extra multiplier. It is a random multiplier that can be anything between 2x and 10x. Wild symbols are also counted for this feature.
Mystery Win: Jokers are full of surprises
Jokers aren't wild in the regular sense, but they come bearing mysterious gifts. Get at least two jokers on the reels and you get a random mystery cash prize. The jokers are scatters, but if you happen to get them on a payline, you get an even better prize. The Mystery Win feature is always relative to your bet, as shown below:
2 Scattered jokers: x2 – x10,000
3 Scattered jokers: x100 – x10,000
3 Jokers on a payline: x1,000 – x10,000
Final Thoughts
I was positively surprised when I tried Lightning Joker. Classic fruit machines can be good, but most of the time they are either poorly balanced or have unimaginative features. Yggdrasil was able to find a great balance, which makes the gameplay fun.
Those who know a lot about slots might have noticed that the features are a bit familiar. This game combines the best parts of Fire Joker and Mystery Joker and then makes them even better. For example, Fire Joker has the same respin feature, but it didn't activate if you got a winning combination in there as well. Lightning Joker doesn't care about that.
Even though the features might not be all original, their execution is. Yggdrasil saw that those features had potential and that Play'n GO had used them poorly. This is how they should have been done all along.
Lightning Joker is simply a good game. I enjoyed playing it and will surely try it again.