Legend of the White Snake Lady brings to life a mythical Chinese legend in exquisite detail with the opportunity to win big in this slot by developer Yggdrasil.
Originally released in 2016, Legend of the White Snake Lady takes one of the many Chinese myths and presents it to us in the form of a beautiful slot. The game consists of a 5-reel, 3-row playing field with 243 ways to win.
I personally am not very familiar with Chinese legends but just by playing this game, I feel like I understood what it was about. We're watching a tragedy unfold, arguably about a lost love between a normal man and the White Snake Lady from the title. There might have even been a betrayal and a curse in the mix.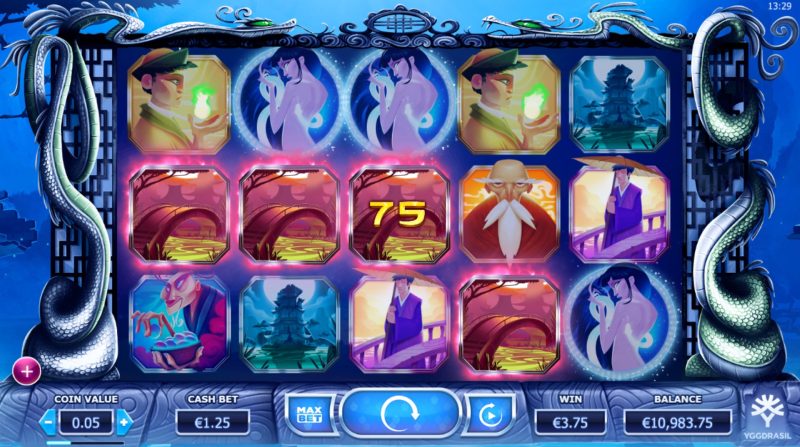 The game's High Volatility is what kept me from it becoming a favourite of mine back when it first came out, but I can't deny the amazing look and feel of this slot. Even for a developer as Yggdrasil, they put a crazy amount of detail into this game.
Something that I always ask of slots but very rarely do they deliver is that every symbol is animated. Legend of the White Snake Lady is the first one in a while that I've seen that does this. Each of the different uniquely-designed symbols is subtly moving, even when they're not on a winning payline. Hair waving in the wind, water rushing under a bridge, a flame crackling in someone's hand. It's subtle but it adds so much to the experience in my opinion.
All the art is amazing. Very colourful and distinguished, with an otherworldly vibe that fits the legend motif of the slot. Combine this with an absolutely mesmerising soundtrack and it's like we're being transported into the legend itself! As always, there are not many other developers that can hold a candle to Yggdrasil's slot design.
Symbols
Each of the symbols is uniquely designed for the slot. There are no card suits or anything of the like in this game. Instead, each symbol tells a little part of the legend. They are from highest to lowest:
White Snake Lady: Max. 25000 coins with five-of-a-kind on the playing field.
Old Man: Max. 2500 coins with five-of-a-kind on the playing field.
Green Snake Lady: Max. 2500 coins with five-of-a-kind on the playing field.
Merchant: Max. 2500 coins with five-of-a-kind on the playing field.
Sad Man: Max. 2500 coins with five-of-a-kind on the playing field.
Young Man: Max. 2500 coins with five-of-a-kind on the playing field.
Bridge: Max. 2500 coins with five-of-a-kind on the playing field.
Temple: Max. 2500 coins with five-of-a-kind on the playing field.
Wild: Substitutes all other symbols in the game.
As you can tell, when you manage to get five-of-a-kind of any symbol on the playing field, you win 2500 coins! The only exception is the White Snake Lady where you get a massive max. win of 25000x your bet. However, if you get 5 White Snake Ladies with a Wild, the payout is 'only' 2500 coins.
Features
The game features a few simple but interesting features that spice up the game. They don't require much input from the player, who instead can relax and spin the reels.
243 Ways to Win: With 243 ways to win, players can get a winning payline from left to right and right to left. As long as 3 or more consecutive reels on either side have the same symbol on them, you'll get a win.
Sticky Wilds: Wilds only appear on reel 3. When they appear, they automatically trigger a Re-spin with the Wild staying in place. If another Wild shows up, this one will also stick and the reels will spin again. This can happen a maximum of 3 times and the entire reel is filled with Wilds.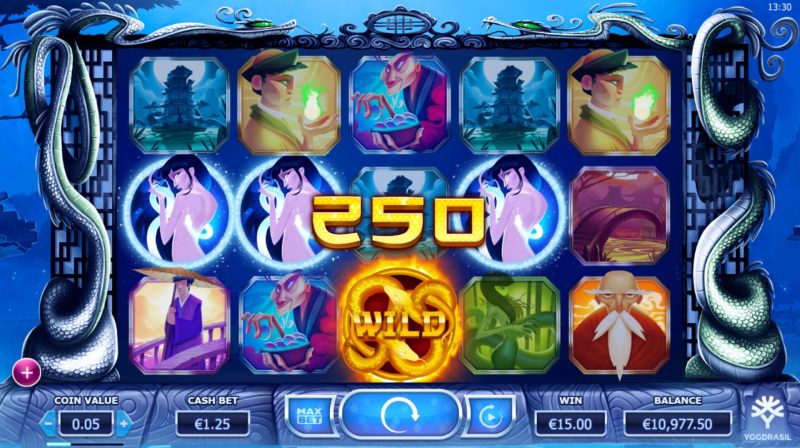 That's really all there is to it! The Wilds are both sticky and trigger a re-spin but since they don't appear that often I would call them connected features.
As I mentioned before, the game lists as a high volatility slot. It means that the wins are few and far between but they generally pay out more when they do hit. This comes close to my experience while playing the game.
One thing I noticed is that I never got more than 1 winning payline at a time. I always only won with 1 symbol appearing 3 or more times on consecutive reels. In my experience playing slots, this is highly unlikely, even with high volatility slots. Still, the payouts are quite high even for a single 3 symbols payline so I don't think it hurt me too much.
Whenever I got 3 or 4 symbols on screen before the middle reel stopped spinning it would add a colourful box around it, building up the tension of possibly getting 4 (or 5!) matching symbols. The game counts winning paylines from left to right and vice versa, which means that you only need to get the symbols on the screen to get the win.
Conclusion
As far as slot mechanics go, Legend of the White Snake Lady is a very simple slot. It requires no input from the player except choosing the size of your bet, which can go from $0.25 to $125 per spin. After that, you press the spin button or you enable Autoplay to see what you win.
I know that there are a lot of players out there that enjoy this type of gameplay. I've also become more partial to that kind of relaxed experience in the last few years. A lot of features and bonus games can be fun, but they can also require me to invest a lot of time figuring out the best way to play.
With a game like Legend of the White Snake Lady, it's more about sitting down and enjoying the ride. I let the excellent soundtrack and amazing graphics entertain me as I watched the reels spin and I got some big wins during my time playing. Even without those, I would still have enjoyed my time playing.
If you're interested in similar games, Yggdrasil made Legend of the Golden Monkey which approaches another Chinese legend in a completely different way! Another slot in a similar vein, this time developed by Netent, is The Legend of Shangri-La. Here too are you transported to China and become immersed in an ancient myth.
I'm glad developers are taking inspiration from Chinese folklore, seeing how it turned out with Legend of the White Snake Lady!