If you are down for not making a mess in your kitchen but still crave sushi, there is a thing called Kitchen Drama Sushi Mania.
It is an online slot alright – one that combines a modest max payout of 758x your bet and a high hit frequency.
Design-wise, Nolimit City has nailed the sushi theme with an out of the ordinary take on the usual ingredients. If gleeful Japanese comic book art is something you fancy, then Kitchen Drama Sushi Mania is a game that may provoke your interest.
Besides the design, I also like the gameplay and the cascading wins dynamic. Although the reel set is a standard 3×5, the game comes with 20 paylines and two different Wild symbols.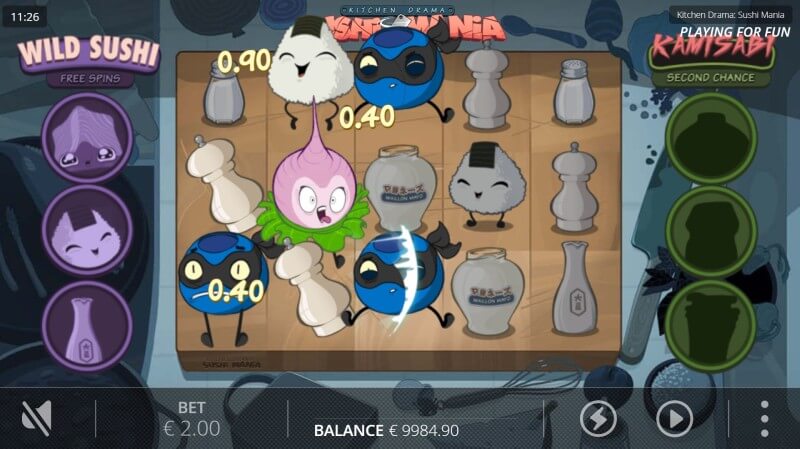 These can make a pretty big difference between standard and non-standard payouts, especially when the so-called Bunshin Wilds start splitting along the reels.
Theme and Graphics
OK, so I think most people aren't going to be ready for the graphic design. It isn't something that's going to blow your mind, but it's definitely weird and one-off. That's what you can expect from this outfit called Nolimit City.
The reel set is a cutting board and the symbols are stuff you'd find in a sushi restaurant, including rice balls and ginger rhizomes.
The smiling, jumping symbols of Kitchen Drama Sushi Mania ought to capture most players' sympathies. The way in which these are drawn is pretty unique which makes the game likeable.
As I said above, there are two Wild symbols and both can substitute for any of the standard paying symbols.
Bunshin Wilds are ninja-like balls of something, which can split in two. The more of these you get, the better it gets. They can land on the three middle reels only.
The standard Wilds do the standard thing – they stand in place for other symbols.
Kitchen Drama Sushi Mania has the cascading wins mechanic and it usually brings in tow an additional gameplay feature.
This time around, Nolimit City let you have a bonus chance at scoring an additional win, if you get three or more winning cascades.
I like this feature because it can make a good winning outcome even better. Also, you can count on the Bunshin Wilds to step in and do some splitting.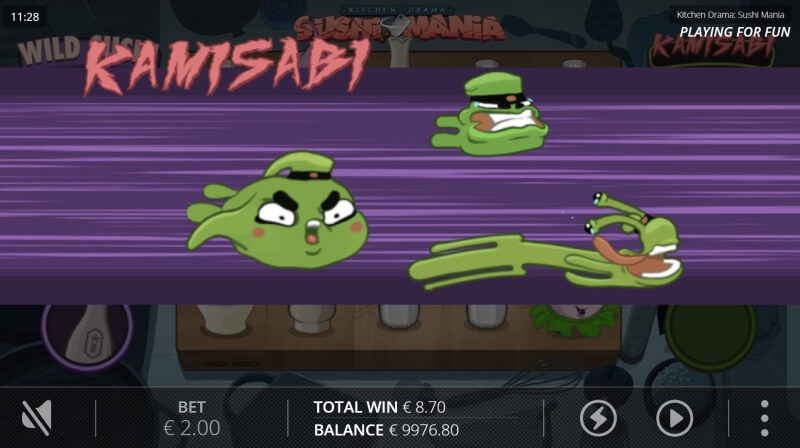 I think this game has one of the most unique ways of triggering a free spins bonus.
Landing one winning outcome with the tuna slice, rice ball and soy sauce bottle – in no particular order but as part of a cascade, triggers 10 free spins.
The kicker in the bonus feature is that clearing each benchmark on the meter will automatically convert the specific symbol into a wild.
Just to be sure, the feature comes with cascading wins but without the splitting Wilds. Also, no chance to retrigger.
Bets and Payouts
You can roll with the sushi rolls for at least 20p per spin. The maximum bet is $100.00 with plenty of options between the high and low bets.
This is a game that has features that I like, but it also has a likeable paytable structure. Simply said, it's rather decent for a cascading wins payout system.
You won't make your full bet back with three matching low-paying symbols, but four of a kind with the third-lowest symbol will do the job.
Upon checking out the paytable before making my first spin, it became clear that the Bunshin Wilds are there to help with the low-paying cascades.
These can amount to decent outcomes, especially if four or more symbols are covered by the Wilds.
I find the full paytable to be promising. Winning outcomes are multiplied by the payline bet, so a value of 15 equals 0.75x your bet.
Salt shaker: 4x, 15x, 50x
Pepper grinder: 4x, 15x, 50x
Soy Sauce: 5x, 20x, 75x
Wasabi paste jar: 5x, 20x, 75x
Rice ball: 7x, 30x, 100x
Ginger: 8x, 35x, 200x
Radish: 9x, 40x, 300x
Tuna slice: 10x, 50x, 500x
Conclusion
Kitchen Drama Sushi Mania has a low payout potential compared to a fair number of games, but I think 758x your bet is actually decent.
Maybe you don't stand a chance to make a surprise killing on this game, but at least there is a 1 in 3 hit frequency that can make your gameplay eventful.
Overall, it's a decent production for players who want to just let the reels spin their magic and see frequent winning outcomes – with the possibility of getting moderate but still decent wins.