Football Glory brings us back into the stadium where we are treated to an exciting match of football, given some extra life through special features such as free spins, a bonus game and a number of different wilds and sticky wilds.
This slot was developed by Yggdrasil and released in 2020, during a time where people were not able to actually go to the stadium. As a replacement, this game doesn't really cover the game all that well but as a slot with football as its theme, it does a good job. Players are presented with a 5-reel, 4-row playing field that holds a total of 25 win lines on which they can try and score.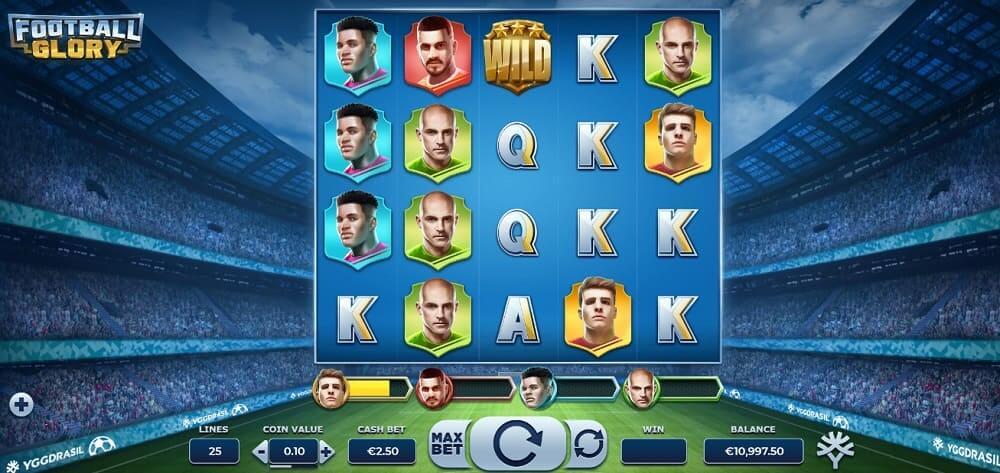 Football obviously has a lot of popular and familiar players and although I am not that well-versed in the game, I don't think the characters that make up the high-paying symbols are real players. This most likely has to do with licensing rights but I assume this wouldn't have much impact on the game anyway. Instead, the football stars could just as easily have been you or me.
The game features the standard selection of symbols with especially the low-paying symbols standing out in their lack of creativity, as simple silver glossed letters. The players do look better but their tiles are static and there are little animations in the game. As can be expected, the background shows a crowded stadium in front of a bright green pitch.
Symbols
Football Glory makes use of a relatively small number of symbols. As a result of these put together with the features and the payouts, the game lands on Medium Volatility. Players should expect a decent number of wins during their time playing, but they won't be very high with only the occasional spike. I found the features to be the best source of bigger wins in this game, and these appear relatively frequently.
The symbols in the game include:
Free Spins: Get at least 3 free spin symbols to activate this mode with at most 21 free spins.
Wilds: Wilds are substitutes for all other symbols except the free spins mode.
Yellow Player: Max. 25x your bet with five-of-a-kind on a winning bet line.
Red Player: Max. 20x your bet with five-of-a-kind on a winning bet line.
Blue Player: Max. 17.5x your bet with five-of-a-kind on a winning bet line.
Green Player: Max. 15x your bet with five-of-a-kind on a winning bet line.
Ace: Max. 7x your bet with five-of-a-kind on a winning bet line.
King: Max. 6x your bet with five-of-a-kind on a winning bet line.
Queen: Max. 5x your bet with five-of-a-kind on a winning bet line.
Jack: Max. 4x your bet with five-of-a-kind on a winning bet line.
Even with medium volatility players can be on the lookout for a sizeable max. win of 4,000x your bet. Considering players can choose a bet between $0.25 and $125 per spin, this can become quite a jackpot, but it will be up to the player to decide what size bet they're most comfortable with.
Features
Football Glory keeps things simple, much like the spirit of the sport it's used as inspiration. The features in the game will most likely be familiar to all players except for people who have never played one before. Just in case, a quick overview of the features:
Wilds: Wilds substitute regular symbols in the game, helping to create the highest possible win line.
Sticky Wilds: Occasionally, Wilds become Sticky and stay in place for 1 or more spins.
Free Spins: Get 3 Free Spins symbols on the screen to activate the free spins mode. Filling up the Glory bar will also trigger the free spins mode.
Glory Bar: Players can fill up a glory bar for each of the 4 players by getting wins with that particular player.
Bonus Game: Get the Cup on the 5th reel to activate the bonus game, where players can win a coin win or trigger the free spins mode.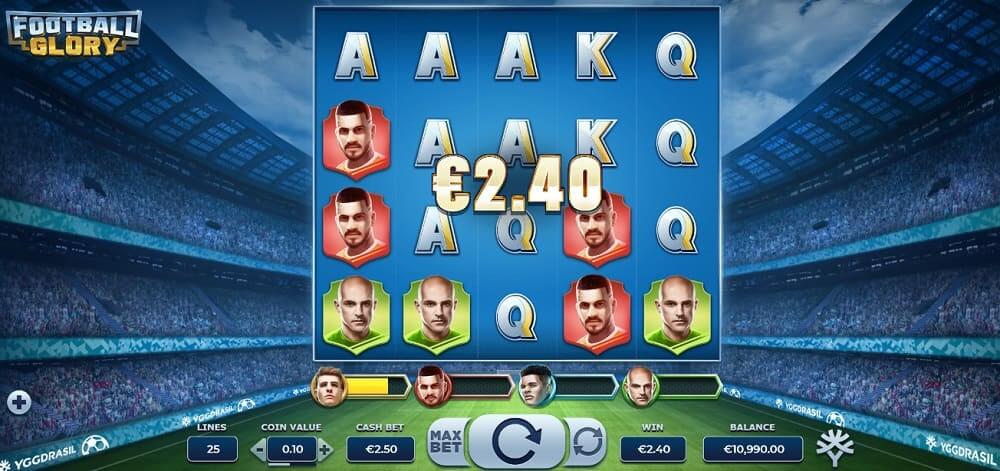 Players who like the free spins and bonus game to be a bigger part of the gameplay won't be disappointed when giving Football Glory a try since these can be expected to show up often enough. They're not extremely common as in some other slots but they do appear now and then.
Both features are also interesting enough to be excited when they appear, as they can offer some sizeable wins. The bonus game is especially good at this, sometimes offering dozens of bets as a coin win. The only trick is picking the correct lotto ball to win it!
The free spins mode is much like the base game except that the Wilds become sticky, making wins more likely as the mode continues. Getting a filled glory bar will also make the same player symbols sticky wilds, adding to the likelihood of getting a win.
I found the features to be pretty enjoyable even though they're not very complicated, and they don't really connect with the theme of football either. There isn't any real effort made to make the free spins mode look or play differently. The bonus game does look like a lottery draw but that feels like something that's only sideways related to the sport. I also think the characters could play a bigger part in the game.
Conclusion
Football Glory is a game that's suitable for football supporters but it's also perfectly suitable for those that aren't as interested in the sport. The setting decides how the game looks and feels but it does not impact the gameplay much at all. I think it depends on the player to decide if that's a good or a bad thing.
The glory bar that can trigger the free spins mode with extra sticky wilds is a nice touch but I found it to be very difficult to fill up, and it will most likely require too long for most players both in time and funds.
The final thing to mention is that I didn't get a lot of big wins, causing my funds to drop slowly but steadily. I had a good time playing the game but if you are looking for a slot where big wins are a major part of the slot, you are most likely better off trying out other games.