Play'n GO get all up in your grill with their latest hip-hop-inspired outing – Blinged. Following the success of their 2015 release Pimped, Play'n GO are back at what they do best. Similar to the game provider's rap-inclined firstborn, we're spinning on a 5×3 grid across 10 paylines.
But, what else gives? So, is this slot worth a shout out, or will it go the way of Tupac and Biggie? Let's slip on some oversized sportswear, don our most ostentatious jewellery and find out.
Blinged Highlights
Volatility: This medium volatility slot has well-balanced win size and hit frequency.
Freespins: You can get in-game free spins in Blinged.
Re-spins: Re-spins make the reels spin again without having to place an additional bet.
Multiplier: In Blinged, the winnings can be multiplied by different multiplier mechanisms.
Wilds: Wilds substitute any standard symbol and help create more winning combinations.
Pure Steeze
'Make Way for the Ladies' reads the tagline for Blinged. Okay, got it. Way made. From the off, things are looking good. We're met with a night time Manhattan street scene. Glamour – check. Okay, Let's spin.
A lot of time, care and energy has been devoted to Blinged and it's very hard to find anything immediately wrong with this slot, visually. Characters are crafted with great attention paid to each and every shade and colour. Everything you see on the screen here really works together to create not only a very nice looking slot but one that's also dripping with atmosphere and energy.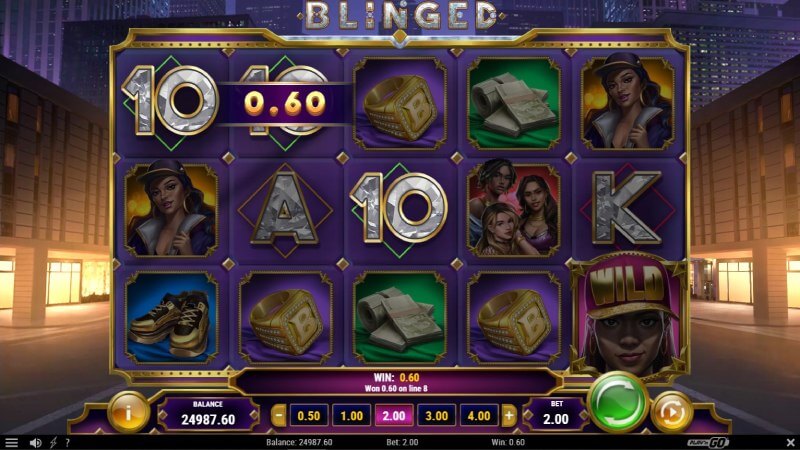 More negatively-minded souls might say that Blinged was created as a minor afterthought to counterbalance the testosterone-heavy Pimped. Sure, there are similarities between the two, that much is a given. The biggest problem with Blinged is that – for a 2020 release – it already feels a bit dated. Perhaps it's the fact that, in regards to the title alone, no one even really uses the word 'bling' anymore. Well, aside from your dad. Or your dad's dad.
If Play'n GO were, in fact, creating a'90s retro-styled slot, this could be totally forgiven. Unfortunately, nothing else suggests that the slot's conception points this way. If it were indeed a tongue-in-cheek nod to old school rap music and culture, that'd take this game to another level.
So, we have what seems like a pretty tight theme: Hip Hop, New York, Jewellery. We can't go wrong, right? A slight misstep from the game developers seems to be the music on offer. While opening the game, I was expecting to hear some decent East-side rap beats. Woah… hold on. What is this music? Sounds like something that was discarded on the floor of Jamiroquai's rehearsal room circa 1993. Oh well, we're still looking good at least.
Game Features
Blinged, powered by Play'n GO is brought to you by the following in-game features:
Multipliers
Free Spins (Win Spins)
Scatters
Wilds
Not a feature-laden East coast romp, that's for sure. Light on the ground, the absence of features actually supports this game and makes way for the great graphics and (almost) bearable bed music.
But hey, who doesn't love a few Free Spins chucked in for good measure? These can be unlocked by landing a scatter symbol on reels 1, 3 and 5 simultaneously, up to a maximum of twenty Free Spins. And the best part? Free Spins are given a makeover fitting for a Blinged bad girl and also function as Win Spins.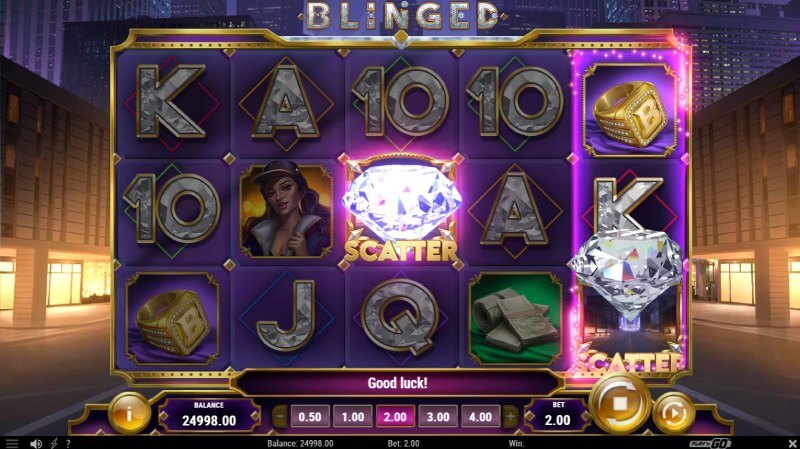 What's the deal with Win Spins? Well, it's a freebie spin, and you spin until you win. Players also have a further chance to double down on Win Spins by triggering Respins. Land two scatters during the base game and take down an extra Win Spin, during the Win Spins round, you only need one. And if you're lucky enough to land three scatters, you're looking at five Win Spins, with every scatter yielding one further Win Spin.
The beauty of Blinged is that even when you're not winning, the unlimited multiplier increases each spin which retriggers respins. Pretty neat.
If things moving a bit too slowly, Blinged has this locked up with autoplay and turbo play options just a click or two away.
The Dead Presidents
Medium volatility Blinged brings us an RTP of 96.25% with bets ranging from $0.10 up to $100. Maximum win potential sits comfortably at 100,000x, meaning the top prize for Blinged stands at a massive $10,000,000. Still not enough to get Dr Dre to get out of bed, but for us mere mortals, that'd do nicely.
For five on a payline, symbols ranging from highest to lowest, look like this:
Rapper Wild – 100,000x
Rapper Girl – 7,500x
Girl Trio – 5,000x
Bling Ring – 4,000x
Golden Sneakers – 2,500x
Stack of Bills – 1,500x
A – 1,500x
K – 1,250x
Q – 1,000x
J – 750x
10 – 500x
If you're a player that keeps your eye on the prize, the win potential for Blinged is likely more than enough to keep you plugged in.
Roundup!
As a sucker for anything that rises above the mire of poorly designed slots, I was really impressed with Blinged. As one of the more time-consuming aspects of slot creation, graphics are sadly often overlooked. Blinged isn't quite turning the graphics up to 11, but it's certainly clocking in at a solid nine.
Thematically, Blinged isn't as well-focussed as it could be. It does feel pretty late '90s. So, why then have Play'n GO held back with this theme?
Perhaps it would have alienated some of the slot's demographic, it might have felt too early or even just plain slipped by the game's producers. Whatever the reason, it's still a tidy slot with a sweet graphics package and decent gameplay.
Some players may find the straightforward approach to features leaving them feeling as cold as an ice cube, while others will welcome the stripped-back perspective. Much like rap music itself, it's all about your attitude.