Piggy Bank Farm is a slot set at a farm run by a fat pig where the other animals are all working to make him richer. If that sounds familiar, it's purely coincidental I'm sure. The game further offers players the ability to use free spins, re-spins and wilds.
The game was released in 2020 by popular studio Play 'n GO, using it as a way to show off their visual prowess as the game features a number of very nice graphics that detail the life on this special farm. The characters in the game are all detailed and have different animations, while the background shows us a view of the farm itself. This makes the 5-reel, 4-row playing field look beautiful.
There are a total of 50 paylines on the screen that help the players trigger a win. When it happens, the tiles involved get lit up and any animations that are present get played. The high-paying symbols depict different types of animals drawn in a cartoony style. The low-paying card letters look good but they're not very original, although the designers did try to integrate them into the setting by making them out of wooden beams.
When it comes to the sound, players are treated to a sort of generic pop-rock song that plays continuously during the time playing the game. I didn't find it very annoying but I'm also not quite sure if it completely fits the setting. When talking about the sound effects, these were fine but also rather generic.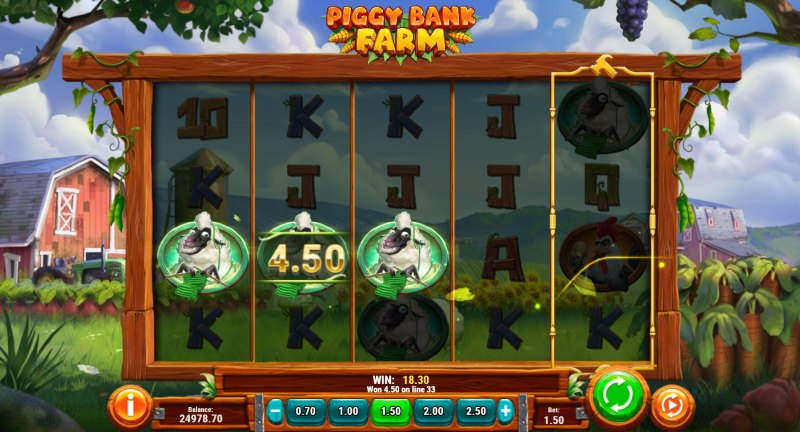 Symbols
Piggy Bank Farm has a larger number of symbols, combined with the features and the number of paylines resulting in High Volatility. In my experience, the game will reward normal wins occasionally but they are often too low to make back many spins. Instead, the game depends on the bonus game and the free spins game to trigger any big enough wins to really make a difference.
The symbols in the game include:
Free Spins: Get 3 Free Spins symbols on the screen to activate the free spins mode.
Wild: Wilds substitute all the regular symbols in the game. Max. 50x your bet with five-of-a-kind on a win line.
Cow: Max. 24x your bet with five-of-a-kind on a win line.
Sheep: Max. 12x your bet with five-of-a-kind on a win line.
Dog: Max. 8x your bet with five-of-a-kind on a win line.
Chicken: Max. 4x your bet with five-of-a-kind on a win line.
Ace: Max. 1.6x your bet with five-of-a-kind on a win line.
King: Max. 0.8x your bet with five-of-a-kind on a win line.
Queen: Max. 0.8x your bet with five-of-a-kind on a win line.
Jack: Max. 0.4x your bet with five-of-a-kind on a win line.
10: Max. 0.4x your bet with five-of-a-kind on a win line.
Players can look forward to a max. win of 5,000x your bet, although it won't be easy to win this. Instead, players are more likely to slowly lose their funds or get a few bigger wins but not reach the jackpot. Players can pick a bet between $0.10 and $100 to make the game more or less risky.
Features
Piggy Bank Farm only includes a small number of simple features that still offer some excitement to the game. Players can expect a bonus game and a free spins mode to take them from the base game, but most of the time they will spend it on the regular screen. I did find it a missed opportunity that they didn't use any special backgrounds for these features, as it would have made them stand out a bit more.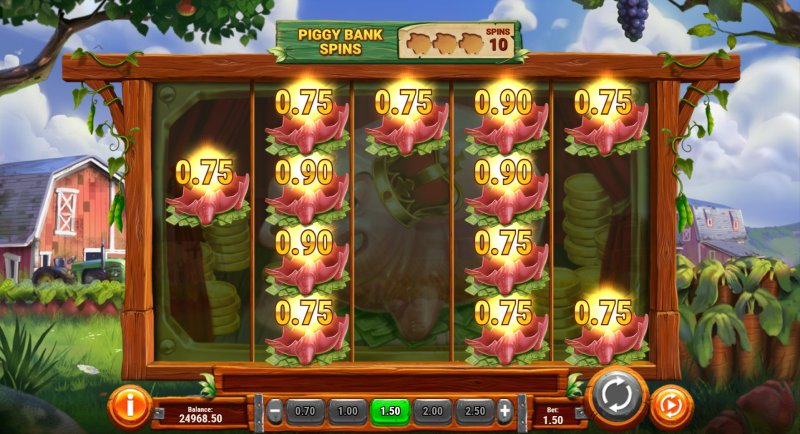 The features in the game include:
Wilds: Wilds substitute all regular symbols in the game except the scatter and hammer symbols.
Bonus Game: Getting the Hammer symbol on reel 5 will trigger the Piggy Banks Spins bonus game. During the bonus game, only piggy banks appear on the screen. Getting the entire screen filled will award the jackpot. Otherwise, each symbol gives a random coin win.
Free Spins: Get 3 scatter symbols on the screen to activate the free spins mode. It is possible to retrigger additional spins.
The game's bonus game is called Piggy Bank Spins which I felt was a bit confusing considering it's not the same as the free spins mode, but it does look and play a lot different. This bonus game will remove all symbols from the playing field and will only randomly add piggy bank symbols. The game awards 3 spins to start with and adding a symbol to the screen will return 1 spin.
This continues until all 3 spins are used or until the screen is filled with the piggy bank symbols. Once this would happen, the player wins the jackpot and 5,000x their bet. I found that the game often awards almost an entire screen filled, but I never won the jackpot. Instead, each piggy bank symbol is opened up and shows a random coin win which can then be increased by a 5x multiplier.
The free spins mode works much like the same mode in other games, where the player receives 8 free spins and the game can add additional spins during the mode. The free spins mode can also trigger the piggy bank mode, as well as increasing the bonus game's multiplier.
Conclusion
Piggy Bank Farm is a very nice-looking slot with a lot of character that I feel was a bit underutilised. I would have liked to see the different animals move around a bit more or at least have some animations whenever they are part of a win. Now they are largely static which feels like a missed opportunity.
The features that are part of the slot aren't especially original or change up the gameplay in any major ways. Instead, it offers the players some distraction from the standard reels spinning. I think this is pretty much expected from standard slots by now.
If you like your slots to be colourful, cartoony and offering a standard selection of features than Piggy Bank Farm should be right up your alley. I enjoyed my time playing it but I don't think it will stick with me for very long either. For that, it needed just a bit more personality.