Ivanhoe is a classic fruit machine drawing inspiration from both the tale of the Knight of the Round Table as well as the television show. The game features multipliers and a free spins mode, keeping things relatively simple.
The game was created and released by Elk Studios in 2017. It features a 3-reel, 3-row playing field much like the classic fruit machines but with 17 paylines in total. In many ways, the game resembles their other slot Route 777 which came out at about the same time. The background is a greyed out picture of what seems to be a festival, while there is an LCD screen on top of the reels that show the name of the slot, as well as different features and coin wins.
The graphics are fine without being especially noteworthy, especially considering Route 777 looks almost the same with a nicer background. There are some nice animations on the LCD screen, including when a special game mode starts. I thought as far as fruit machines go, Ivanhoe does a good job at least making it look appealing.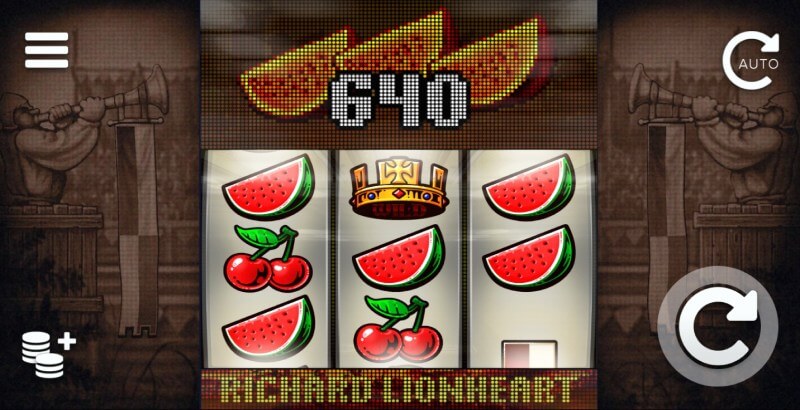 The music is less impressive, mostly sticking to sounds when the reels spin and not much else. When there's a win a short generic jingle plays that's unfortunately disconnected from the theme. I would have hoped for something that reminded of medieval times but instead, it sticks to playing regular fruit machine sounds.
Symbols
As a simpler slot, the game has fewer symbols. Even so, the game has a High Volatility as the playing field is smaller, the payouts are low and there are not as many paylines as in other slots. The special features also don't really help in getting wins during the regular game.
The symbols you'll find in the game are:
Ivanhoe (Bonus): This Stacked Symbol acts as a Bonus. Get 3 of them on the screen to activate the Free Spins mode.
Red 7s: Max. 30x your bet with three-of-a-kind on a win line.
Blue 7s: Max. 10x your bet with three-of-a-kind on a win line.
BAR: Max. 5x your bet with three-of-a-kind on a win line.
Watermelon: Max. 1.6x your bet with three-of-a-kind on a win line.
Lemon: Max. 1.2x your bet with three-of-a-kind on a win line.
Cherries: Max. 0.8x your bet with three-of-a-kind on a win line.
The symbols aren't animated when part of a win because of all of this is shown on the LCD screen. Getting a win will show the win line on the playing field while the LCD screen shows the total coin win.
Features
As this is in its core a fruit machine, Ivanhoe doesn't have a lot of features. Still, I think the ones that are there keep the gameplay somewhat interesting, even for people that normally don't play slots like this.
Multipliers: During the Free Spins mode, there are 5 levels each with an increasing multiplier that is applied to all wins during that level.
Wild: During the Free Spins mode, Wilds appear that substitute all other symbols except the Bonus Symbol.
Free Spins: Get 3 Bonus Symbols to activate the Free Spins mode. Players start with 5 free spins. Earning enough points will activate the next level, granting additional free spins and increasing the associated multiplier.
The base game has no special features to speak off, simply consisting of the general gameplay where the player spins the reels. With 17 paylines, it has the opportunity to generate wins but in my experience, this rarely happened. As a result, I found my funds to steadily shrink as time went by if I was forced to stay in the base game.
The Free Spins mode was the real focal point of the game, which made it feel like the rest of the game was just a way to fill the time. Activating the special mode was not as easy as it seemed and it would often take me quite a while to get it to start. When it did, it would usually result in at least a sizeable win. Although it's obviously not a guarantee you'll make back your losses.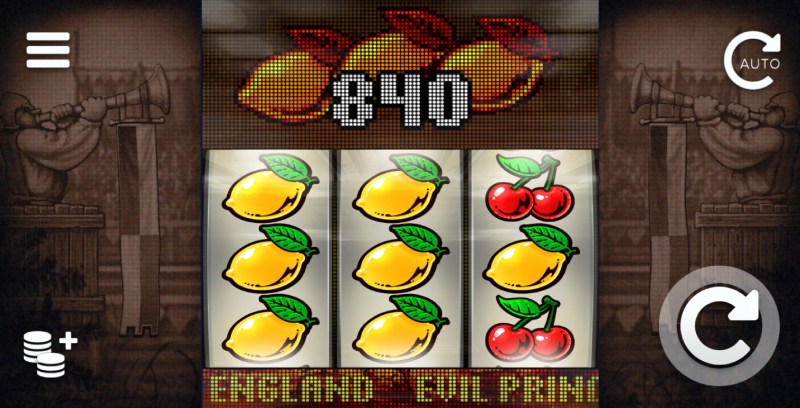 This mode consists of 5 levels, each level activating when enough points have been won in the previous level. As the levels increase, the associated multiplier also goes up. Players start the Free Spins mode with 5 free spins and can add additional ones when they reach the next level:
Level 1: 5 Free Spins and a 2x multiplier. 2,500 points needed to level up.
Level 2: +3 Free Spins and a 3x multiplier. 8,000 points needed to level up.
Level 3: +3 Free Spins and a 4x multiplier. 20,000 points needed to level up.
Level 4: +3 Free Spins and a 5x multiplier. 81,000 points needed to level up.
Level 5: +3 Free Spins and a 6x multiplier. 300,000 points as the maximum win.
What I really liked was that each level had its own theme and storyline, which was told through the LCD screen. It could be a joust, a fight with brigands or the rescue of a princess. It didn't affect the gameplay at all but I found it to add something to the theme of the game.
All in all, Ivanhoe makes an effort to be more than just a simple fruit machine. The graphics are okay if uninspired, with the LCD screen adding the bulk of the originality and engagement. I found myself trying to get to a higher level in the Free Spins mode, not just for the extra coins, but also to see the different storylines play out.
Conclusion
If you're a fan of fruit machines, Ivanhoe is a good middle-ground between this type of slot and the more popular regular slot. The game has the 3-reel, 3-row playing field but with extra paylines. The extra features are confined to the Free Spins mode, making it an easier transition.
Players that enjoy highly innovative and cutting-edge slots might not be as endeared by this game. I still think the LCD screen and the Free Spins mode are interesting enough to check out.
The max. win of 3,000x your bet is sizeable and reached when hitting level 5 of the Free Spins mode. This is no easy task but even just trying to get there is an adventure. I found that losing coins for half an hour can be recovered in a single Free Spins mode, so don't count it out completely. Players have the option to pick a bet between $0.20 and $100 per spin to decide the risk they want to take.