Ready to give them hell? Then step into Infectious 5 xWays, yet another insane slot with crazy volatility and even crazier payouts by No Limit City. As always, the developers stayed true to their brand and delivered a high octane, 5-reel, 8-row slot with default 1024 ways to win.
Set in a post-apocalyptic world where beloved heroes turned to the dark side, Infectious 5 xWays brings with it exhilarating, feature-rich gameplay. The bonus round gives the player a chance to follow one of two paths. One of these paths has extreme volatility where the max payout of 55,555x the bet can be achieved. The chances of hitting this are set to 1 in 28 million spins. But that doesn't mean there aren't some other eye-popping wins to be had.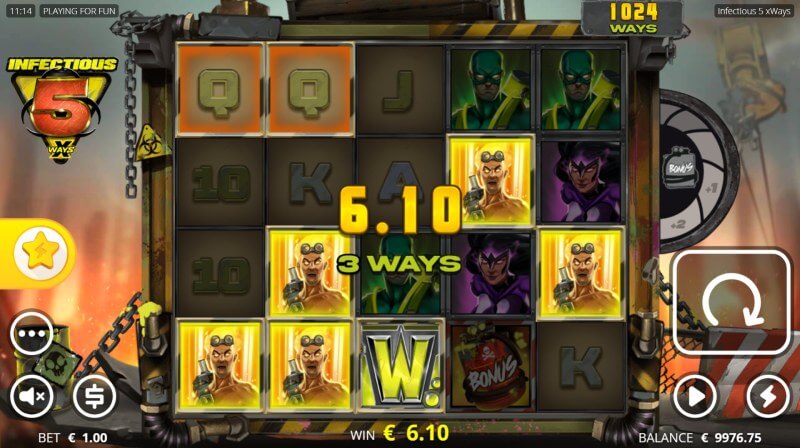 Symbols
High-paying symbols are meticulously designed and are represented by the 5 heroes turned villains. Each one of the 5 has its characteristics and the more you win the more you can find out about them. However, the lower-paying symbols are a bit of a disappointment. They take the shape of card suits but the design leaves much to be desired. They are almost greyed out and whilst I understand the need for the contrast they end up making the game look dull.
The symbols, from highest to the lowest consist of:
The scatter tile is a bonus bomb. It can appear anywhere on the reels and will trigger the bonus round.
The Wild tile substitutes for all symbols bar the scatter.
Mind Flayer pays out 4x with 5 adjacent tiles.
Torch pays out 3x with 5 adjacent tiles.
Misery pays out 2.5x with 5 adjacent tiles.
Toxicity pays out 2x with 5 adjacent tiles.
Havoc pays out 1.5x with 5 adjacent tiles.
The Ace pays out 1.25x with 5 adjacent tiles.
The King pays out 1.1x with 5 adjacent tiles.
The Queen, Jack and 10 pay out 1x with 5 adjacent tiles.
Features
These symbols can transform into any other symbol (except Wild and Scatter). When they do they will reveal 2 or 3 matching symbols and expand the reel's height thus increasing the payout possibility for that spin.
The xWays get infected when a Wild symbol is also in play. When the xWays are revealed they will infect symbols around them which will then also expand to the same size the original xWay expanded to.
Land 3 or more bonus tiles anywhere on the reels and you will trigger the bonus mode. Once this happens the player will need to choose one of two options.
Toxic Hazard is the first option and comes with lower volatility. In this feature, the player will receive 9 free spins if they landed 3 scatters or 10 free spins if they landed 4 scatters. During Toxic Hazard between 1 and 5 Wilds will randomly land on the middle 3 reels. This means that whenever an xWays symbol appears the player is guaranteed Infectious xWays. During this round, the xWays will only reveal the high-paying symbols: Mind Flayer, Torch, Misery, Toxicity and Havoc.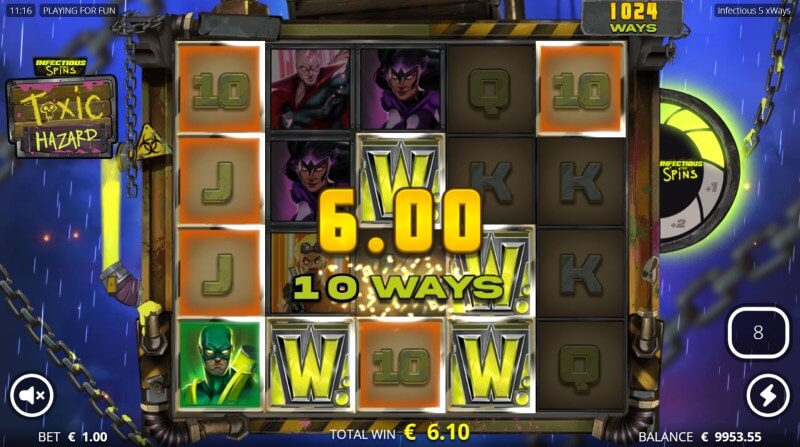 The second option which comes with cranked volatility is Lock N' Load. Three scatter symbols yield 7 spins and 4 scatters yield 8 Infectious spins. Wilds can land on the middle 3 reels and when they land they become sticky and increase the number of spins by 1. Wilds may also receive a multiplier. xWays that land on the reel will only reveal the high-paying symbols and will always turn Infectious.
Both Toxic Hazard and Lock N' Load bonus modes have the potential to change into Mayhem Mode. This upgrade is activated by landing 5 bonus symbols within the bonus mode. So, for example, if you entered the bonus round with 3 scatters you will need to get another 2 any time within the bonus round.
When this happens all of the 5 high-paying symbols are turned into one Golden Infectious symbol. Any xWays will only reveal the Golden Infectious symbol during this mode.
You can also go straight into Mayhem Mode by landing 5 scatters in the base game. When this happens 12 spins are given for Toxic Hazard and 10 are given in Lock N' Load.
Conclusion
From my experience playing this game over a few hours, I would suggest always (ALWAYS) going for Lock N' Load when choosing the Infectious Spin feature. First up, the max payout of 55,555x is only reachable during this feature when Mayhem Mode is activated. Also, no one plays No Limit City games to take the lesser volatility option, right?
When playing I managed 3 times to enter the bonus mode. Twice I chose to go for Lock N' Load and won 450x on the first occasion and upwards of 560x on the second. When I played Toxic Hazard I only managed a win of 50x. I didn't manage to enter Mayhem Mode but I can see how some pretty big wins are possible during this particular feature.
As always, volatility here is set to extreme and you can see your money drain out pretty quickly so always keep an eye out on that balance. With such brutal volatility, there's also a chance of some interesting rewards and even in Lock N' Load, you will feel those BPMs rising. This is definitely not a game for the faint of heart. I would also suggest staying away if you're only starting out with slots. But there is no doubt that the pros will have quite a bit of fun here.