Midnight is upon us, welcome to the circus. Jokerizer is a creepy game with high volatility and unbelievably high RTP.
Yggdrasil Gaming published Jokerizer in 2016 and people quickly took notice. Not because the game was innovative or complex, quite the contrary. It was because the game had one of the highest Return to Players percentages of all games.
Return to Player is quite a literal value for a game. It tells you how much of the money it keeps and how much it returns to the players. A good game needs to have an RTP of at least 95%, but Jokerizer goes even further with 98%.
The game itself is fairly simple and basically a rehash. I would even go so far as to say that it is a copy of NetEnt's Jackpot 6000. They both have the same base mechanics, but Jokerizer is a modern version with improved visuals. Plus, Jokerizer is mobile-optimized, which is something you can't say about Jackpot 6000.
This is a game for those players, who are looking for some straightforward gaming action with no bells or whistles. Just some fast-paced fun and high volatility.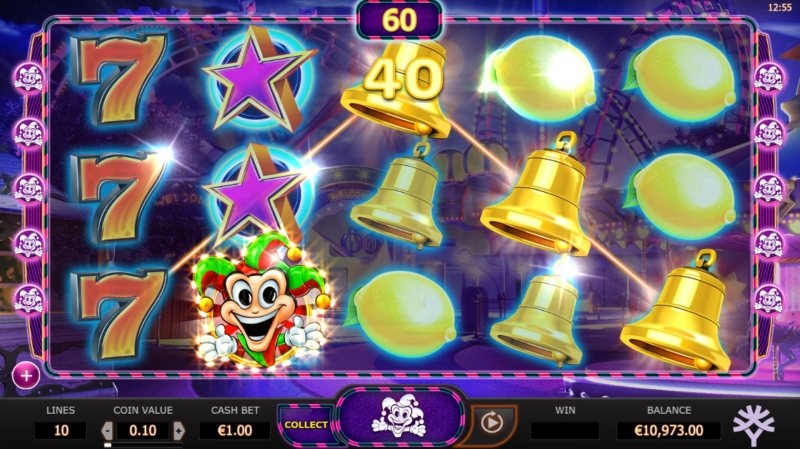 Graphics and sound
The moon is full, the night is bright and you hear children's laughter, unsure if it's from joy or horror. You lay your gaze upon the maniacally laughing clown as you walk towards the creepy circus. Welcome to the Jokerizer.
Jokerizer is a beautiful game with an amazing theme. Horror circus is something that I personally just can't get enough of. The juxtaposing of children's entertainment and dark, sinister horror is right up my alley.
Unfortunately, the theme is as shallow as a poorly dug grave. The game doesn't really use it for anything and everything is just skin deep. It's a pity, as I would have loved to see more.
But if you are a horror fan, then you are going to love this game. The visuals are good and the music fits the theme well. The playful tunes mixed with heavy brass instruments bring out the mixed emotions of a circus that just might kill you.
Symbols and wins
Jokerizer is a very simplistic game and a love letter to the old-school slots. Nothing here is complicated and if you have ever played a slot machine in your life, you quickly understand how Jokerizer works.
There are only six symbols in this game plus the titular joker. Surprisingly the joker is not a wild, so it will not substitute for other symbols.
The paytable is well balanced. The cherry, which is the lowest valued symbol, gives you 100 coins if you get five of them and the star on the other end of the spectrum dishes out 400 coins.
The paylines are a bit unusual. With a quick glance you can only see five paylines, but there are actually ten. Every payline has a mirrored copy that works right to left. This is better than the normal win-both-ways game, as now five symbols on a line will hit two paylines instead of one.
Every time you win, you have the option to either collect it or transfer it. If you choose to transfer, you use that win to play the Jokerizer mode, where your wager is doubled but Mystery Wins are easier to activate.
Features
Jokerizer is a very simple game. All of the special features are easy to understand and game runs quickly. The bonuses will not slow you down and the tempo is constantly high.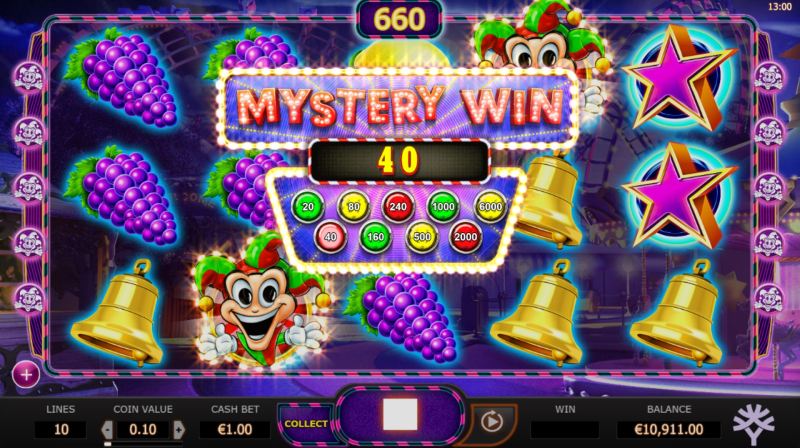 Mystery Wins: Hitting the cackling joker symbols will give you large mystery prizes.
Jokers appear in Jokerizer on reels 3, 4 and 5. If you get three jokers at once in any order, you get a Mystery Win. During the normal gameplay, the Mystery Win is a random sum between 1,000 and 6,000 coins. If the jokers are in a vertical or a diagonal line, you automatically get the full 6,000 coins.
Jokerizer: Wins can be transferred over to the Jokerizer mode for easier Mystery Wins.
When you win anything in the regular game, you have the option to either collect them as normal wins or transfer them over to the Jokerizer mode. If you do, you get to play that sum with a double bet and easier Mystery Wins. Now you only need two jokers to get the Mystery Win, but the win is anything between 20 and 6,000 coins. Any Mystery Win of 1,000 coins or more ends the Jokerizer mode.
Final Thoughts
Jokerizer is a wonderful game. It grabbed me instantly and never let go. This is one of my go-to games First thing I fell in love with was the theme. I know that the game doesn't really take advantage of it, but I'm just a sucker for a creepy circus. When comedy and horror meet, I'm there to enjoy it.
The second part that I like is the quick and simple gameplay. For me, this is a game I play when I want something fast. There are times when I want a game that has everything but the kitchen sink in it, and Jokerizer is not the game for those moments. Jokerizer is for when you just want to have a little bit of quick and dirty fun.
I do want to mention that when you play Jokerizer, or any of these high volatility no-frills slots, you need to be careful with your bankroll. These games can chew through a massive stack of cash quickly if you don't pay attention.