Hanzo's Dojo is a dojo populated by different brave characters that compete and fight together, with us as their bystanders hoping to profit from it!
This slot was developed by Yggdrasil and released in 2018, adding another Japan-based slot to the growing roster of online slots. The game has a standard 5-reel, 3-row layout but an additional row of 3 reels above it that adds bonuses to reels 2, 3 and 4 with a total of 25 paylines. Everything about Hanzo's Dojo is set to resemble an ancient Japanese dojo, from the characters and symbols to the elaborate background.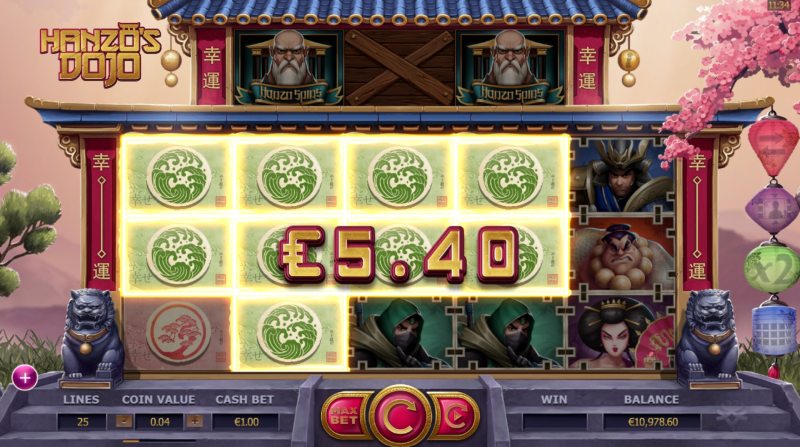 I found the setting of the slot and the way it's portrayed to be particularly enchanting. Different trees frame the screen, blowing gently in the wind. The temple has different floors while statues and paper lanterns offer some extra personality. All the symbols are beautifully drawn by hand, while the characters each have their own subtle animations when part of a win.
It's clear the Yggdrasil artists put a lot of time in the design of this game and luckily the sound design isn't far behind. The familiar Japanese flute plays most of the time, with winning paylines triggering a short harp sound. The game doesn't go overboard and it fits the setting well.
The game can be compared to other slots set in Asia, from Sakura Dragon by Playson to Tiger and Dragon by Red Rake Gaming and Legend of the White Snake Lady by NetEnt. Apart from the last one, most slots with an oriental setting can't really compete with the attention to detail Hanzo's Dojo demonstrates here.
Symbols
All of the symbols used in Hanzo's Dojo are original and designed exclusively for this game. They stand apart well enough, combining the use of special symbols and distinct colours to keep things apart. Getting a winning payline would slightly dim all other symbols and showing a gold border around the win, making it very obvious to see.
The symbols are from highest to lowest:
Free Spins: Get 3 or more Free Spin symbols on the screen to unlock the Free Spins mode.
Wild: Appears on both in the base game and the free spins mode. Substitutes all other symbols in the game except the Free Spins symbol.
Sumo Fighter: Max. win 235 coins with five-of-a-kind on a winning payline.
Samurai: Max. win 200 coins with five-of-a-kind on a winning payline.
Geisha: Max. win 180 coins with five-of-a-kind on a winning payline.
Ninja: Max. win 160 coins with five-of-a-kind on a winning payline.
Red Tree: Max. win 60 coins with five-of-a-kind on a winning payline.
Blue Birds: Max. win 50 coins with five-of-a-kind on a winning payline.
Purple Wind: Max. win 40 coins with five-of-a-kind on a winning payline.
Green Water: Max. win 30 coins with five-of-a-kind on a winning payline.
There is one additional symbol at the top reel, which is called the Rooftop Slot.
Hanzo Spins: When there are 3 Hanzo Spins in the Rooftop Slot, it randomly chooses one symbol and expands it to a 3×3 Colossal Symbol that sits on reels 2, 3 and 4.
Features
Most of the game takes place in the base game, although there is a free spins mode. During my time playing this free spins mode didn't trigger very often but it did show up occasionally.
The main features are:
Wilds: Wilds substitute all regular symbols in the game.
Free Spins: With 3 or more Free Spins symbols on the screen, the free spins mode begins.
Colossal Symbols: During Free Spins mode or with 3 Hanzo Spins symbols, a 3×3 Colossal Symbol is added to the center of the reels.
Stacked Wilds: With a Wild symbol on one of the Rooftop Slots, the reel below is filled with Stacked Wilds.
Multipliers: During Free Spins mode, a multiplier can be activated for all wins during this mode.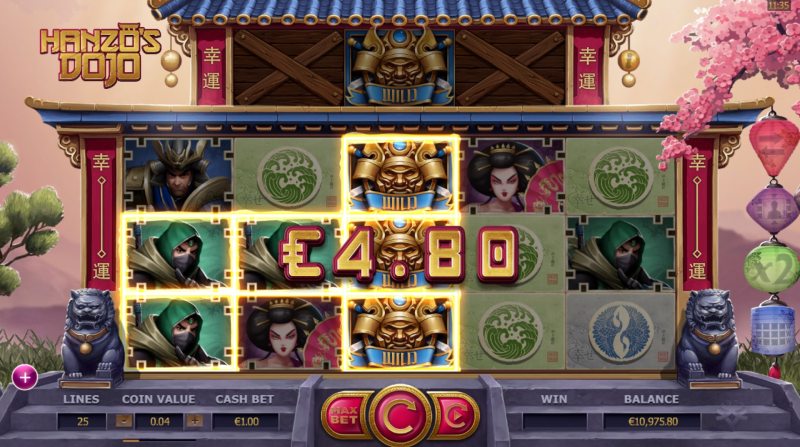 The Rooftop Slot is a subtle but important addition to the game as it can influence the spins in several ways. The following symbols can show up in the Rooftop Slot:
Free Spins
Wilds
Hanzo Spins
If you get a Free Spins symbol in a Rooftop Slot it will count when it comes to triggering Free Spins mode. That means if you get 2 Free Spins Symbols in the regular playing field and another 1 in the Rooftop Slot, it will begin the Free Spins mode. Every Free Spins symbol has a number on it to denote the number of free spins it adds.
A Wild showing up on a Rooftop Slot will fill the below reel with Stacked Wilds, while the Hanzo Slots I mentioned before will trigger a Colossal Symbol. There is also a fourth possibility: the boarded-up window. This one does not add any bonus.
When the Free Spins mode is triggered, this will start with the total number of free spins shown on each of the symbols. If there was a Rooftop Free Spin symbol, the mode starts with a special booster. This is randomly picked from the following options:
Extra Free Spins: The player receives an additional 2 free spins.
Win Both Ways: The game now counts wins from left to right and vice versa.
Symbol Nudge: The 3×3 symbol in the centre will be nudged to fill the reels.
Multiplier: A 2x multiplier will be applied to all wins.
Wild Reel: The 5th reel is turned into Stacked Wilds.
I found this to be a fun addition but since the free spins mode didn't trigger that often and it requires a free spins symbol in the Rooftop Slot, it was very rare to see any of the boosters appear. Also, there are definitely boosters that are better than others. I consider the Wild 5th Reel almost useless while the Win Both Ways was exponentially better.
All in all, it seems at first glance that there is an overwhelming amount of features but I found it to be spaced out well. The Rooftop Slot was an original addition to the game but was presented in a clear way that I quickly figured it out. The inclusion of different big animations really helped keep the game alive.
Conclusion
Hanzo's Slot is another beautiful slot made by Yggdrasil that takes a rather tired theme and turns it into a great game. The classical slot experience is largely maintained for people that enjoy the standard gameplay while it has plenty of features that keep it interesting for those players that want to see what modern games are capable of.
The graphics and sound are both amazing and I really enjoyed the style of this game. The gameplay is quick and fluid, drawing the eye to special features or winning paylines when appropriate. It never felt overwhelming or annoying. As always, I give extra credit for not using card suits as the low-paying symbols.
The game's listed Medium Volatility fit my experience, although the free spins mode was a point in the game where I got some big wins. I had the choice to pick a bet between $0.10 and $125 to manage my spending, although the max. win of 470x my bet wasn't super appealing.
If you're a fan of the Japanese setting, you like beautiful slots or you are looking for that Yggdrasil slot design of combining classic gameplay with modern features, I'm sure Hanzo's Slot will give you exactly what you're looking for.