Have you ever been to New Orleans? A nice town – except, if you happen to visit there in Victorian times and during a full moon… Blood Moon Wilds is an action-packed slot released in 2020, and it travels us back in time to face the infamous pack of werewolves.
Visually stunning Blood Moon Wilds is a terrific choice for any fan of classic horror. After all, the werewolves are the members of classic monsters, like vampires and mummies. In the game, the change from a human into a werewolf has been used in a fantastic way. The game has a lunar calendar, indicating whether it's a night of a full moon or not. And you know what happens to poor villagers with the curse when the moon shines full…
Blood Moon Wilds can be played on any device and in most of the browsers.
Graphics and sound
Yggdrasil has done it again. Blood Moon Wilds is simply a gorgeous slot and everything from the music to the graphics has hit the mark in my books. The music is heavy with the scary ambience and while listening to it, I started to have a feeling of something creeping up on me from behind.
The game is set in the Victorian times, so around the late 19th century. The game area is sort of the gate of the town, with wooden reels and stone frames. The villagers, who also are the highest-paying symbols, are the ones with the werewolf curse. They look really good and I love the art style.
And I can't forget the background scenery, either. It has some typical things for New Orleans, like giant live oaks and branches with moss hanging from them. There's a house in the distance with lights in the windows, but everything is covered with a spooky and thick fog. It's all super-creepy and I love it with all my heart!
You can adjust the music volume by opening the settings. The game has separate slide switches for ambient music and the effect noise. From the same place, you can also adjust the speed of the reels.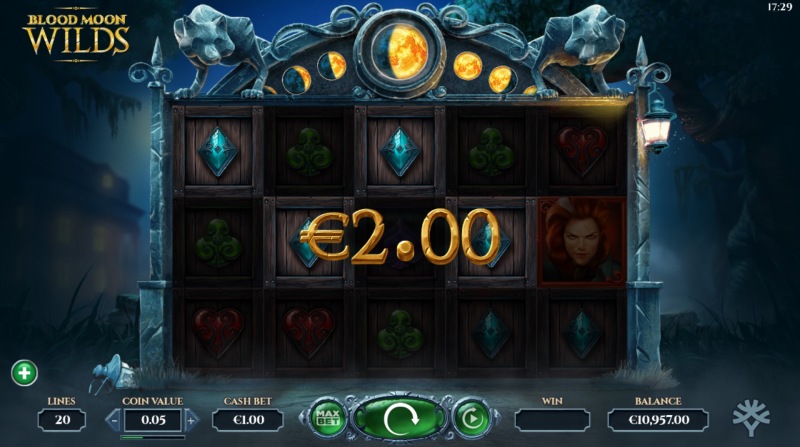 Blood Moon Wilds Highlights
Multiplier: In Blood Moon Wilds, the winnings can be multiplied by different multiplier mechanisms.
Freespins: You can get in-game free spins in Blood Moon Wilds.
Random wilds: Random wilds are sprinkled on the reels after the spin to create more wins.
Wilds: Wilds substitute any standard symbol and help create more winning combinations.
Scatter symbols: Collect scatter symbols to get free spins and/or cash prizes.
Symbols and wins
Blood Moon Wilds has five reels, three rows and 20 paylines going from left to right.
High-paying symbols:
5 x red villager pay 50x your bet
5 x purple villager pay 30x your bet
5 x green villager pay 20x your bet
5 x blue villager pay 12x your bet
Low-paying symbols:
5 x hearts pay 6.5x your bet
5 x spades pay 5.5x your bet
5 x clubs pay 4.5x your bet
5 x diamonds pay 3.5x your bet
Special symbols:
Wild: Wilds (Werewolves) substitute all other symbols in the game except Free Spins symbol. They do not occur naturally but need the full moon or blood moon.
Free Spins symbol: Collecting three or more Free Spin symbols triggers free spins.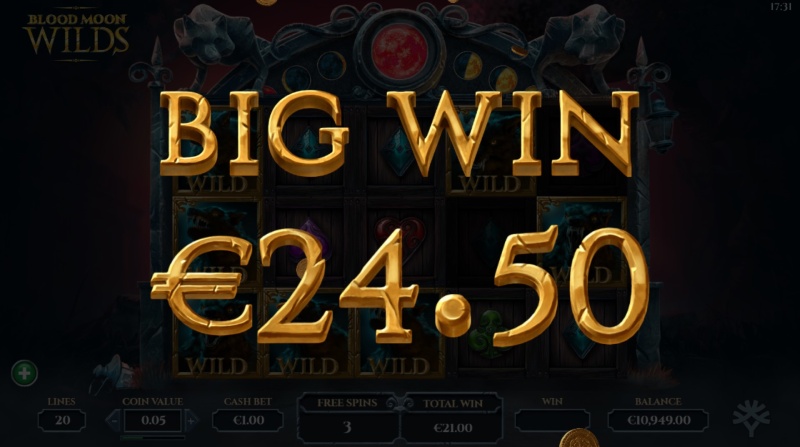 Features
Lunar Calendar: The Lunar Calendar also turns with every spin you play. By random, it can stop on the full moon and this causes all the high-paying symbols turning into werewolves (Wilds).
Random Wilds: A random feature where the highest paying symbol turns to a Wild.
Random Full Moon: A random feature where the Lunar Calendar gets a nudge and stops on the full moon.
Random Free Spin symbols: A random feature where the game adds one extra Free Spin symbol to the reels.
Random Multiplier: A random feature where the ongoing spin gets 2 to 5x multiplier.
Free spins: Landing three or more Free Spin symbols activate 7 free spins.
You can win free spins by collecting Free Spin symbols as follows:
3 symbols win 7 free spins
4 symbols win 10 free spins
5 symbols win 12 free spins
6 symbols win 20 free spins
During free spins, two Free Spin symbols win two extra spins. Also, the full moon is replaced by a blood moon. Blood moon turns every visible villager into werewolves, permanently. So, they stay as werewolves for the rest of the free spins.
All of the random events (Random Wilds, Random Full Moon etc.) can also be triggered during free spins.
Final Thoughts
I like playing Blood Moon Wilds because it's filled to the brim with exciting and fun features. The features really do make the base game much more colourful, and I prefer this so much more than waiting for just one certain feature (usually free spins) to trigger. It ultimately affects how well the game can keep you interested.
As it is, Blood Moon Wilds is a simple game which doesn't require much studying. The basics are easy to learn, at least to those having played slots a few times before. The features have been neatly sprinkled all over it and generally, you'll get familiar with them one at a time. So, it's pretty friendly to total beginners, too.
The free spins in this game can be either gnarly or heavily rewarding – this, of course, depends on your luck. However, I rarely saw any extra free spins. Also, in many cases, I had a feeling that just when I was having enough Wilds to win big, the free spins would be over.
Deliciously creepy and haunting, Blood Moon Wilds is a beautiful slot. Aside from its nice visuals, the game isn't that bad, either. But, as always with high volatile slots, you should be aware of how much you're wagering as Blood Moon Wilds can get greedy.
Pros
Stunning graphics and sound design that effectively creates a creepy and eerie atmosphere
The lunar calendar feature adds an extra level of excitement and unpredictability to the gameplay
The game can be played on various devices and browsers, providing convenience and accessibility to players
Cons
The game has a relatively low maximum payout compared to other slots
Some players may find the high volatility of the game frustrating or challenging
The theme of werewolves and horror may not appeal to all players