Golden Osiris brings us back to Egypt where deep under the sands we'll find a hidden temple with an enormous playing field, striving to unlock some treasures. This slot includes non-standard reels, cascading reels, free spins and exploding symbols.
The game with the massive 7×7 playing field was developed by Play 'n GO and released in 2020. I wouldn't describe this game as being an excellent example of the developer's graphical prowess, and I don't think the graphics are especially amazing. But considering the large playing field they never had a lot of room to work with, and what is there definitely looks nice. The symbols are appropriately detailed for how big they are, which means they stay clear even as the reels start to cascade.
The game has embraced the Egyptian theme fully, with the symbols more or less fitting the style as well as the background showing off the familiar details we'd expect from a slot such as this. There is a lot of sand, we can see different types of statues and there are hieroglyphs everywhere. There aren't a lot of animations but with the cascading reels and the Cluster Pays mechanic, there is enough movement already.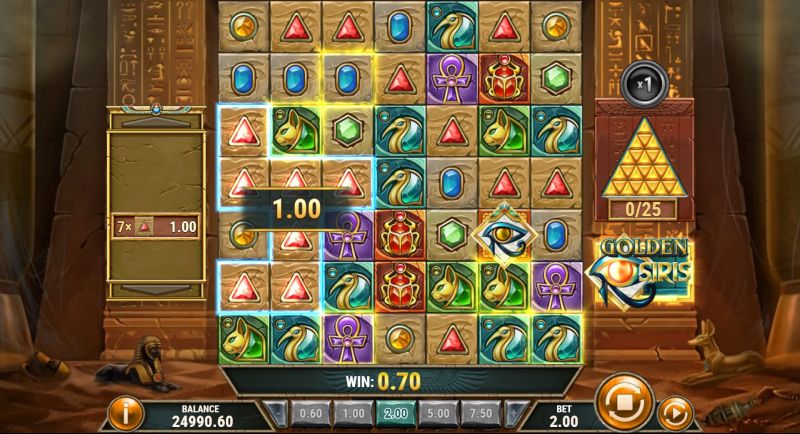 Symbols
Golden Osiris might be a big departure from the classic slot machine, but when compared to other non-standard slots it's actually quite familiar. The main gameplay consists of getting clusters of 5 or more of the same symbol to touch either horizontally or vertically. When that happens, players are awarded a coin win and the cluster disappears, being replaced by new tiles. This then continues for as long as new clusters are created.
The game has a large playing field but also a large number of symbols, making it more difficult to get clusters. As such, the game is listed with High Volatility, which fit my experience. Even though the game isn't shy about handing out wins, you won't be getting a lot of big wins that you need to compensate for your losses.
You'll encounter the following symbols in the game:
Eye of Horus (Scatter): Get 3 Scatters to activate the Free Spins mode.
Wild: Substitute all other symbols in the game except the Scatter symbol.
Scarab: Max. 50x your bet with a cluster of 15 or larger.
Anubis: Max. 25x your bet with a cluster of 15 or larger.
Ankh: Max. 12x your bet with a cluster of 15 or larger.
Cat: Max. 8x your bet with a cluster of 15 or larger.
Bird: Max. 8x your bet with a cluster of 15 or larger.
Triangle: Max. 4x your bet with a cluster of 15 or larger.
Circle: Max. 4x your bet with a cluster of 15 or larger.
Oval: Max. 3x your bet with a cluster of 15 or larger.
Diamond: Max. 3x your bet with a cluster of 15 or larger.
As you can see, even when getting the largest possible cluster most symbols will barely make back any spins. The game expects the player to get numerous smaller clusters at the same time or at least during the same spin, adding up to a big enough win.
Features
Most of the game will take place on the main screen, with players looking for clusters of 5 or more symbols together. Getting a cluster will have the winning symbols fall away and make room for new symbols. Any tiles that are part of a win in a single spin get added to a pyramid counter. Get 25 symbols to fill the pyramid and trigger a few multiplier Wilds being added to the screen.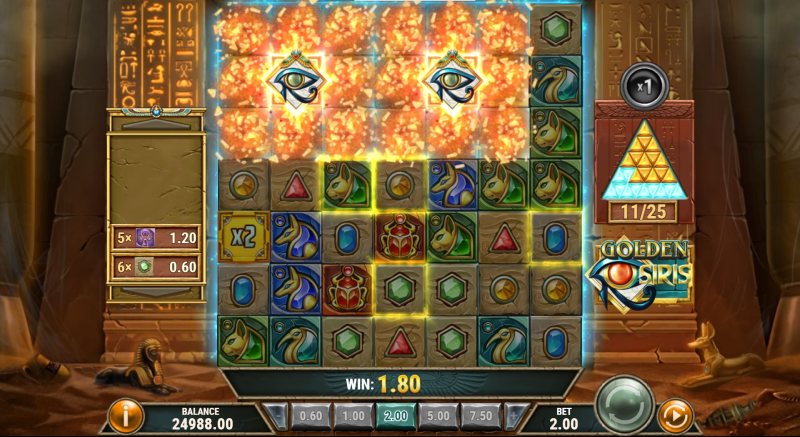 In terms of features, the game looks like this:
Non-Standard Playing Field: The game has a 7×7 playing field.
Cluster Pays: Wins are awarded when the same symbol appears in a cluster of 5 or more.
Cascading Reels: Whenever a cluster is created, the cluster disappears and new tiles drop into place.
Multiplier: When the golden pyramid is filled it will add random multiplier Wilds to the screen.
Free Spins: Get 3 Scatter Symbols on the screen to activate the free spins mode, granting players 5 free spins.
The gameplay is pretty fast, with the clusters being highlighted for a second before disappearing and being replaced by new symbols. The pyramid tracker at the side of the screen is filled and also shows in numbers how close you are to activating its multiplier wilds.
The Wilds and Scatter Symbols stand out enough to make it obvious to see how close you are to getting the free spins more, or how they help in creating a cluster. The total coin win per spin is shown at the bottom of the screen, making it clear to the player how much they've won.
I thought the free spins mode activated often enough to feel like it was a part of the game but it was never frequent enough to be trivial. During the free spins mode, the player has the pyramid filled every spin, meaning it will add Multiplier Wilds with every spin. This helped quite a lot in creating wins. Free Spins can be expected to give you a big win but it's obviously not guaranteed.
Conclusion
Players that either like or are interested in a non-standard slot will find Golden Osiris to be a good choice to try out. The game is standard in its approach of a larger playing field with cluster pays mechanics. The theme isn't original at all but it works more as a backdrop than that it has any impact on the gameplay.
Players can pick a bet between $0.10 and $100 per spin, and there is a max. win of 12,000x your bet to look forward to. Of course, such a massive jackpot won't be easy to come by and I wouldn't expect to win it either. However, it is still a nice incentive to give this slot a try.
Overall, I thought Golden Osiris was a good example of a game with a standard approach to a less-popular version of betting. The slot looks fine, has some interesting features and offers quick gameplay without becoming confusing. Definitely give it a try if it looks appealing to you.