Beast of Wealth is part of a series of slots, all with the Wealth theme. This slot focuses on the wealth given by different animals, with features that include 4 jackpots, a free spins mode and random bonus symbols.
The slot was developed by Play 'n GO, showing off their graphical abilities in this 2020 game. The images are all incredibly crisp with a number of different animations. The background shows us that we're in an Asian temple, high above the clouds. Small movements make it feel more alive, like lanterns swaying in the wind or little sprites flying around.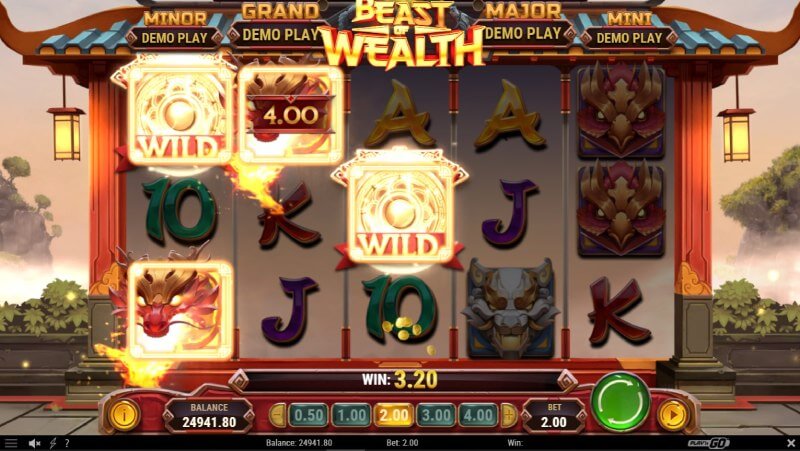 The game has original symbols that fit the theme, making them look like animal masks. When they're on the 5-reel, 3-row playing field on any of the 243 Ways To Win they will play a quick animation where they roar or breathe fire. The low-paying symbols are unfortunately rather simple and boring card letters that don't get the same treatment.
Something I've come to expect from this developer is nice-sounding but ultimately rather boring music. The Asian theme is obviously very prominent here with a lot of classic sounds. The sound effects are made to fit the theme in the same way but it doesn't do anything new. Not that it's a bad thing, but I wouldn't consider it something noteworthy either.
Beast of Wealth Highlights
Max. lines: The 243 paylines result in more possible winning combinations.
Freespins: You can get in-game free spins in Beast of Wealth.
Jackpot: Beast of Wealth features a progressive jackpot.
Scatter symbols: Collect scatter symbols to get free spins and/or cash prizes.
Wilds: Wilds substitute any standard symbol and help create more winning combinations.
Symbols
The symbols in Beast of Wealth aren't going to surprise or confuse anyone. The colour scheme is very distinct, making it easy to see which symbols are going to be part of a win line. The animations that play are brief to keep the speed of the game high.
You'll find the following symbols in the slot:
Scatter: Get 3 or more Scatter symbols to activate the free spins mode. Max. 50x your win with five-of-a-kind on a win line.
Wild: Substitutes all other symbols except the Scatter symbol. Max. 10x your win with five-of-a-kind on a win line.
Dragon: Max. 10x your win with five-of-a-kind on a win line.
Tiger: Max. 5x your win with five-of-a-kind on a win line.
Gryphon: Max. 3x your win with five-of-a-kind on a win line.
Turtle: Max. 2x your win with five-of-a-kind on a win line.
Ace: Max. 1x your win with five-of-a-kind on a win line.
King: Max. 0.8x your win with five-of-a-kind on a win line.
Queen: Max. 0.8x your win with five-of-a-kind on a win line.
Jack: Max. 0.6x your win with five-of-a-kind on a win line.
10: Max. 0.4x your win with five-of-a-kind on a win line.
9: Max. 0.4x your win with five-of-a-kind on a win line.
The game is listed as having High Volatility which does fit the large number of symbols and the low payouts. You are counting on the special features to trigger big wins, with especially the 4 jackpots being an important element of that. During my time playing, I had a steady drop in my funds with only a very occasional boost by winning some free spins.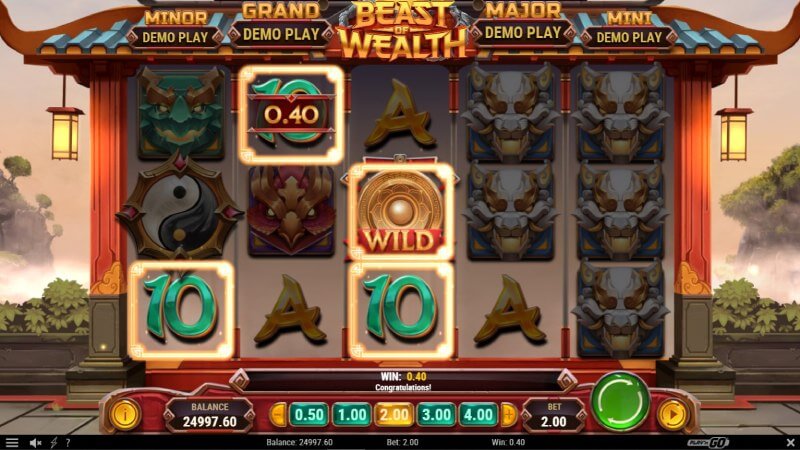 Beast of Wealth Features
The features in Beast of Wealth are similar to the ones in the other Wealth slots. They give the player some opportunities to get a big win but they're not visible enough to feel like an important part of the gameplay.
243 Ways To Win: Wins are counted when symbols appear on consecutive reels starting on reel 1 and do not need to fit on a particular payline.
Free Spins: Get 3 Scatter symbols on the screen to activate the free spins mode. Players receive 8 free spins.
Random Symbol: Before the free spins start, the player gets to pick a random symbol to act the only symbol during this mode.
Jackpots: During the base game, random reels can become Golden Reels. When a Wild appears on any of these reels, the player can win 1 of the 4 jackpots.
You'll be mostly confronted with the 243 Ways To Win as that is active during the base game and the free spins mode. This helps create wins but due to the low payouts, this is also rendered pretty useless. Only getting a number of wins at the same time is really beneficial to the player.
I found the free spins mode to activate pretty regularly, allowing the player to pick a high-paying symbol. This symbol is then the only high-paying symbol that appears during the free spins mode. This makes it more likely for them to be part of a win. The higher the value of the symbol, the less often they appear on the screen.
In my experience, the free spins mode was a source of wins but they weren't always very big and didn't often award enough to make back the coins I spent on getting there. This felt rather disappointing.
Players can pick a bet between $0.10 and $100 per spin, which is standard for Play 'n GO slots. The max. win of 5,000x your win is also something that a lot of these games offer and it is definitely a good amount. However, this will require the player to hit the biggest jackpot.
Conclusion
Beast of Wealth feels like it's part of a series, which it is. The graphics are great but also very unoriginal, with the same to be said about the sounds. It feels rather derivative and like it has done before, not just in general but by Play 'n GO itself.
Players that enjoy the standard slot experience will have a good time playing Beast of Wealth. The features aren't very original but do offer some changes to the gameplay. Most of it is centred around the free spins mode which triggered quite frequently in my experience.
If you are looking for something more experimental, Beast of Wealth won't offer the right combination of gameplay and features. The features will feel familiar to anyone but the newest players, and the playing field is also a standard size.