Hugo Goal is a humorous take on the most popular sport in the world. No one can be out on the field playing or watching matches on the telly constantly. With the Hugo Goal slot we can perfectly fill that remaining time!
Today I am taking a look at this game to see if it's a glorious bicycle kick or a disappointing own goal.
Hugo Goal is a slot made by popular developer Play 'N Go, who is known for coming up with unique ways to make their games more appealing. You can definitely count me as one of their fans, not just for their original ideas but also for their attention to detail.
The slot consists of a 3 reel and 5-payline field overflowing with football regalia and a motley crew of characters you might find on the football field in a magical forest.
The main character Hugo is a troll who loves football. He is in the game a fair bit and is easily recognisable, especially because he has his name on his T-shirt. Both he and his fellow football enthusiasts look great. Each symbol is drawn with a lot of detail and in distinct styles so they are easy to tell apart.
Hugo is also your biggest supporter. Sometimes you'll even get to control him in the Bonus Game, trying to get the biggest win. Speaking of which, that might result in a massive 800x your bet and definitely something to shoot for!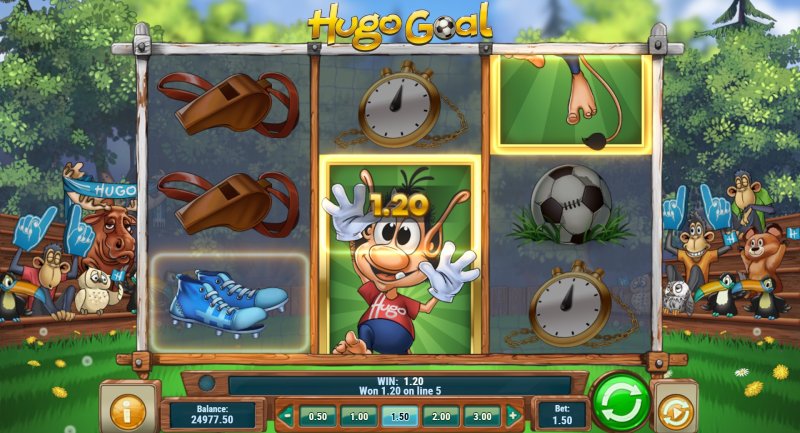 Symbols
At first glance, the game is pretty simple with only a 3 reel and a 5-payline playing field. Play 'N Go did add enough features to keep it interesting in my opinion without losing track of the core appeal.
In total, you'll find 9 different symbols. The top four symbols are 1×3 sized, meaning one symbol can take up between 1 and 3 spots on a single reel. You need to land 3 matching symbols on the payline to get the following wins
Hugo (Stacked Wild): x16 bet
Referee: x5 bet
Hooligan: x4 bet
Announcer: x3 bet
The remaining symbols are smaller and only take up 1 spot each:
Football: x1.20 bet
Whistle: x1 bet
Shoes: x0.8 bet
Stopwatch: x0.6 bet
Linesman Flags: x0.4 bet
Features
The game has two features that alter the classic slot experience:
Free Kick Respin: When you manage to get two reels with the same symbol but you don't get a payout, it automatically triggers the Free Kick sticky re-spins feature. The game pauses and the remaining reel is spun again for free to see if you get a matching symbol. During my time playing, this definitely helped me get a few wins.The Free Kick plays any time you get two reels filled with the same symbol, including Hugo as a Wild. In fact, I once had it fill the screen with three Hugo Stacked Wilds which meant the maximum payout for a normal spin! You can choose a bet between $0.01 and $100 per spin so I'll let you imagine how big that can get.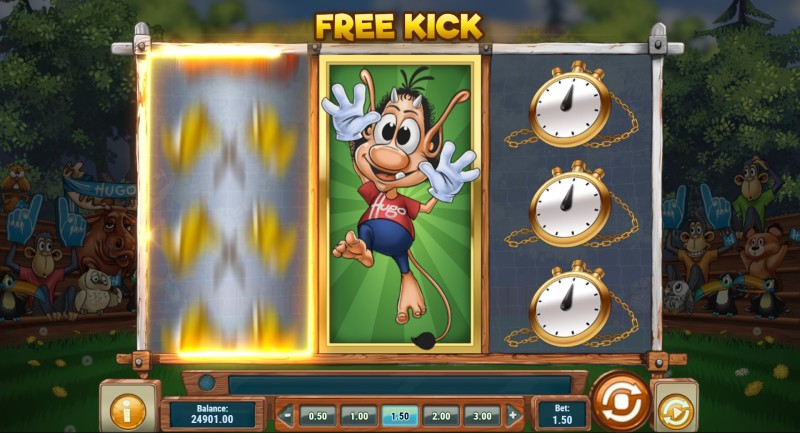 Penalty Kicks: When you get all three reels filled with the same symbol you trigger the next bonus feature, namely the Penalty Kicks. This is a quick little bonus game that allows you to add multipliers to your latest win. This counts for any symbol and I was treated with this bonus game quite a few times.The screen changes to Hugo standing in a goalpost. You'll choose which way Hugo will jump to try and save five penalty kicks. You can choose to jump left, up or right. For each penalty you save, the multiplier goes up. It's quick and easy to understand although I never saved more than 1 penalty. If you manage to stop all five you get a 10x multiplier!
Graphics & sound
I was charmed by the way Hugo Goal looked. It's a little silly but it never sacrifices gameplay for looks. It keeps to the Play 'N Go trend of putting a lot of love into each slot they make.
If you asked me what a football soundtrack should sound like I couldn't tell you. The people who made Hugo Goal had an idea. They chose an uptempo pop song with a nice beat to go with the game. I found it to be a good fit without being obnoxious.
Conclusion
The Hugo Goal slot is a nice, fun game that takes a beloved sport and turns it into a great way to pass the time. It offers players quick play with regular wins which in my mind contradicts the high volatility. I'm not complaining though!
With only three reels and five paylines the slot stays accessible. Because there are 'only' two bonus features you also won't get overwhelmed. The regular extra features like Autoplay and Fast Play mean that you can edit your experience a little to your preference.
I had a good time playing the game. You don't even have to be a football fan to enjoy it!