5x Magic is a classic fruit machine that brings us to a magician's show, entertaining us with special tricks as the reels spin and we see if there are any surprises hiding behind the tiles.
Way back in 2012, developer Play 'n GO released 5x Magic. This slot takes its inspiration both from the classic fruit machine as well as the magician's show. The game has a 5-reel, 3-row playing field with 5 win lines. However, it also looks at classic slot machines in the way the reels can stop halfway between 2 tiles, preventing a win line from occurring.
Since the game is almost a decade old by now the graphics are starting to look somewhat dated. That's not to say it looks boring, as the background shows us a stage with dark red curtains and there are symbols in the game that are animated. Most of the symbols are standard fruit machine fare, mostly consisting of BAR symbols.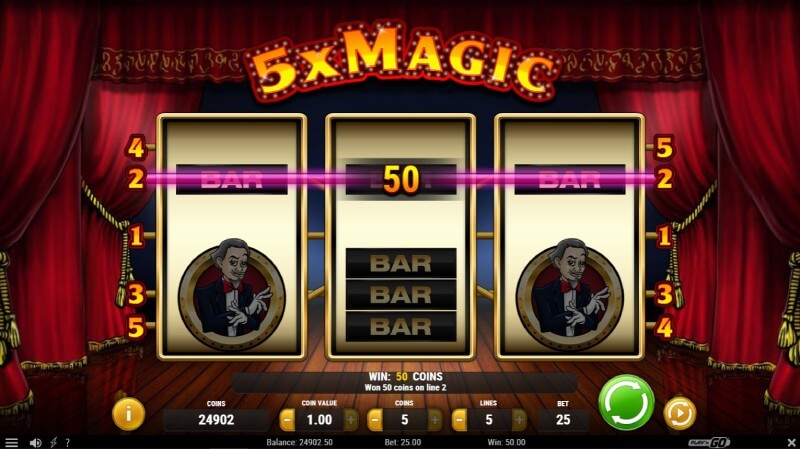 When it comes to the sounds there isn't too much to say about 5x Magic. When the reels spin we only hear a thump when they come to a halt. Getting a win plays a brief jingle with bells and not much else. Getting a bigger win does trigger some more music but during my time playing this was so rare it wasn't really worth mentioning.
5x Magic Highlights
Multiplier wilds: Multiplier wilds multiply the winnings in their winning combos.
Wilds: Wilds substitute any standard symbol and help create more winning combinations.
Scatter symbols: Collect scatter symbols to get free spins and/or cash prizes.
Volatility: This high volatility slot has big, less frequent wins.
Automatic play: Auto-play function spins the reels without needing to push play for every spin.
Symbols
Since the game draws inspiration from the classic fruit machine it isn't the most original when it comes to the different symbols. There are 3 special symbols, one being a Scatter and the other being a Wild, leaving only variations of the BAR symbol to fill up the reels.
Still, because spins often end up missing a win line and there are different combinations possible, the slot has a High Volatility that makes it rather difficult to win. While I was playing I also found most wins to be rather small which made it even harder to increase my funds. As a player, you will be very dependent on getting a single big win to take back the coins you spent.
The maximum win for this slot is 1,050x your bet which is nice but maybe not enough to really excuse someone playing this for a long time as it will become harder and harder to make back their spending.
5x (Wild): Get a Wild on a win line and receive a 5x multiplier on that win. 2 Wilds on a win line will award a 25x multiplier. A Wild does not apply to the Scatter symbol.
Hat (Scatter): With 2 or 3 Scatter symbols on the screen the player is awarded a win. Max. 25x your bet with three-of-a-kind on the screen.
Magician: Max. 50x your bet with three-of-a-kind on a winning payline.
Triple BAR: Max. 30x your bet with three-of-a-kind on a winning payline.
Double BAR: Max. 20x your bet with three-of-a-kind on a winning payline.
Single BAR: Max. 10x your bet with three-of-a-kind on a winning payline.
Any combination BAR: Max. 5x your bet with three-of-a-kind on a winning payline.
During my time playing, I found the Wilds to show up pretty regularly and sometimes contribute to a win. When they did they would add a 5x multiplier to that win. In contrast, the Scatter symbols did appear sometimes but almost never 2 or 3 at the same time so there wouldn't be a win.
Features
As a slot that is based on fruit machines, the game doesn't make use of a lot of features. The features that are included are simple and don't detract from the base gameplay. I think players who are looking for a classic fruit machine will enjoy this game a lot.
Scatter: The Scatter symbol counts towards a win anywhere on the screen as long as they're on a win line. There are only 2 Scatter symbols required for a win.
Wild: Wilds substitute all other symbols except the Scatter symbol. Any win with a Wild gets a 5x multiplier. With 2 Wilds on a win line, it increases to a 25x multiplier.
Autoplay: The game allows the player to enable autoplay, triggering automatic spins for a set number of times.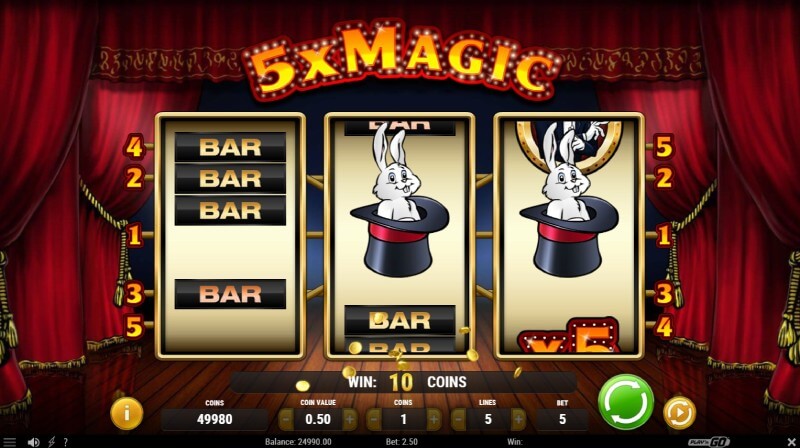 With such a close connection to the classic slots, it was a good idea for Play 'n GO to pick some basic features that make the game a little more exciting without messing with the format.
The Wilds were not very rare while playing but getting them to be part of a win was a bit harder. When they were, the added multiplier was a nice addition. Getting more than 1 was very rare however and I don't think I saw it happen once while playing.
The Scatter symbols showed up about as often as the Wilds but were just as unlikely to be part of a win. The big issue here was getting more than 1 on the screen at the same time. When it did happen, a little bunny would pop up out of the top hat which I thought was a fun detail.
Conclusion
If you're a fan of classic fruit machines and you don't mind outdated graphics and a barely existent soundtrack then you'll likely find what you're looking for in 5x Magic. The game looks like the fruit machine most of us remember, as well as having the annoying tendency to end a spin between two pay lines, thus causing you to not win anything.
Players are able to pick a bet between $0.10 and $25 per spin, which isn't as much flexibility as most other slots but enough to choose the level of risk they want to play with. The autoplay function helps if you're just looking to get some spins in, especially in combination with the quick spin functionality. As always, be aware that this might drain your funds very quickly.
Is it a good slot? It does what it has to, offering little for players that enjoy modern slots but being a good solid experience for people that don't expect fancy features. Just give it a try to see what you think!