Hyper Burst takes us to the shores of a tropical island with a view of a volatile volcano that is about to burst. Playing on a 6-reel, 4-row playing field the game tries to get as many spins in before it gets covered in lava through Colossal Symbols, Wilds and Re-spins.
Developed by Yggdrasil and released in 2020, Hyper Burst is one of their newer slots to show off their ability to create fun, colourful and engaging games. This slot is no exception as it has some interesting stylistic choices while combining a fresh selection of features. The larger playing field only holds 25 paylines but those should be enough to get some wins.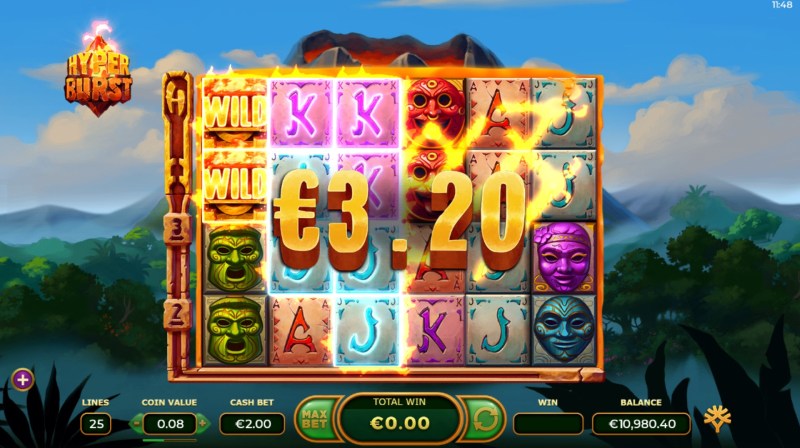 In the background, we can see a grand view of this tropical island with, hidden behind the reels, an active volcano. Whenever the volcano springs to life, we can see its shockwave cause the trees in the surrounding area to shake. It also spews out lava that will cover the reels. The symbols on the slot themselves are rather static, mostly based around cultural masks that do not have any animations.
As far as the soundtrack goes, the game relies heavily on traditional island music. We can hear an active drum solo play as the reels spin, with fitting jingles whenever a win is triggered. Getting the volcano to shoot out lava will obviously also result in the sound making us aware of this.
Symbols
Hyper Burst has a larger number of symbols and as a result, comes with High Volatility. While I was playing the game, I found the slot to grant wins pretty often but these were frequently not very big. Anytime there is a win the Colossal Symbols feature is activated, which can result in bigger wins. It all depends on the way the symbols line up. Since there is no free spins mode, the game grants these bigger wins naturally during the base game.
If you are looking to play a little longer, or if you want to increase the size of your wins, players can pick a bet between $0.10 and $100 per spin. The higher the bet, the bigger the risk but also potentially a bigger reward. Speaking of rewards, the jackpot is a max. win of 12,800x your bet. This is a lot higher than what you can normally win on a slot with this volatility, but don't count on it.
The symbols in the game include:
Wild: Wilds substitute all symbols in the game. Max. 100x your bet with six-of-a-kind on a win line.
Red Mask: Max. 8x your bet with six-of-a-kind on a win line.
Purple Mask: Max. 6x your bet with six-of-a-kind on a win line.
Green Mask: Max. 4x your bet with six-of-a-kind on a win line.
Blue Mask: Max. 4x your bet with six-of-a-kind on a win line.
Ace: Max. 2x your bet with six-of-a-kind on a win line.
King: Max. 1.6x your bet with six-of-a-kind on a win line.
Queen: Max. 1.2x your bet with six-of-a-kind on a win line.
Jack: Max. 1x your bet with six-of-a-kind on a win line.
The payouts for these symbols are very low as the game relies heavily on Colossal Symbols that can help create multiple wins at the same time. I'll go over the features in the next portion of the review.
Features
Hyper Burst has a small selection of features that work well together but keep the player on the main screen. This slot has no bonus game or free spins mode. Instead, every win will trigger a re-spin that can help increase the size of the win.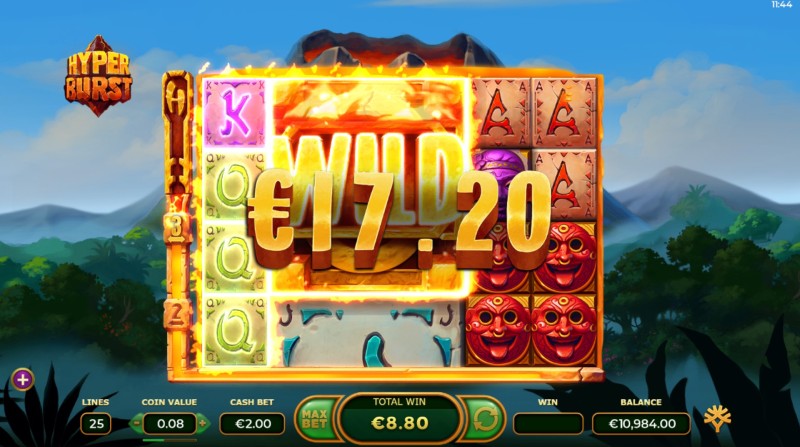 The features you'll encounter in this slot include:
Wilds: Wilds substitute all regular symbols in the game. A Wild will always turn into the symbol that grants the highest possible win.
Re-Spins: Whenever there's a win it will trigger a re-spin. As long as new wins are created, the re-spins will continue. This can go on indefinitely. Once there is no new win, the re-spins stop.
Colossal Symbols: When a re-spin is triggered, the game will add 2×2 colossal symbols on the screen. If that grants a win it will add a 3×3 colossal symbol, and if that also grants a win it will add a 4×4 colossal symbol to the screen for as long as new wins are created.
Multipliers: Once the 4×4 colossal symbol is activated, the Hyper Burst mode is switched on. The game now grants a 2x multiplier to the win, which can increase by 1 for every consecutive win up to a maximum of 10x multiplier.
Because of the way this system works, the game keeps itself exciting. Any normal spin can turn into a massive win as long as the player manages to get consecutive wins. The game doesn't make it very hard to get that first win that triggers the colossal symbols but it is harder to get them to win multiple times in a row.
If you manage to do that, once the Hyper Burst mode is activated and the 4×4 colossal symbol appears alongside a growing multiplier, this can quickly explode into a huge win. In my time playing, this only happened once so do consider it extremely rare.
Conclusion
Hyper Burst is a fun slot that will give players something to watch while they play. The game offers little distraction by keeping itself on the base game, but because of the re-spin functionality it makes it very obvious you are close to getting a big win.
If you enjoy a slot that has a colourful but semi-serious look to it with a lot of detail and some animations in the background but a largely static playing field, this will also be up your alley. I thought the graphics were charming without being distracting or childish.
The game is an excellent example of how some simple features that work together can still create very exciting gameplay. Any spin can turn into the next big win and players aren't required to activate any special game or free spins mode.