Diablo Reels places us in front of a classic fruit machine that is being used during the Day of the Dead, the famous Mexican holiday meant to connect people with their deceased loved ones. The game offers a few simple features, including Wilds, Free Spins and Re-Spins.
Released in 2020 by Elk Studios, Diablo Reels is a generic fruit machine at first glance. The base game has a 3-reel, 3-row playing field that uses a total of 10 paylines. The background shows us a collection of stereotypical Mexican items, from a bottle of tequila to a tattooed skull with a sombrero. Even though the idea is pretty simple, the art is quite striking.
The symbols aren't graced with as much attention, mostly a collection of simple fruit symbols that we already know from the oldest slots out there. Some of them have gotten a slightly updated look, like the Bonus symbol with a Mexican skull, but the majority are copies of the classic design.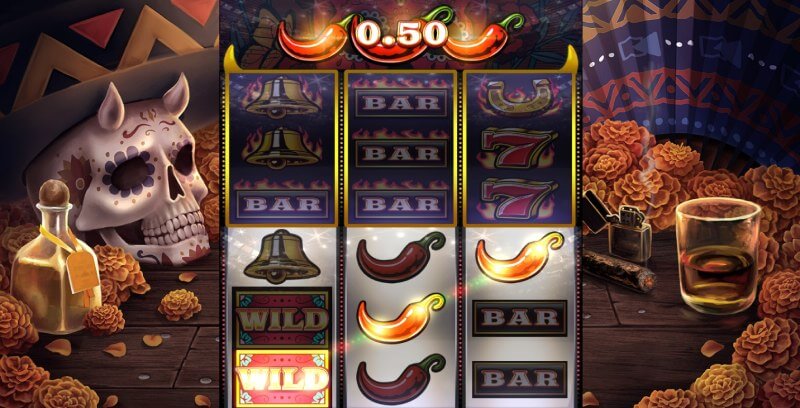 Players can pick a bet between $0.20 and $100 per spin to deal with the High Volatility of the slot. This comes from the rather high number of different symbols in combination with the low number of paylines. I did get some big wins while playing so it is definitely possible to come out on top, but it will likely take quite some time to get to that point so be prepared for that.
Symbols
As mentioned, the symbols in the game are based on the classic fruit machine symbols. They are redrawn to be sharp and with some extra details but they offer no creativity in terms of their shape or what they represent. The advantage is that players will immediately understand what's going on and will be able to get stuck in right away.
The symbols include:
Bonus: With 3 Bonus symbols on the screen the Free Spins mode is activated.
Wild: Wilds substitute all regular symbols in the game.
Diamond: Max. 50x your bet with three-of-a-kind on a winning bet line.
Seven: Max. 20x your bet with three-of-a-kind on a winning bet line.
Bell: Max. 10x your bet with three-of-a-kind on a winning bet line.
Horseshoe: Max. 5x your bet with three-of-a-kind on a winning bet line.
BAR: Max. 2.5x your bet with three-of-a-kind on a winning bet line.
Watermelon: Max. 1.5x your bet with three-of-a-kind on a winning bet line.
Avocado: Max. 1x your bet with three-of-a-kind on a winning bet line.
Red Pepper: Max. 0.5x your bet with three-of-a-kind on a winning bet line.
The payouts are rather low considering the volatility but there are a few features at play that make getting some bigger wins a bit more likely, which affects the payout. Whenever the player gets a win the symbols are highlighted but considering the small number of paylines, I don't feel this was necessary.
Features
Even as a fruit machine, Diablo Reels still contains a few features that augment the gameplay. To begin with, the standard playing field has an additional one above it. This one is only used when the right feature appears.
Nudging Wilds: When the Nudging Wilds symbol appears it will nudge up every time until it leaves the top of the screen.
Multipliers: Nudging Wilds can have a multiplier. If there are more than one on the screen, the multipliers are added together.
Stacked Wilds: Whenever a Stacked Wild appears it will fill the area above it as well.
Re-Spins: The Stacked Wilds feature will trigger a respin on both reel sets.
Free Spins: With 3 Bonus symbols the free spins mode is activated with 10 spins.
Most of the game takes place in the base game, which consists of the 3-reel, 3-row playing field. The additional 3-reel, 3-row playing field above it is usually inactive but can be activated by the different features in the game. In general, I found this to be an important requisite for larger wins as the regular wins weren't very large.
Players that hit one of the special features are more likely to get a bigger win but it's never a guarantee. All features include adding more Wilds to the game, which can also have a multiplier associated with them.
Whenever the Free Spins mode is activated, the top playing field is activated for all the spins. It will also only include high-paying symbols, which makes it more likely to get a win. Something that is important to keep in mind is that the two playing fields operate separately from each other. While Stacked Wilds and Nudged Wilds can extend into the other playing field, they both have their own paylines that do not interact.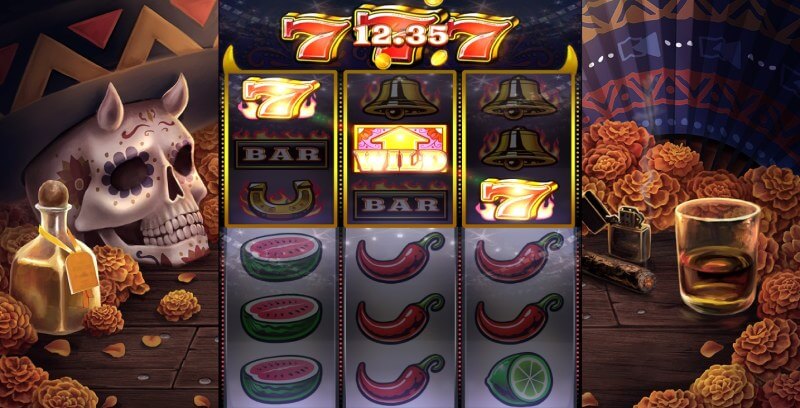 I'm not sure that fans who like classic fruit machines will appreciate all the extra features. In many ways, they rival what you'd find on a regular slot which doesn't seem to be what most of these players are looking for.
Conclusion
If you like fruit machines and are constantly looking for new and updated versions of this concept, you might want to give Diablo Reels a try. It has some clear connections with the traditional game and much of the classic gameplay is still intact.
However, there are a lot of features that mess with the game and those might be appreciated by the average player but will feel like a distraction for the fruit machine enthusiasts. It's obviously hard for me to say how any particular player will feel about it, but they might find it too far removed from the usual fruit machine.
The graphics are nice if not terribly original. When it comes to the sound design it's similarly acceptable. I found the max. win of 2,500x your bet to be a nice incentive but perhaps not high enough to really get people excited enough.