The Cops 'N Robbers slot is eager to take us on a wild ride. But, is it a great steal or just a bust? Jump in with me and let's give chase.
Cops' 'N Robbers is about cops duelling with criminals over treasure and jail. The player is thrust in the middle, trying to get something out of it; Preferably without also ending up behind bars. You'll be using the popular 5 reel, 9 paylines setup to grab what you can and run. This means most people will be able to jump in and play immediately.
This Play 'n Go slot has a classic look even though the game is relatively new and in my first ten minutes of playing it, it offers everything you would expect from a slot. Choose your preferred bet from between as little as $0.01 and as big as $90 per spin.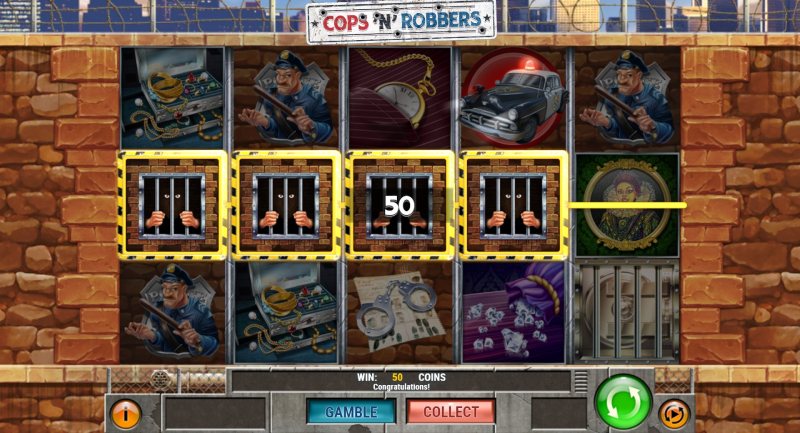 Graphics
The slot looks okay. The graphics are not super sharp, especially the background image. The different symbols in the game are animated when you get them on a payline but these are simple. I did appreciate how different each symbol looked, which made it much easier to see how close I was to a win.
However, that's not all. There is also a special bonus game where you are a criminal trying to escape from the police. This adds a rearview mirror at the top of the screen in which you can watch the chase unfold.
I thought this was done in a pretty unique way and it looked great, especially considering the relative simplicity of the rest of the game. I was impressed by the way my decisions were visually shown to have an effect. And there is even a police car chasing you and slowly catching up!
Sound & Music
Cops 'N Robbers chose to add a 1930's style music to accompany the game with a jazzy soundtrack. You hear a lot of trumpets and cellos as you make spin after spin. I thought that was a rather unique choice since the graphics don't give any indication of the game taking place that far in the past. But still, it sounds alright.
The other sound effects consist of a little tingle or a short riff whenever you hit a payline. I felt those gave the game some more personality.
Symbols and Features
On its surface, Cops 'N Robbers comes across as a classic slot. You have 5 reels and 9 paylines that go from left to right. Press the spin button and see if you get a win.
The game comes with a few features:
Bonus Game: The game has a bonus game which you can reach by landing three cop car symbols on the screen at the same time.
Wilds: The vault symbol counts as a Wild.
Multiplier Wilds: When you get a Wild, they will also double your win.
Scatter Symbols: The cop car symbols will count as a win if you get two or more on your spin, no matter where they are on the screen.
Free Spins: If you manage to get the Bonus Game, you will use free spins to play.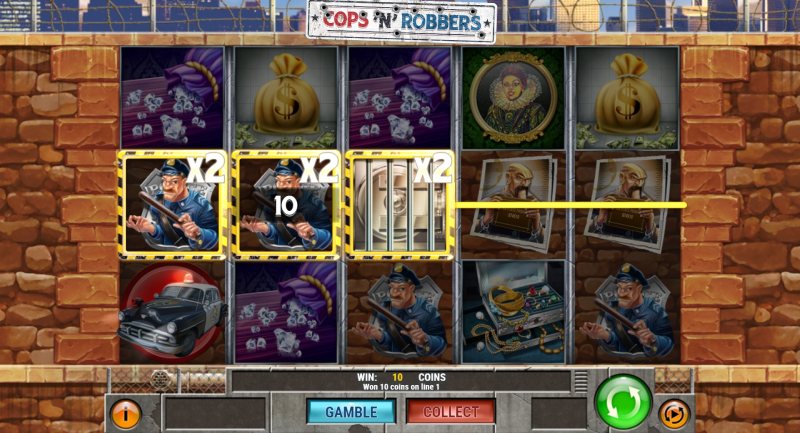 Something I feel I should mention as well is that for every win you get, you can choose to gamble on that bet. If you choose the Gamble option you're presented with a few choices. First, you can pick between red and black. Pick the right one and it pays x2 your win. You also have the option to pick one of the four suits and win x4.
Luckily, you don't have to do this if you don't want to. You can just collect your win as is. If you use the Autoplay feature, the game will always automatically collect your win. However, if you are feeling very lucky you can even use the Gamble function on big wins like the bonus game. But be aware that guessing wrong will lose you everything from that win.
The different symbols in the game are, from highest to lowest value:
Safe door: The wild of the game. Get 5 of these in a payline and you win 3000 coins. 300 coins for a payline of 4 of a kind.
Bag of money: 750 coins for 5 of a kind.
Diamonds: 500 coins for 5 of a kind.
Painting: 250 coins for 5 of a kind.
Watch: 250 coins for 5 of a kind.
Cop: 150 coins for 5 of a kind.
Jail: 150 coins for 5 of a kind.
Mugshot: 150 coins for 5 of a kind.
Handcuffs: 150 coins for 5 of a kind.
Finally, there's also the cop car. They act as scatter symbols which means they count no matter where they show up on the screen. You do need at least 2 for a win. If you manage to get 3 it activates the bonus game. Manage to get 5 at a time and you win 250x your total spin amount.
The bonus game itself deserves some extra attention. In it, you are on the lamb from the cops and are racing through the city streets trying to get away. In the rearview mirror, you can see the chasing cop car coming closer or backing off. Using free spins, the game gives you the chance to get wins and get away from the cops.
Every now and then, there's a roadblock ahead and you have to choose between going left or right. Keep going for long enough and if you succeed in escaping, you'll double your win. If you get busted, it doesn't get doubled but you still keep what you won.
I felt like that was the truly unique part of the slot and it was done well. Picking which way to go at the roadblocks keeps you engaged and it can really increase your win a lot if you keep making the right choices. Plus it looks good which makes me wonder why they didn't put the same amount of attention in the rest of the slot.
Conclusion
Cops 'n Robbers looks a little dated, the music is okay and fits the theme well. The bonus game is definitely a highlight of the game where they added a lot more action to it than I expected.
The different symbols keep things pretty clear. The Gamble function is a nice addition and I'm sure there are people that enjoy that feature and will make good use of it.
Is the Cops 'N Robbers slot for you? I can't say. If you're looking for something that came out recently but reminds you of older slots, then this definitely fits that category. I thought it played quick and easy, keeping up a good pace which resulted in my time flying by.